by Roselynn Hope Fabula-Cabanos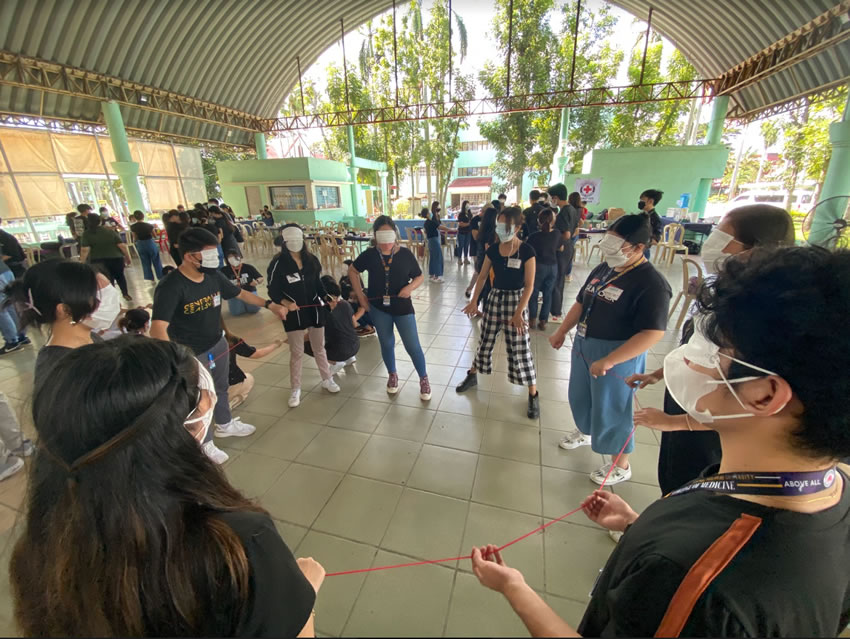 Some of the students in their activity during the Peer Training is better.
On October 21, 2022, the CPU Guidance Services Center made history by holding the first one-day on-campus, in-person training, two years after COVID upended life, and sent the world into lockdown.
With the theme "Called for A Purpose", the Annual Peer Facilitators' Training underscored CPU GSC's commitment to the growth and development of an individual, by providing learning opportunities, fostering in them a sense of responsibility, and equipping them to attend to the needs of, and be of service to, their peers and school community.
In her opening address, delivered at the Alumni Promenade Concert Park, Dr. Esther Rose Romarate, Vice President for Student Affairs, challenged the peer facilitator hopefuls to make their training count and serve others in love.
Dr. Polec-eo, GSC Director, introduced the GSC personnel, allowing the students a good look at their department's guidance counselors and associates, who will also function as their advisers.
The day's invited speakers are some of GSC's very own. Ms. Althea Villanueva, former secretary of the Job Placement office, Ms. Chriselda Elaine Ador, Guidance Associate of the College of Arts and Sciences and College of Computer Studies, and Mrs. Faith Candido, Guidance Associate of CPU Elementary school, touched on topics such as self-awareness, communication skills, and facilitating skills, respectively.
The one-day event was alive with activities, with students mingling, getting to know each other, and eagerly putting their newly-learned skills to use. Aside from hearing testimonials from previous and current Peer Facilitators, student peers, or "Peer Facis" as they are fondly called, engaged in team-building exercises and role-playing activities designed to make the participants more aware of their perceptions and personal motivations, build competence in communication, cooperation, and teamwork, practice their essential facilitating skills, and reflect on what it means to truly listen, care, and be available to those in need.
The program culminated in a challenge to go out and practice what was learned, awarding certificates for those who completed the training, and a pledge of commitment from the new peer facilitators. The Peer Facis will be working closely with their Guidance Counselors and Guidance Associates, to bring awareness to programs and services available to the students, provide psychosocial and academic support to their peers, and connect them with their counselors as needed, especially if they are hesitant to ask for help themselves.
Of the 204 applicants from the Junior, Senior High schools, and different colleges, 100 were selected and qualified by their respective GSC personnel to attend the training.
Ms. Bethany Rozann Ecube, Guidance Associate of the College of Engineering and the College of Agriculture, Resources and Environmental Sciences, chairs this year's Peer Facilitators Committee, with the full support of the GSC personnel, who were all present at the APCP to welcome and assist the participants from start to finish, ensuring that measures are in place for the safety and well-being of the student participants.