By Francis Neil G. Jalando-on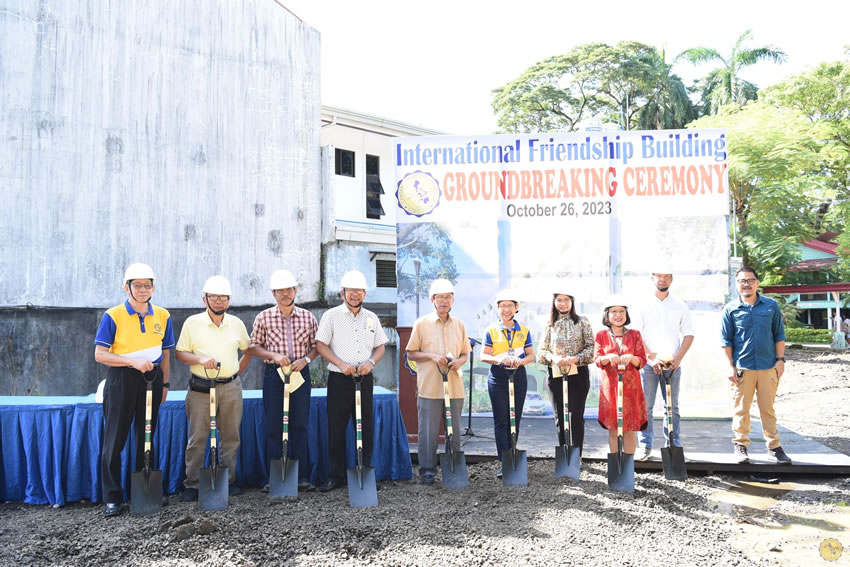 CPU President Dr. Teodoro C. Robles leads the group in the groundbreaking ceremony for the International Friendship Building.
In a momentous event, Central Philippine University (CPU) marked the commencement of the construction of the 5-storey International Friendship Building, a significant addition to the university's infrastructure. The groundbreaking ceremony, held at 8:30 AM on October 26, 2023, was attended by key figures of the CPU community, including members of the CPU Board of Trustees and CPU Corporation.
The purpose of this undertaking, as stated by CPU President Dr. Teodoro C. Robles, is to address the challenge posed by the influx of additional foreign students, particularly from China, in the wake of the COVID-19 pandemic. The pandemic led to an unexpected surge in the number of foreign students, making it challenging to accommodate them within the existing campus facilities. Dr. Robles remarked, "The pandemic may have brought problems, but it also brought a better problem for CPU – the need to accommodate our growing population of international students. To address this, we are constructing the International Friendship House, which will primarily serve as a dormitory for our foreign students. We anticipate its completion in 16 months, with the new 63-room dormitory ready to welcome students in 2025."
Engr. Eddie P. Cañuto, Chairman of the Physical Facilities Committee, in his words of welcome, highlighted the significance of the International Friendship House as an answered prayer. He explained that the initial plan was to build the dormitory on the Gonzaga property before the pandemic. However, post-pandemic considerations led to the decision to construct an even larger dormitory. Consequently, the open lot near the Elementary football field was chosen as the new location for this groundbreaking project.
The groundbreaking rites was led Rev. Cris Amorsolo V. Sian, the University Church Senior Pastor while the liturgist was Pastor Neva Grace L. Fabila.
The International Friendship Building is poised to become a symbol of unity and collaboration among the diverse student body at CPU. With its completion on the horizon, Central Philippine University takes a significant step towards addressing the evolving needs of its international student community, fostering cross-cultural friendships, and promoting excellence in education.