by Rusieljs G. Lunasco
Graduating students and completers from elementary to college level shared their thoughts on how COVID-19 has affected their final year in school. Virtual graduation and moving-up ceremonies are scheduled to air for them and their families, but the thought of not being able to say their proper goodbyes and make the most out of their last days in school has made a significant impact on what should have been an important milestone in their lives.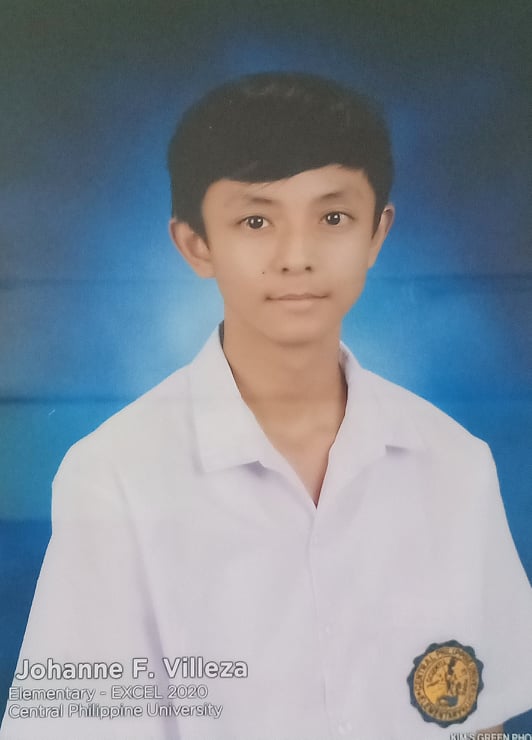 Johanne F. Villeza
"I felt bad when the graduation was cancelled because it was the most awaited moment in our elementary life. We were excited to go up the stage and receive our diplomas just like the other graduates before us. Elementary graduation happens only once in our lifetime and it means we are ready to move up to High School. I thought after the quarantine we would still have our graduation and I still could have met my friends and classmates, so I was disappointed that we won't have one anymore and we were not able to say goodbye to each other.  But I also felt the need for the quarantine because if CPU had not cancelled the graduation ceremony many people could have gotten sick of the COVID-19, so it's ok. I just hope that the pandemic will end soon so maybe I can still see my classmates and friends."
-Johanne F. Villeza
Elementary Department
With Honors

Excel Hope S. Faraon
"Nobody asked for the COVID-19 pandemic and it became a force majeure to all. Being a supposed junior high school completer this 2020, I was saddened by the unfulfilled and long-awaited end of this school year. Having spent my 4 years with the Special Science Class batch 23, we all dreamed of marching together as we reach the end of a successful high school life while wearing our SSC sash and with our parents beaming with happiness to see us finishing our current journey to move on to the next one. But the silver lining is that we are addressing the safety of each and every one. It may be sad that we had to end our years together like this but it'll be even sadder if any one of us got affected by the COVID-19. I do hope that the batch 2020 has yet to celebrate their graduation someday when all is safe. God has been with us and sustained us throughout this world crisis."
-Excel Hope S. Faraon
Junior High School Department
Special Science Class
With Honors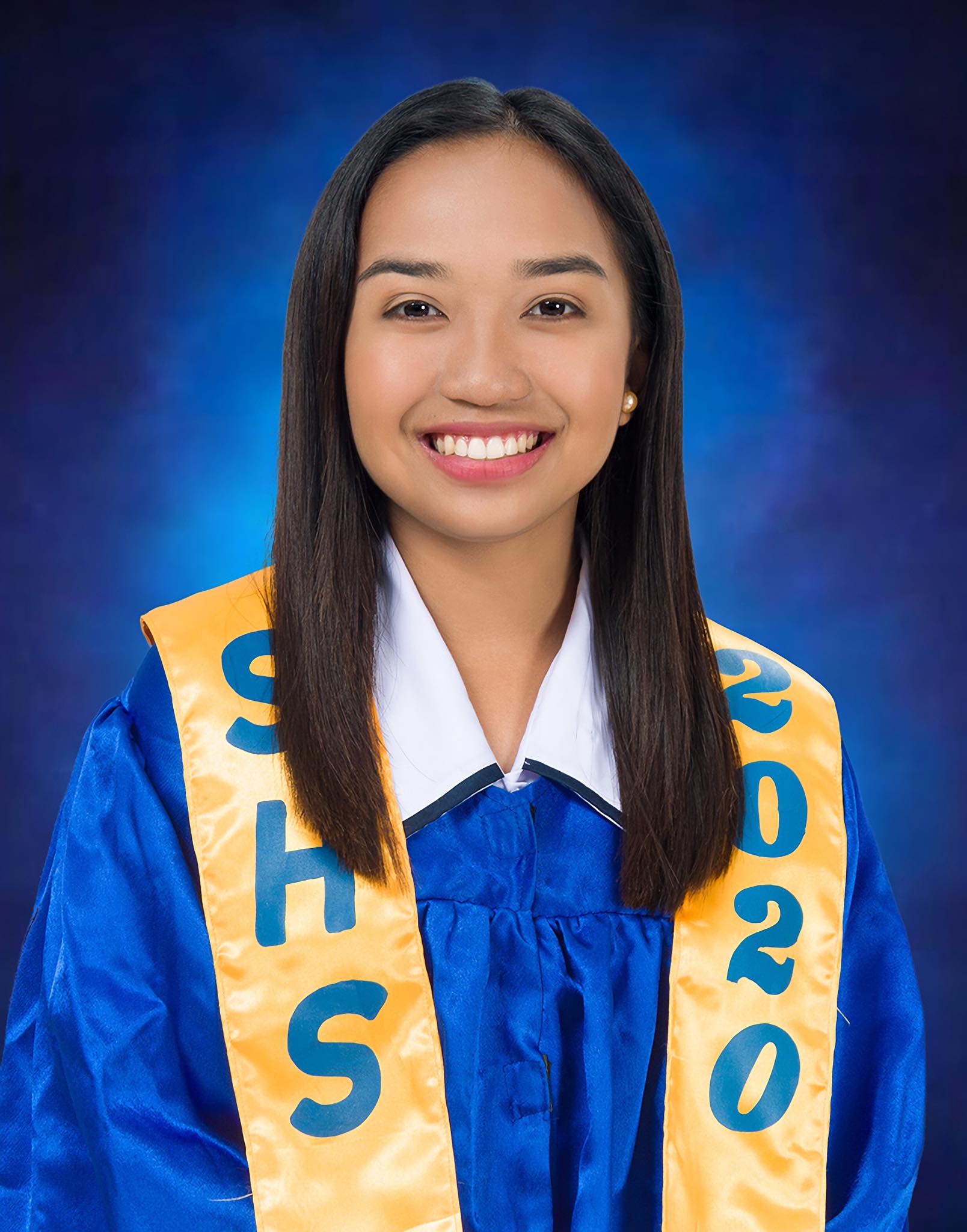 Samantha Faye G. Herbolario
"The pandemic took away the biggest event we, the Student Council, should supposedly hold which is our SHS Week and of course it took away our Graduation Ceremony.
When I heard the news, I was very devastated since these big events got cancelled. The thought of ending this school year with our big plans with the students enjoying and the thought of having to march in the stage of the Rose Memorial Auditorium to get that diploma hurts so bad since it would never happen.
But we can never control what just happened. Aside from the big events that COVID-19 took away, it also took thousands of lives. The whole world is suffering because of this virus.
What we can contribute to help is to stay at home and to pray for our Lord to heal the world.
Nevertheless, congratulations batch 2019-2020! We may not have that ceremony we were dreaming of, but do know that God has a plan for all of us. "
-Samantha Faye G. Herbolario
STEM
Senior High School Department
Outgoing Governor, Senior High School Student Council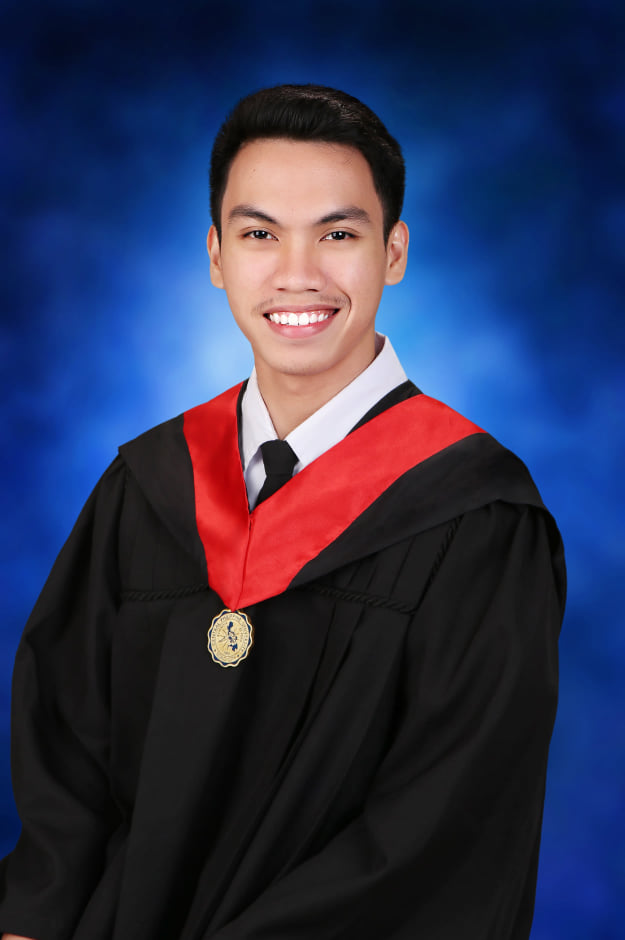 Onesiforo B. Berina Jr.
"The vibe of a Graduation Ceremony is so meaningful not only for me but also for my fellow college students. It marks an end to our strenuous student life and a beginning to a more complicated journey–the real world.
This pandemic may have robbed us of that much-awaited moment when we are supposed to wear our togas and receive our diplomas while our loved ones gladly watch us.
Yes, its absence feels so heartbreaking, but this must not stop us from rejoicing. Its absence cannot take away our dreams, our life goals, and our essence for living.  And the fact that we are able to survive college, is worth celebrating.
Batch 2020, the battlefield is waiting for us and through the values instilled to us by our beloved Central, we shall conquer it!"
-Onesiforo B. Berina Jr.
Bachelor of Theology
Magna cum laude
Alton Bigelow Alma Mater Awardee