By Cyrus A. Natividad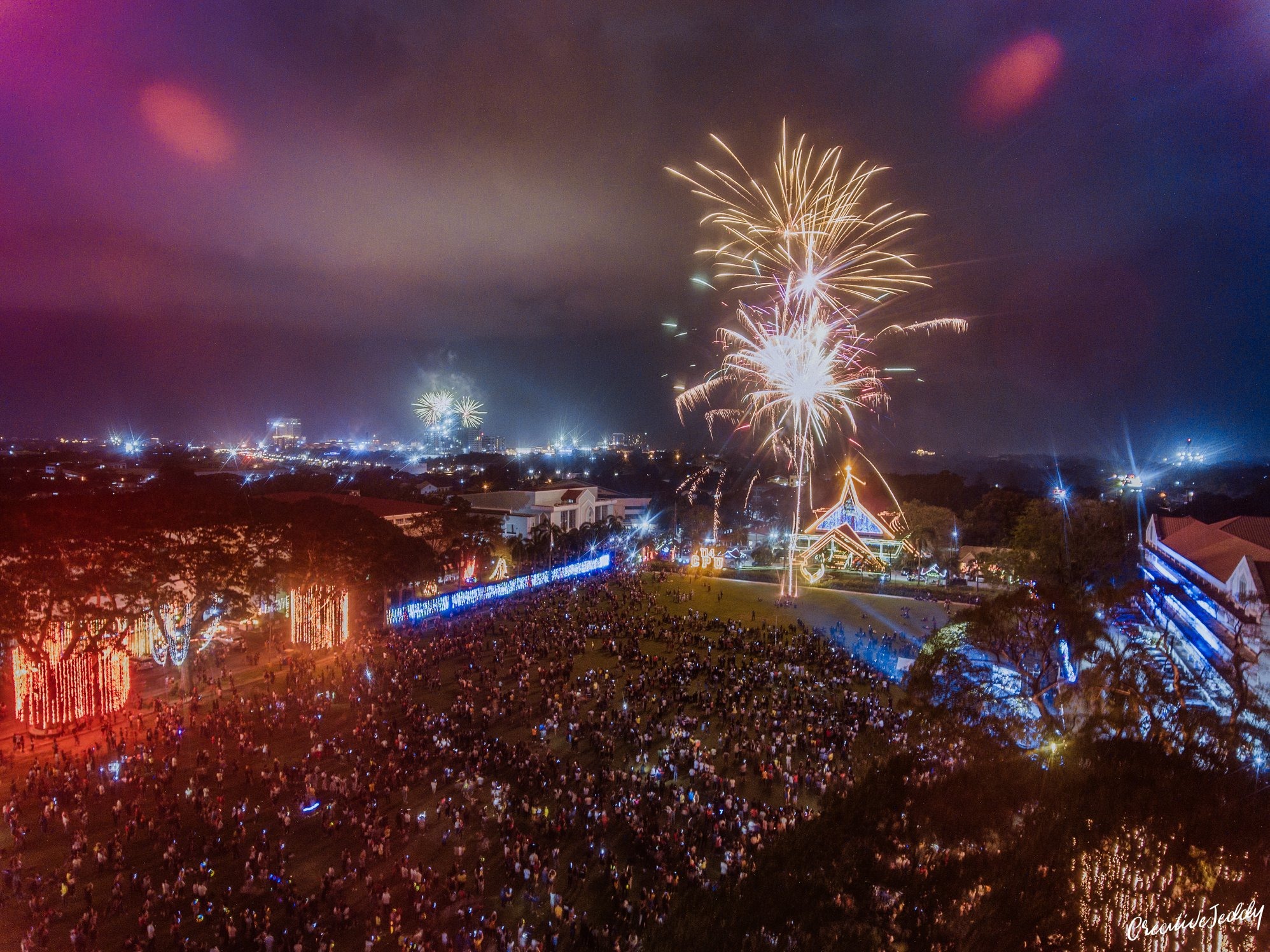 Fireworks display during last year's Festival of Lights and Music at Central. photo by Jeddy Solinap.
Once again the Festival of Lights and Music at Central will capture the Ilonggos' penchant for spectacular display of Christmas Lights. The most awaited annual presentation at CPU is scheduled on December 4, 2020.
This year's theme: "Kasanag kag Paglaum sa Paskwa" speaks about giving light and hope to everyone especially as we continue to face the pandemic caused by Covid-19 that brought hopelessness around us. Ultimately, the CPU community would like to share the central message that it is Jesus Christ that gives light and hope amidst any situation.
Due to health security protocols, the opening Festival of Lights and Music at Central 2020 will be done virtually via Facebook and YouTube. The public will not be able to enter the campus as has been done in the past many years. There has always been an overwhelming drove of people from surrounding communities and other places in the previous years before the pandemic. The Christmas Lights at Central Philippine University is among the several festivals of lights display in Iloilo considered to be a city tourist attraction every month of December.
According to former CPUAAI President Engr. Isagani J. Jalbuena, the Chairman of this year's celebration, the opening will start at 6:00 in the evening in front of the Rex D. Drilon Hall (Administration Building). A short program will be done before the symbolical switching on of lights. This year, the lighted portion will be the fence of CPU along the Lopez Jaena St., as well as the Administration Building so that the public can see it without entering the campus.
CPUAAI President, Atty Joshua C. Alim and University President Dr. Teodoro C. Robles are expected to deliver their Christmas Greetings. Congresswoman Jamjam Baronda, Governor Arthur Defensor, Jr. and Mayor Jerry P. Treñas will also deliver their messages virtually.
Recording artist JM Bales of the Magandang Dilag fame will render a special number. A flashback of the fireworks display from previous years will also be shown courtesy of the CPU Office of Communications. The recorded Christmas songs of the CPU Symphonic Band recorded music will also be played.
Engr. Vitini Edhard Idemne, member of CPUAAI Board of Trustees, will host the program.