By Rusieljs G. Lunasco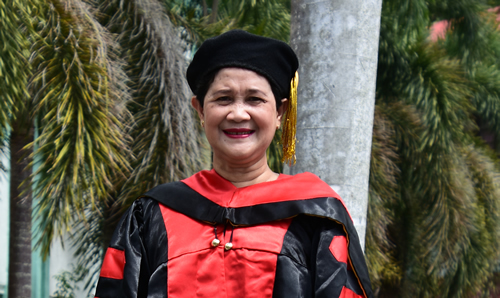 Dr. Lorna T. Grande is the current Dean of the CPU College of Business and Accountancy.
Dr. Lorna T. Grande was appointed Dean of the College of Business and Accountancy in 2017. Before joining the college as a faculty in 1995, she worked in the corporate sector for 11 years.
She finished Bachelor of Science in Commerce Major in Accounting from Central
Philippine University in 1982. She then pursued her Master's in Business Education at the University of San Jose-Recoletos as a Fund for Assistance to Private Education (FAPE) scholar and graduated in 2001.
Dr. Grande completed Doctor of Philosophy in Management from the International Academy of Management and Economics in 2006. Before she was appointed Dean, she was the Chairperson for the Accountancy Department for 6 years (2011-2017).
The College of Business and Accountancy's BSBA and BS Accountancy programs have Level IV Accreditation Status granted by the Association of Christian Colleges and Universities- Accrediting Agency, Inc. (ACSCU-AAI) until December 2023. The BSBA programs were awarded by CHED as Center of Excellence. Grande shares that these achievements were realized due to the cooperation of the CBA faculty, staff, students, and alumni.
Dr. Grande dreams for the College of Business and Accountancy's programs to be Centers of Excellence. She also hopes for the realization of the CBA Incubation Center and the CBA Building. The college is currently raising funds for the building.
When asked about her message to the students of the college of business and accountancy, here is what she has to say:
"First of all, I would like to express my warmest greeting to everyone. Thank you for enrolling in one of the programs offered under the College of Business and Accountancy. You are now members of the "Big CBA Family". The CBA faculty and Staff are very much willing to guide you and help you. The pandemic is not a hindrance to success. In spite of the challenges that we encountered during, we were able to survive and accomplish a one academic year endeavor. Facing the so-called new normal is not easy. Most of us are already bored of being confined in our home doing class activities. Your lifestyle has changed, you have no choice but to embrace the new normal situation. Join and participate in wholesome virtual students' activities. Create fond memories with your friends and classmates while you are in college. Whatever happens, always remember that God has a purpose in our lives. Jeremiah 29:11-12 says "For I know the plans I have for you says the Lord. They are plans for good and not for disaster, to give you future and a hope. In those days when you pray, I will listen." God assured us that he will be with us as long as we ask Him. Remember the verse Joshua 1:9, "This is my command-be strong and courageous! Do not be afraid or discouraged. For the Lord your God is with you wherever you go."
Let us work hand in hand with the Grace of our GOD Almighty towards our success."