By Rusieljs G. Lunasco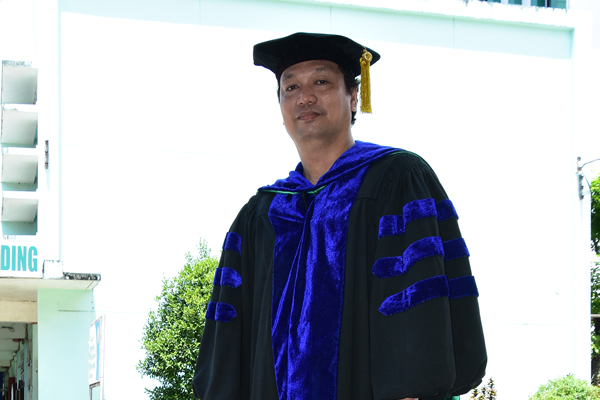 Dr. Jaime Cabarles, Jr. has been the Dean of CARES for 9 years.
Dr. Jaime Cabarles, Jr. is the Dean of the College of Agriculture, Resources, and Environmental
Sciences (CARES) since 2012. He has made a name for himself for his contributions in agriculture and research.
Cabarles graduated cum laude with a Bachelor of Science in Agriculture degree major in
Agricultural Science from Central Philippine University in 2001. He was a Robert Dudley Fox and a Metrobank scholar. He completed his Masters in Agriculture Major in Animal Science in 2005 from West Visayas State University.
As the Department of Science and Technology-Science Education Institute (DOST- SEI) Accelerated Science and Technology Human Resource Development Program Scholar, Dr. Cabarles finished his Doctor of Philosophy in Animal Science major in Animal Breeding with cognate in Genetics from the University of the Philippines Los Baños in 2011.
He was a professor for CARES for 10 years (2001-2011) where he taught Animal Science and Environmental Science subjects. He was also the former college extension coordinator and research adviser for undergraduate students who majored in Animal Science. From 2002 to 2007, he was the university's Animal Project Coordinator, and from 2007 to 2008 he served as manager of the CPU Zarraga Farm.
He currently hosts 101.3 CARES FM, a broadcast radio program under the College of Agriculture, Resources and Environmental Sciences. The topics discussed on the show are centered on raising and breeding native chickens.
Dr. Cabarles recognizes the importance of the agriculture sector in the modern world. According to him, food is very critical in the life of the human race. However, rapid urbanization threatens areas devoted to food production through land conversion.
"The call for action in putting more emphasis on Agriculture is today. Development should continue for we needed it but the source of our food should be protected. There is no such place as the soil of the earth that could provide what we need. It relies on every citizen to shield the source for the fulfilments of our gustatory cravings."
He also encourages young people to consider pursuing a career in agriculture. There are so many opportunities waiting for those who want to enter the said field.
"We are calling the younger generation to be with Agriculture. Great opportunities are waiting for those who will become AGRIPRENEUR. It is your creativeness and innovativeness that will overflow the blessings that will come on your way. Would you not want to have the earnings while helping the populace through the provision of safer, healthier, and nutritious food? Be with us Now."
For his message to the students of CARES, here's what he has to say:
"To the students of CARES, please consider the number of years of your stay in this college as your preparation of learning experiences for your quest in the reality of the outside world. The diversity of the subjects you will be taking and the innumerable teaching methodologies of your professors are your gateway to equip you technically and practically. Don't be afraid to fail, for it will give you an opportunity to widen your learning. The retention policy being imposed in this College does not mean to extinguish but implies how serious your mentors in nurturing you as FUTURE AGRIPRENUERS.
Moreover, the pandemic and other difficulties in online learning we had encountered at this present time could not hamper our goal to fed humanity. It is in the cooperation and willingness to share what we have that will make this globe a better place to live. Make use of the time and available resources we have in this University.  Challenges will always part of our life but becoming an ExCEL Agriprenuers is a virtue that this University can nurture in every heart and mind of Agri-Centralian.  Be Proud. We CARES to ExCEL."