By Keziah G. Huelar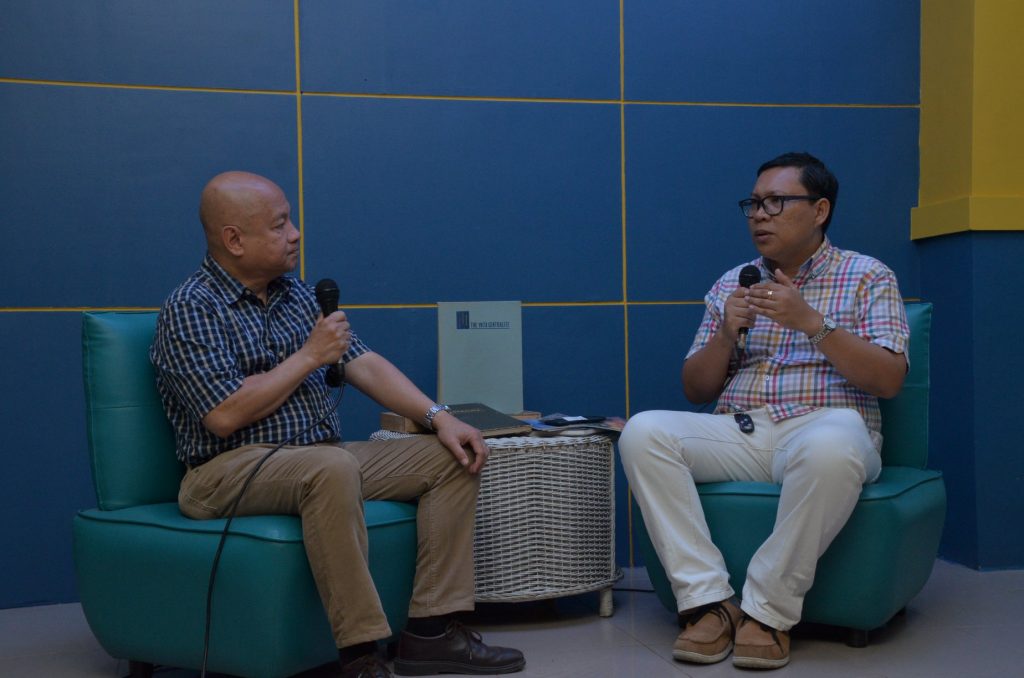 Faith and Excellence – Rev. Francis Neil G. Jalando-on interviews Mr. Rinand C. Escuban in the CPU TV Program, Centralian Profiles.
"We are what we repeatedly do. Excellence, therefore, is not an act but a habit."
Most scholars credit the said quote to Aristotle, the famous Greek philosopher from Stagira who was popularly known as the teacher of Alexander the Great. However, other scholars would argue that the said line should be attributed to Will Durant. According to them, the quote was written in 1926 by Durant, who is an American philosopher best known for his work "The Story of Civilization."
Whoever really said it, one thing is certain, excellence is not a chance occurrence, but rather a promising development refined by time and discipline. Thus, at Central Philippine University, Centralians are trained to be lovers of excellence. However, beyond that, at the heart of Central education is the desire to root oneself in Christ who made everything excellent in His own timing and purpose.
For Rinand C. Escuban, the university has instilled in him the values of excellence and discipline that have provided him with opportunities and various promotions in his professional career. A 1985 CPU graduate of Bachelor of Science in Commerce, Escuban now resides in Canada with his wife and three kids.
When asked how his journey in CPU started, Escuban shared in an interview with Rev. Francis Neil G. Jalando-on during the CPU TV Channel program "Centralian Profiles" that studying in CPU was the dream and prayer of his father, Mr. Fernando S. Escuban also known as "Tay Nanding": "My father thought to himself that if he stayed in La Carlota he would not have the chance to succeed, so he left and rode a ferry to Iloilo. There, he stayed with the Espinosa family in Muelle and they helped him. He heard about Central Philippine University, and although he just finished grade 5, my father took the courage to go to CPU to look for a job. Mr. Mariano Caipang, my mother's uncle, helped him get a job. My father became the first watchman and janitor of the University Church."
 Escuban recounts that the first Filipino president, Dr. Rex D. Drilon talked to his father about the important task of working in the University Church: "Lolo Nano (Mr. Mariano Caipang) recommended my father to Dr. Drilon. The university president then approved my father's employment and he told my father, 'You are the first watchman of the church. Always remember that you get your living from CPU. Always remember to uphold the dignity of your work.'" According to Escuban, the words of Dr. Drilon and ignited his father's passion and inspired him to pursue excellence in any kind of work.
Sharing the legacy of Tay Nanding, Rev. Jalando-on talks about how Tay Nanding inspired Centralians to pursue the godly kind of work ethic: "When I talk to the new hires, I always share the life of Tay Nanding to establish the culture and attitude of working hard. Tay Nanding would always say that he was not just a janitor, but that he was working in the house of God."
 With his father's passionate perspective, Escuban also served at the University Church as assistant janitor: "Whatever work I was given, I did it according to the values I learned in CPU. The Bible says, if you find something to work on, do it as unto the Lord."
 Serving CPU just like his father did, Escuban became the Director of the CPU Students Affairs from 2001 to 2011. He also became the Director of the Office for External Affairs from 2006-2009 and the OIC Director of the Human Resource Development Office in 2010.
Having finished his pre-school up to his post-graduate education in CPU, Escuban shares that the spirit of excellence was widely taught to Centralians: "When I was in elementary, our teacher taught us that whenever we were asked on why we decided to study in CPU, we should give two reasons: first, is that CPU is a Christian institution, and second, it has a high standard of education." Escuban recalls that his elementary and high school teachers always talked about the value of discipline and excellence—that they were passionate in training exemplary Christian learners for life who would represent not only the university but Christ in the professional workplace.
In 2011, Escuban had the opportunity to live and work in Canada. There, he started as a call-center agent in Recycling Rewards, a company that works in partnership with Children's Wish Foundation to help children who are terminally ill. With his hard work and persistence, Escuban was promoted to Community Relations Manager and eventually as Corporate Partnership Manager. "God opened opportunities for me and family to go to Canada and I thank God that despite the absence of Canadian education, I was given the opportunity to be recognized by the company."
 After seven years, Escuban, together with his family, visited CPU to perform in the 40th Anniversary Concert of the Bahandi Singers of which he is a member. All the proceeds of the said concert were given to CPU scholars. According to him, the choir is growing with almost 400 members around the globe dedicating their voices for God: "Being away from CPU for almost seven years created great nostalgia. I have spent so much of the best years of my life serving God through various positions in this university. I am always very sentimental when it comes to Central Philippine University. So always be reminded that being here in the university is not an accident—it is a calling from God. Whatever your position is—president, vice president, dean or janitor—consider it a calling from the Lord. And as it is a calling, you will never how long God will use you. Always be excellent and give your best to the university and the Lord will qualify you, the Lord will equip you, the Lord will do His things through you for His glory and honor."
 For his message to Centralians, Escuban, encourages his fellow alumni to be excellent, to remember their roots in CPU as a Christian institution representing Christ to the world: "Wherever you are right now, you may have your own perspective of what CPU is now, but I assure you that as long as CPU recognizes that its beginning is from the Lord and there are people here working for the Lord who loves Him so much, this university will remain a university for as long as God wants it to be. This university is founded with God at the center and I'm sure, God will never allow this university to fail, not this time and not in the next 112 years. Whether you are here or outside of the university, have that peace of mind that God is holding this university and it is safe."