By Cyrus A. Natividad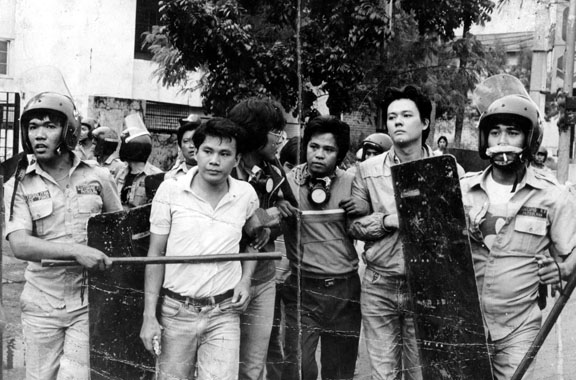 A photo of one of the demonstrations during the martial law. photo credits retrospect.ph.
The declaration of Martial Law on September 21, 1972 by then President of the Republic of the Philippines Ferdinand E. Marcos brought portent changes in the development of Filipino society. It was a period of expectation and challenges in which the final results were largely influenced by desire, greed, and selfishness. There were remnants of dreams unfulfilled, realization of plans unfinished. Somehow, some promises were fulfilled, yet, some scars never healed.
On the anniversary of its declaration last Monday, September 21, 2020, I would like to share bits of experiences in our history of Martial Law.
As an elementary pupil then, I was able to watch the unfolding of another history in the life of Filipinos. That would last for 14 years (within Marcos' 21 years in power). The bombing of Plaza Miranda in Quiapo that killed several people and immobilized some candidates after attending a "meting de avance" of the Liberal Party, and other bombings in Metro Manila were preludes to the declaration of Martial Law. One of the victims of the grenade blast was Senate President Jovito Salonga who was later conferred with an honorary degree by Central Philippine University.
Demonstrations reinforced a brewing rebellion of student activists in the country. In Iloilo, students were daunted to join rallies and demonstrations. Once, the demonstrators were on their way to the Freedom Grandstand for a grand rally. The downtown area was barricaded. The disorder followed in a little while. Rocks were sent crashing on the glass windows of stores at the sidewalks. Riot police came rushing to the area. Meanwhile, ambuscades and assassinations made headlines in national and local dailies. We watched it on black and white TV screens which were at that time encased in bulky console furniture. Various news were heard over AM stations.
As early as 5AM every day, people on the streets huddled for news over cups of coffee and pan de sal. Late in the afternoon until the evening, old folks converge at the 'tuba-an' (coconut wine junction) to exchange ideas and opinions with one another. Arguments which sometimes turn to fistfights, eventually end up in jail.
We saw a truck loaded with high-powered firearms and ammunitions suddenly stopped by. Military personnel checked the houses and more firearms were collected. Subversive pieces of evidence were collected and wanted criminals were hauled to jails. We were given a minute instruction by the Barrio Kapitan (Village Chief) to go home because "Martial Law is here!" Soon, warrantless arrests were in effect as a result of the suspension of the Writ of Habeas Corpus. What followed were significant events that stuck in our minds – to be recalled later.
The experiences are embedded in my mind, but they come so often over the years. Martial Law was still around twelve years later, as I decided to enroll in the Bachelor of Arts, major in Political Science at Central Philippine University. Sometime later, students' organizations that were terminated at the onset of Martial Law were back. Campus freedom was in the air. The return of CPU Republic and political party affiliations was ripe. I realized it's time I join the "Republic". My election as Senate President in the then newly-revived CPU Student Republic gave me a fresh mandate to lead myself to lead others.
Life in the CPU Republic required time and tact. It was challenging and strengthening. Martial Law had pushed, tested, and challenged me in experiencing hardships. Central Philippine University on the other hand taught me the essence of patience and perseverance, gratitude, and leadership. For all my friends and classmates who were there during the dark period of democracy, for those who accepted the challenges and were rewarded with freedom, and for all those who lived beyond Martial Law and received the fruits of perseverance, God will always be there.