By Keziah G. Huelar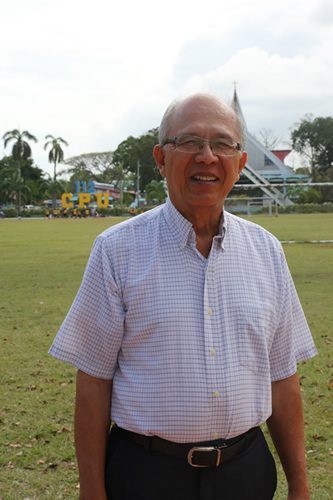 Bringing CPU to greater heights – CPU President, Dr. Robles will be serving CPU until 2023.
Five more years—Through the unanimous vote of the Central Philippine University Board of Trustees and the affirmation of the CPU Corporation during the annual corporation meeting held on April 20, 2018, CPU President Dr. Teodoro C. Robles will extend his term of service as university president for another five years until November 1, 2023. He officially signed his contract of renewal on September 28, 2018.
Now on his third term as University President, Dr. Robles has been focused on the improvement of the collection rate of tuition fees which eventually help finance many renovations and constructions in the campus. In the last three years, the University invested more than 40 million pesos to improve its facilities. This enabled CPU to construct new buildings and facilities, such as the Senior High School Building.
It was also under Dr. Robles' term when the university strengthened its national and international linkages, particularly with other Asian universities namely, ZhengZhou University of Industrial Technology, Korea University of Media Arts, Tongmyong University in Korea and many others.
CPU also accomplished some accreditation feats: The Bachelor of Science in Biology and Bachelor of Liberal Arts of the College of Arts and Sciences received a Level IV status with validity from April 2017 to 2022; the Masters in Public Administration program received a Level II status effective December 2016 to 2019; the Bachelor of Science in Chemistry got a Level III status with validity from April 2017 to 2022; the Masters of Arts in Nursing degree offered by the College of Nursing and Allied Sciences received Level III status effective December 2016 to December 2021; the Bachelor of Science in Accountancy, Bachelor of Science in Business Administration, and Masters in Business Administration programs of the College of Business and Accountancy got Level IV status with April 2017 to April 2022 validity.
Under his leadership, Dr. Robles highlighted the importance of ISO Accreditations in maintaining the autonomous status of the University. CPU is the only autonomous university in Iloilo City granted by the Commission in Higher Education.
The university looks forward to more breakthroughs and developments under Dr. Robles' leadership as CPU aims toward greater heights.