By Cyrus A. Natividad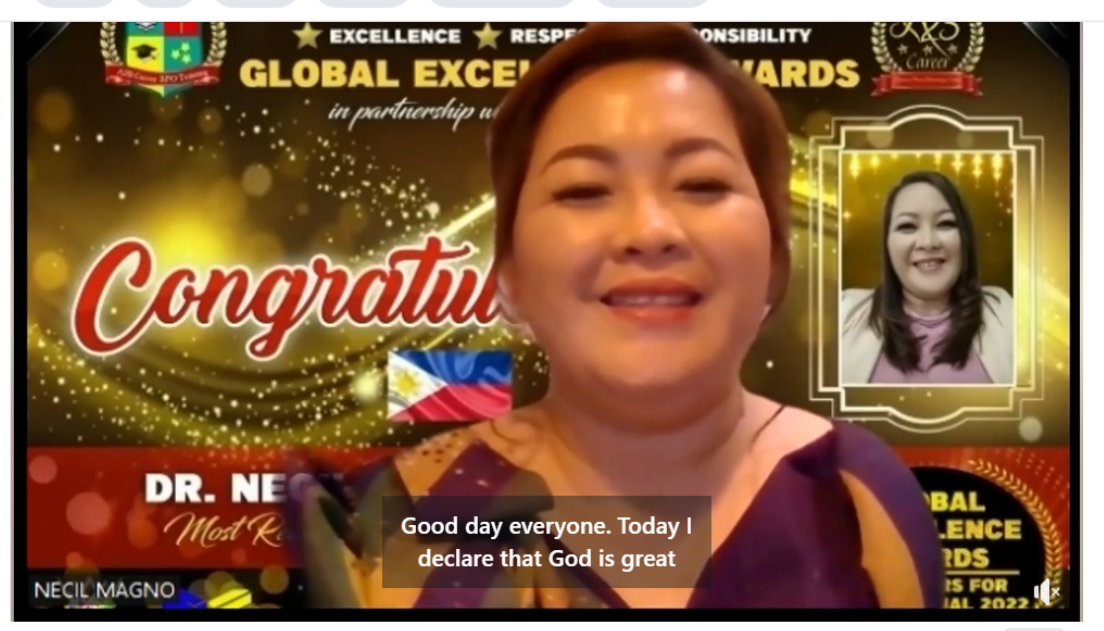 Dr. Necil C. Magno, a multi-awarded Faculty of Central Philippine University was once again conferred with 2 global awards last June 2022: Most Remarkable Achiever Educator, and Most Outstanding Global Educator of the Year Awards. The awards were given during the "The Oscar for Professionals" 2022 Awards by the A2B Career Business Process Outsourcing Services.
Magno who had previously received several other awards from different educational agencies immensely expressed her gratefulness to God and CPU for leading her to this achievement. She said that, "God's plan for us is not our plan. God makes better choices for us than we could have ever planned; quoting from the Bible in Romans 12: 2 "And do not be conformed to this world, but be transformed by the renewing of your mind, that you may prove what is that good and acceptable and perfect will of God."
She encouraged her fellow faculty and awardees to "Never stop dreaming, and continue to do good to everyone. Let us continue to be an inspiration and be the best that we can be for our students, friends, and loved ones. There are a lot of opportunities for us to explore and pursue."
Magno who had reached her apex of success, worked her way up as a working student. She was a part-time crew of a fast-food restaurant in Iloilo City. She was later granted a scholarship by the Filipino-Australian Foundation of Queensland Inc. She finished her Bachelor of Science in Secondary Education (CPU Batch 2001); her Masters in Physical Education degree from West Visayas State University, and a doctoral degree – Doctor of Education in Physical Education from Filamer Christian University.
Dr. Necil C. Magno is currently BPED Coordinator of the College of Education at Central Philippine University.