By Cyrus A. Natividad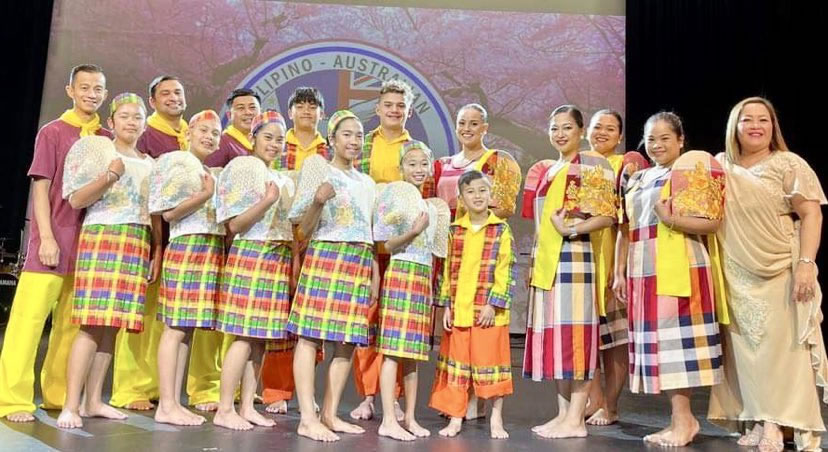 Dr. Magno (rightmost) with Fil-Australian dancers in Filipiniana costumes.
FAFQ Inc. Charity Queen Australia 2023 Coronation Night and Gala Dinner was hosted by the Filipino-Australian Foundation of Qld Inc. (FAFQ Inc.) on Saturday, September 2, 2023 at Sunnybank Performing Arts Centre (SunPAC) Brisbane, Australia. It was attended by FAFQ Inc. officials headed by its President Mrs. Cecilia J. Somodio; some dignitaries, diplomats as well as Filipino and other ethnic community leaders in Queensland, Australia.
Mrs. Somodio delivered her welcome remarks. Guest Speaker Atty. Sheryll Gabutero, Philippine Honorary Consul to Queensland delivered a cordial message and thanked FAFQ, Inc. for its continuous programs and projects for Filipinos in Australia and the Philippines. Mr. James Martin MP, Stretton Electorate and Ms. Angela Owen- Councilor for Calamvale Ward also spoke during the night. The introduction of FAFQ Inc. Charity Queen Australia 2023 Candidates followed. The intermission numbers were contributed by the FAFQ Filipino Language School, FAFQ Inc Cultural Group and local Filipino talents. The Masters of Ceremony were Mr. Ronnel Amanca and Mr. Jerome Somodio.
Dr. Necil C. Magno, a former recipient of the Filipino-Australian Foundation of Queensland Inc. grant-in-aid scholarship in 1999, was invited for the third time by FAFQ Inc. to come to Australia to share her knowledge and expertise in Filipino culture and values, particularly in folkdances. Some of the dances that were choreographed by Dr. Magno were showcased during the FAFQ Inc. Charity Queen Australia 2023 Coronation Night and Gala Dinner.
The Awarding Ceremony for the candidates started at 8PM with a serenade by the Purple Hearts Band. FAFQ Inc. Charity Queen Australia 2022 Winner, Mrs. Elizabeth Coombes made her final walk. Ms Marivic Yulo Christensen was proclaimed FAFQ Inc. Charity Queen Australia 2023 Winner. The cultural pageant concluded with FAFQ Inc. Vice President Mrs. Josie Bacud delivering her closing remarks.
The First FAFQ Inc. Charity Queen Australia Cultural Pageant was held in October 2022 after the COVID-19 pandemic. FAFQ Inc. has been a benefactor of students from the Philippines, particularly from Central Philippine University (CPU).
Among the three winning candidates, Henie Bandojo Bezdan was awarded FAFQ Inc. Charity Queen 2023 Iloilo. Henie hails from Molo, Iloilo City, Philippines and currently lives in Edens Landing, Queensland with husband Laszlo and daughter Alexandra. She is a Centralian herself and her chosen advocacy project is the Grant-in Aid Scholarship Program for CPU Work Students. Henie graduated from CPU in 2001 where she finished AB Political Science. She is currently pursuing a Diploma in Nursing in Australia. As a student then, Henie witnessed the struggle of CPU work students in completing their education. Through the Work-Study Program of CPU, she intends to help the poor but deserving students obtain their degree through the financial challenges that come with studying in a reputable university. She wishes everyone to support her advocacy project as she honors the American missionaries who inculcated in the heart and minds of CPU work students the words: Labor is Honor.
The FAFQ Inc. Board of Management and members wish to extend their sincere thanks to all donors, volunteers, and performers for their contribution to the success of the FAFQ Inc. Charity Queen Australia 2023 Coronation Night Gala Dinner.