By Cyrus A. Natividad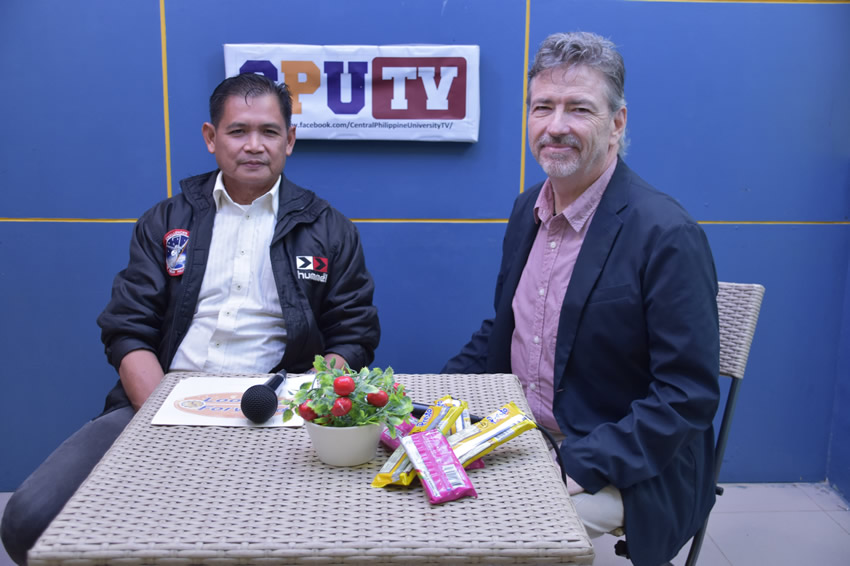 Dr. West with Looking Forward host Mr. Cyrus Natividad.
Dr. Bud West, CPU School of Graduate Studies professor, was the guest in Looking Forward – CPU TV's public affairs program last Friday, August 23, 2019.  West, an American professor, is an internationally-known expert in the field of research.  He is also a Professor in Leadership and Management and has been an admirable professor of students in their research subjects. "He is an excellent professor," noted Dr. Rowena M. Libo-on, Dean of the CPU School of Graduate Studies.
West currently teaches in the MBA and Doctor of Management programs while working with the Director of Institutional Research in the fields of project development and management. He is a Senior Fellow at The Cornerstone Leadership Institute. He also served at Regent University as an adjunct professor, teaching in doctoral programs for the School of Business and Leadership.
With regards to his stint at the CPU Graduate School, West expressed gratitude to the Lord for the opportunity to serve CPU, "being able to experience the legacy which was founded by American Missionaries." West has been a pastor who served several churches in non-vocational positions, including those of Associate Pastor, Minister of Music/Worship, and Minister of Education.
In Looking Forward, West shared the idea of how important research is to everyone in general, and the Filipino youth in particular. "Filipinos need intellectual research in many things, more so because they have many competencies and capabilities in different fields." Asked how he looks at the future of research for the students, West added that "there is so much opportunity for them, just by looking at how fast transitions are with technology."
Dr. West has other research employment previously – including stints at GP Strategies Corporation and serving the US Navy as a Nuclear Trained Mechanic on submarines. He is an expert consultant, project manager and training specialist among others.
He is married to a Filipina – Melanie Decrepito West; with sons EJ, Titus, Timothy and Thaddaeus.