By Cyrus A. Natividad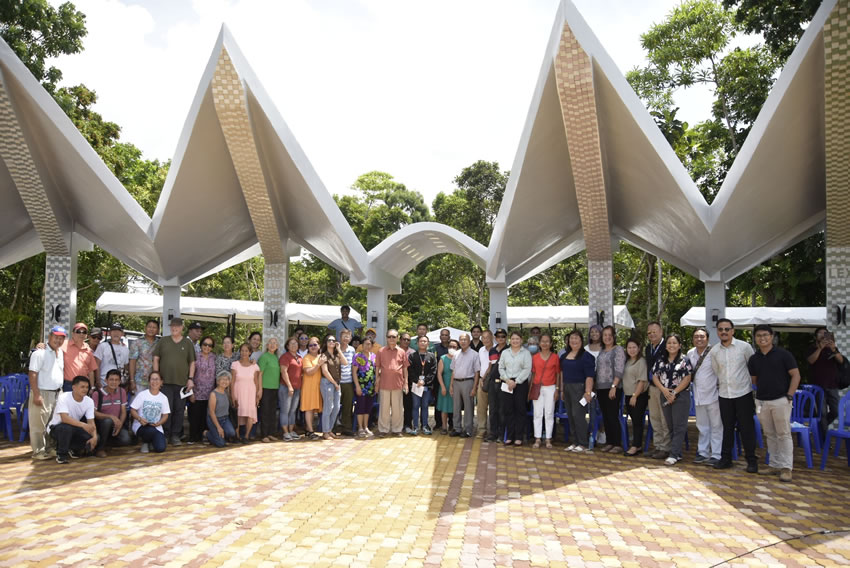 Dr. Ted Robles and Mrs. Angeles Robles -Oceanview Donors, led guests, CPBC and Board of Trustees representatives; Local Government Officials of Barotac Viejo and some CPU employees at the newly dedicated Prayer Garden and Chapel at Camp Higher Ground.
"Camp Higher Ground in Barotac Viejo, Iloilo may never be the same again, with the opening of the Oceanview Prayer Garden." This is the expectation of several guests at the new tourism site overlooking the blue horizon and the coast of the northern municipality. The Oceanview Prayer Garden is a donation made by the generous couple, Central Philippine University President Dr. Teodoro C. Robles and his wife Mrs. Angeles Robles.
A dedication service was held on Wednesday, May 24, 2023 with guests; local officials and representatives from the Office of Iloilo 5th District Congressman Hon. Raul "Boboy" C. Tupas; CPBC General Secretary Rev. Danilo A. Borlado, Board of Trustees Member, Dr. Manuel C. Palada, alumni and employees of Central Philippine University.
In his message, Dr. Robles said that "Oceanview is more than just a prayer garden; it is something to be used for the sake of God's glory." He said that "It will be open to visitors who will enjoy the serenity and coolness of the place. Furthermore, the place was designed to make it attractive to people who will see the cross."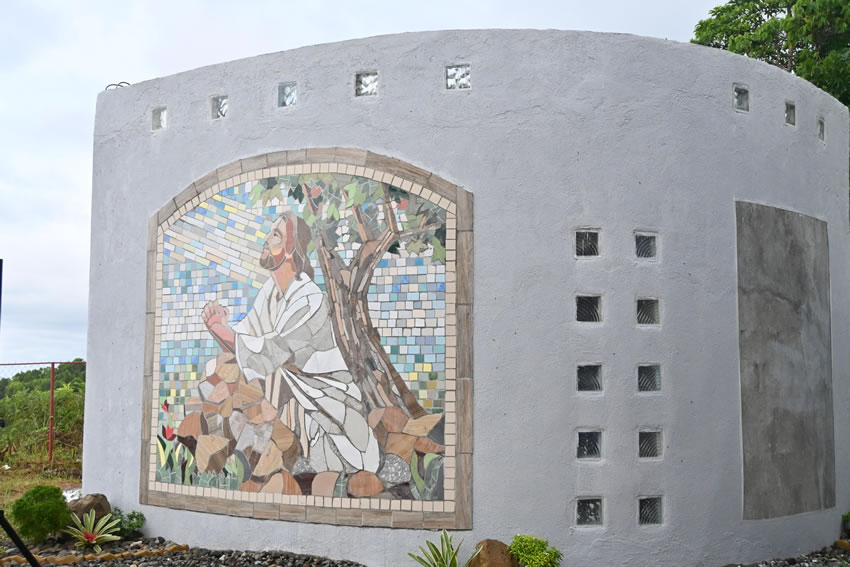 Jesus in the Garden of Gethsemane; Tile Mural on a concrete wall, by Architech Allan Cabalfin.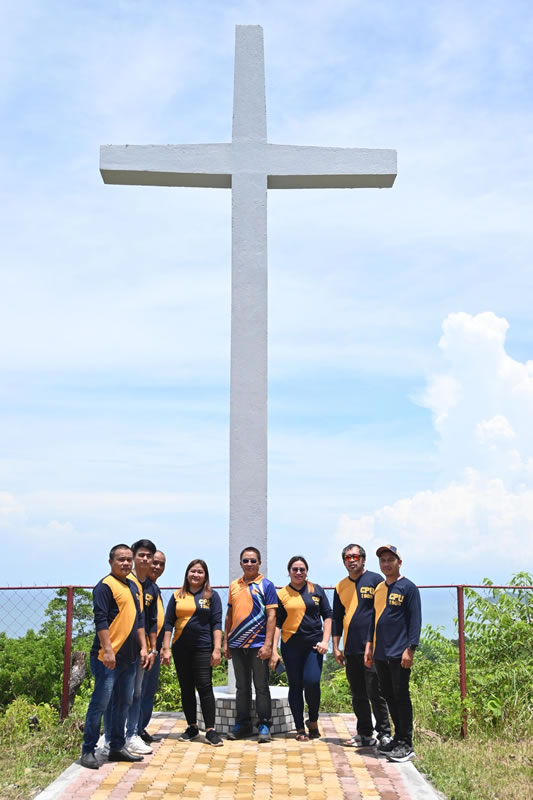 CPU Employees stand beneath the Concrete Cross overlooking the ocean – off Barotac Viejo.
A high cross made of concrete stands out near the cliff and across an architectural shelter where people can hold worship service, programs, ceremonies, and retreat. There is a structure on the side where a picture of Jesus in Gethsemane, made of tiles was unveiled. The artistic mural was not only designed by Architect Allan Cabalfin, brother of former CPU Department Chair Dr. Ofelia Cabalfin. He manually made it as well. The engineer who worked with Cabalfin is a Centralian Engr. Ronilo Camarista.
Rev. Cris Amorsolo V. Sian, University Church Senior Pastor delivered a Scriptural Admonition. His message centered on the story of Jacob in Genesis 28:10 to 19. He reflected upon verse 16, "When Jacob awoke from his sleep, he thought, 'Surely, the Lord is in this place, and I was not aware of it.'" Rev. Sian expounded, "Jacob did not respond by saying "Thank You." He memorialized the encounter by building something…a pillar… probably more of an altar." He added, "Jacob made a God-honoring response. He created a God-honoring House of God."
The dedication of Oceanview, implies that the place is of God; it has to be used for His glory and honor. Pastor Neva Grace L. Fabila, Associate Pastor for Campus Ministry led the Dedicatory Prayer which was followed with a musical number by the Leon Baptist Church Quartet.
CPBC General Secretary Rev. Danilo A. Borlado gave a response, appreciating and expressing his gratitude to Dr. Robles and Mrs. Robles for the valuable donation.
[WATCH IT ON FACEBOOK: A video documentation of this event can be found and accessed via CPU TV Channel: https://www.facebook.com/CentralPhilippineUniversityTV/videos/551733353580704]