By Cyrus A. Natividad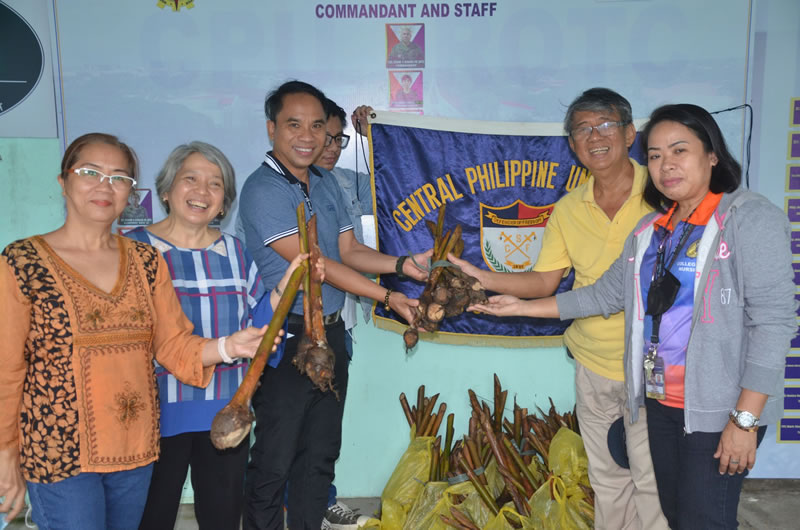 Crosswords Frasority and Members of CPU Campus Sustainability Committee during the project turnover at the ROTC Headquarters.
A wastewater treatment system is an imperative project which was initiated by CPU Crosswords Frasority. Its implementation consisted of ROTC Cadets planting the "Tagbak" (herbaceous plant that grows from stout rootstocks) and regulate wastewater passing through the pond before going to a body of water; in this case a creek near the CPU Engineering building, and a Department of Environment and Natural Resources (DENR) compliance for cleaned out wastewater before dispensing it to the environment. Thanks to Engr. Jeriel Militar (CPU Engineering department head) for clarifying how the Tagbak plant does its role in the system.
On November 15, 2022 at 10:00 AM, the civic-minded organization, Crosswords turned over the project to CPU Campus Sustainability Committee. In attendance were Mr. Prim Vergara III, Occupational Safety and Health Officer and Chair; CPU Campus Sustainability Committee, CAS Dean Dr. Stella Guartero Fernandez; Atty. Jeremy Bionat, Crosswords Officer; Engr. Amy Castigador, Head, Office for Institutional Advancement; and Ms. Analie D. Gelongos, NSTP and WSSP Coordinator.
One of the objectives of the project is "for the ROTC and other student organizations to continue planting Tagbak and even share the sustainable idea on wastewater treatment system to other establishments outside of CPU," Atty. Bionat said. He added that wastewater is among the problems that affect residents of Iloilo City, and nearby municipalities. Crossword continues to donate cuttings of Tagbak for planting.