By Cyrus A. Natividad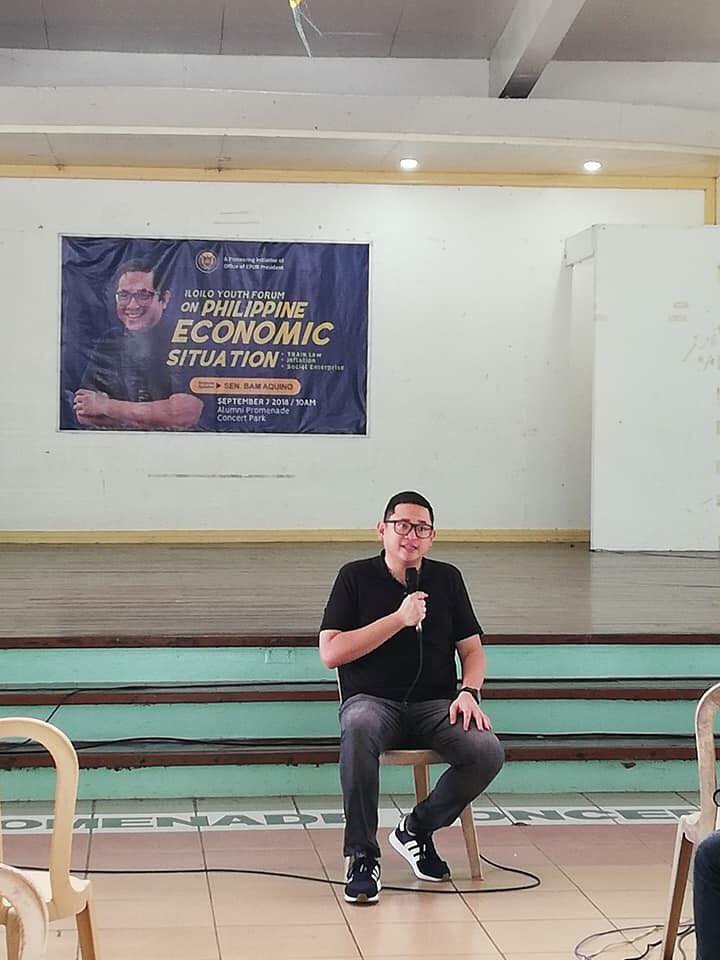 Guest speaker, Sen. Bam Aquino shared his insights and perspective regarding the TRAIN Law.

Central Philippine University Republic (CPUR) organized a youth forum on Philippine economic situation as a means to shed light on the country's current economic plight. The forum was held on September 7, 2018 at the Alumni Promenade and Concert Park from 10:30 AM to 12:00 PM. The pioneering initiative was done by the Office of the CPUR President in cooperation with the Office of Senator Bam Aquino.
The forum was attended by student leaders of other schools and universities in Iloilo City. Prof. Patrocinio Pudadera, CPU faculty, gave an overview of the TRAIN Law and tax reforms in the country.
Senator Bam Aquino then talked about the consequences of the passage of the TRAIN law, the economic challenges that the government is facing due to inflation, and the role of the youth in today's economic situation. One of the highlights in Aquino's message is his comparison of the current price of rice and that of three months ago. He explained how the TRAIN law affected the price of rice and that of other basic commodities.
Aquino has been recognized as one of the Ten Outstanding Young Men of the Philippines in the category of Social Enterprises and Community Development. He is also the author of Republic Act 10679 known as the Youth Entrepreneurship Act. The youth forum was part of the Iloilo leg of Aquino's interaction with the youth and students on issues related to the economy.
CPUR President John Michael Suelo first thanked Dr. Robles for his support to the CPUR and the students of the University. Suelo then commented regarding the forum that "we should be grateful for this support and privileged to engage in a discussion on issues concerning our current economic situations."
CPUR Senator Niegil Liboon introduced the keynote speaker.