By Edward Pormilos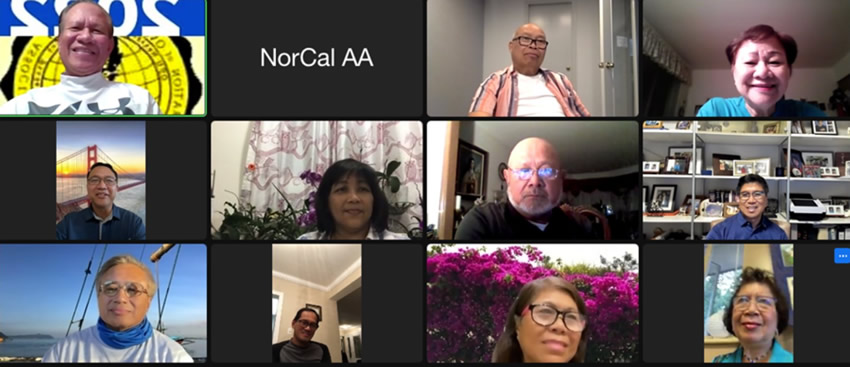 Participants of the CPUFOAAI Zoom meeting.
The Central Philippine University Federation of Overseas Alumni Association, Inc. officers and Board of Directors held its quarterly meeting via Zoom last September 24, 2022 to discuss the CBL amendment, the result of new officers' election, and other important matters. Presided by its President, Mr. Rod Gonzales, the meeting was participated by a total of 12 officers and Board of Directors including an adviser and chapter presidents.
Chapter presidents who were present during the meeting reported updates of their respective chapters. Pastor Edward Pormilos of Northern California Chapter shared their successful outdoor Family Day and new officers' election last September 11 that has gathered 41 participants. This was a follow through of a well-attended Annual Picnic last June as normalcy has been moving forward after pandemic restrictions. He also reported that their Grant-In-Aid, now on its second year, has solicited 11 sponsors for 17 recipients for the SY 2022-23. This was an improvement from 16 recipients during the launching year. Aside from the Grant, the Chapter is also contributing annually to the God's Grace Ministry to support the CPU work students. Earlier this year, the Chapter hosted an online weekly Bible Study that ran for 3 months to support a long-time member who lost her husband. The Chapter also sponsored an online Baby Shower last July for a new family member. Mr. Lou Losanes, who attended the meeting for the first time, presented himself as the newly elected President of North Texas Chapter and echoed their gathering to elect new set of officers. Mrs. Yoly Jain of Chicago-Midwest Chapter reported their successful Annual Picnic last August 27. The event was participated by former BOT Chair, Peter Irving Corvera, with his family and H.S. Class of 1986. Mr. Daryl de la Cruz and Mr. Sid Emmanuel of BC/Canada cited their two gatherings in Vancouver and Victoria, Canada. Mr. Rick Falco, one of the Board of Directors At-Large, shared about the Toronto Chapter's well-attended Annual Picnic last June and Gala Night/Induction of New Officers last August.
Mrs. Perla Waters, Federation adviser and Chair of Scholarship & Endowment Fund Committee, reported that from the initial fund of $25,000 earned from Las Vegas Global Reunion, the Endowment Fund has now ballooned to Php 3,515,670. Since 2016, the Fund has supported 102 students with Php 6,000 annual grant from the interest of the Fund and has released Php 5,000 each to 5 recipients of recognition award after graduating with honors.
Atty. Riggi Solinap, Chair of the CBL Amendment Committee, reported on the status of the amendment process. President Rod also cited the various target dates toward the final ratification on December 17, the final meeting for the year. The initiative to amend the CBL was well commended after several attempts in the past. It will be a legacy in the making.
Mr. Edwin Arroz, Chair of Election Committee, presented the results of special election held last July 1-10. He cited that there were a total of 331 registered voters coming from 11 chapters. The following are the new officers who will serve a new 2-year term starting January 2023 until December 2024. Induction will be held online during the final meeting on December 17.
PRESIDENT: LEE PLAGATA (NORCAL/USA)
FIRST VP: MAY ROGERS (MIDWEST/USA)
SECOND VPs:
JOEFREY GEROCHE – AUSTRALASIA/NZ (THAILAND)
ERLINDA GALANTO – CANADA (BC)
MICHAEL RENKER – EUROPE (GERMANY)
CHRIS TEJADA – MIDDLE EAST/AFRICA (KSA)
IRMAY DE LEON – USA (ALABAMA)
REGIONAL VPs:
REGION 1 – ARLENE PROBLADOR – (SOCAL/USA)
REGION 3 – YOLANDA JAIN – (USA, WINDSOR/CANADA) – (MIDWEST/USA)
REGION 5 – FELIX COLINCO, JR. – (NORTHEAST/USA)
REGION 6 – GRACE BADRINA – (NORTH TEXAS/USA)
REGION 8 – SID EMMANUEL (BC/CANADA)
REGION 9 – MERIAM AMY – (CPUAAGTA/CANADA)
CORPORATE SECRETARY: HELEN CASTROMAYOR (MIDWEST/USA)
ASST. CORPORATE SECRETARY: MELBA DEBULGADO (MIDWEST/USA)
CORPORATE TREASURER: KATHY KRIEWALL (NORCAL/USA)
CORPORATE AUDITOR: JUDY GRACE GABUNA (WINNIPEG/CANADA)
BOARD OF DIRECTORS AT-LARGE:
EDWIN ARROZ (CPUAAGTA)
MELINDA BOICE (MIDWEST/USA)
DERLA ERWIN (NORTH TEXAS/USA)
RINAND ESCUBAN (CPUAAGTA)
RODNEY GICANA (CPUAAGTA)
HELEN LEBIGA (SOCAL/USA)
LYDIA MACDONNELL (BC/CANADA)