By Cyrus A. Natividad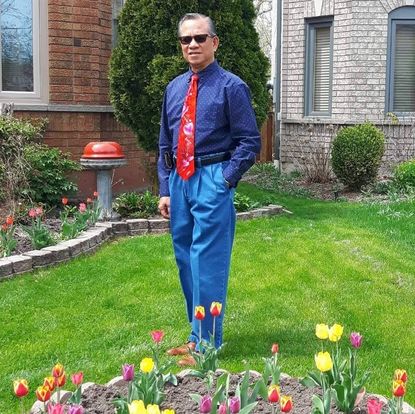 CPUFOAA President Rodrigo Rod Gonzales.
As the Covid-19 continues to affect countries all over the world, overseas Filipino workers experience and endure its impact both economically and emotionally. Centralian alumni abroad have their fair share of experiences in the situation, but are "still strong to face the challenges", CPU Federation of Overseas Alumni Association (CPUFOAA) echoes the sentiment with all its chapters and members worldwide.
The Centralian Link, in an online interview, asked CPUFOAA President Rodrigo "Rod" Jaena Gonzales, "What is the impact of the Covid-19 Pandemic to your association and members?" He answered, "Covid-19 has the greatest impact on the association and its members. Since the first quarter of 2020, our Chapters and Alumni Groups have been facing the challenges of meeting together and accomplishing respective goals for the association.  We cannot meet together face to face."
Gonzales added that some groups have been doing their meetings and induction of officers virtually which can sometimes be ineffective. However, he stressed the importance of what he calls the 5 C's of cooperation: Commit, Connect, Communicate, Collect and Celebrate, which he also shared during his induction as President of the CPUFOAA in February 2020 at Central Philippine University, where the Global Reunion took place. He made it clear that he needs 100 percent commitment from the alumni.
"What is your primary concern with regard to the development and progress of the Federation?" "Primarily, my most concern is the first 3 C's: Commitment, Connection, and Communication. The organization cannot develop or progress without them, and we need the 3 C's before any involvement or actions are done. According to Gonzales, the CPUFOAA motto, "Uniting for a greater Central" is very important. Only with unity can an organization flourish or progress.
The seventy-one-year-old FOAA President who is based in Mississauga, Ontario, Canada has been a member of the CPU Alumni association for 41 years after he migrated to Canada.  Gonzales was also asked this question by Centralian Link: "What was your most important consideration on becoming a member of the CPU Alumni Association?" He said, "My most important consideration is to promote the "Central Spirit" among Centralians here in Canada; making it alive in every alumni's heart, most of all to look back from where I came from as one of the alumni of Central Philippine University. In one way or another – I wanted to get involved in maintaining and sustaining the stature of CPU as the Hope of Coming Generations."
The Centralian Link asked Gonzales for an update on the Global Reunion 2023 in Toronto Canada.
Gonzales explained that "Hosting the Global Reunion needs a three-year plan before the event. Thus, the first year being the year of preparation, the second year- promotion and the third year (usually the first week of July), the Global Reunion."
"The CPU Alumni Association Greater Toronto Area (CPUAAGTA) accepted to host the Global Reunion 2022 after the Global Reunion 2020 held in CPU (so that 2020-preparation, 2021-promotion, 2022 July-event)."
"The Pandemic worsened with restrictions on and off especially in Toronto since March of 2020. The CPUAAGTA started their preparation and planning which were done virtually."
"The Covid-19 Pandemic has greatly affected their plans. The 2022 Global Reunion was moved to 2023; hoping that that the Pandemic would be contained and all situations stable by 2021. But we are already more than half of the year of 2021, and in Toronto and even globally, the situations are still very unpredictable – very unstable and to travel globally is still 'not safe' (coupled with many restrictions). The plans and commitment especially with the venue (hotel for instance) could not be completed and finalized because of these uncertainties of situations."
"There is no possibility that the promotion of the Global Reunion 2023 could be done next year (2022). The cases could show decreasing, vaccination percentage to a higher level, however, it would take a while for the economy to recover (personally and corporately; locally and internationally)."
"During their May 20, 2021 meeting, the CPUAAGTA approved to cancel the hosting of Global Reunion 2023 which was presented to the CPUFOAA meeting on June 26, 2021. There will be changes on the schedule of the next Global Reunion and it will be until further notice."
Rod Gonzales is a graduate of Mechanical Engineering from Central Philippine University, Iloilo City in 1968. He also finished his Bachelor of Science in Education Major in Mathematics from CPU in 1970 and his Master of Science in Guidance and Counselling from CPU in 1973.
He is an NSDB Scholar with the Science Foundation of the Philippines. He finished his MA in Teaching Mathematics from Silliman University, Dumaguete City in 1976, his MA Ed. from WVSU Iloilo City in 1978. He finished Computer Programming and Data Processing, I.T. Programming from the Computer Institute of Canada, Montreal, Quebec, Canada.
Gonzales studied through a work-study scholarship program and was assigned in different offices at Central Philippine University. With strong determination to succeed, he was employed in CPU as Staff, Faculty, and 1st Vice Principal before working abroad with different companies in Canada.
Rod is happily married to Felna Cajilig-Gonzales (CPU BSN Supp 1972), with two children Estelle Ann and Andrew Roel; both married to Alain Michael Fadel and Michelle Julianne Gallagher.