By Cyrus A. Natividad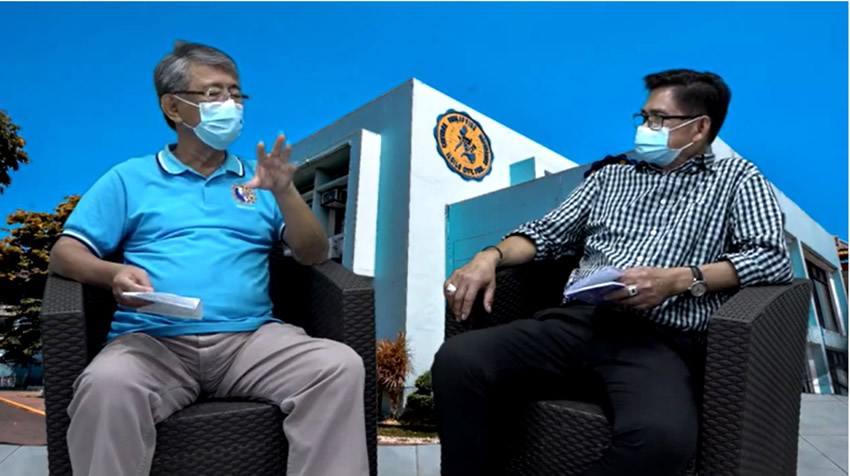 CPUAAI President Jeremy V. Bionat clarifies an issue during an intervew on CPU TV Looking Forward Public Affairs Program.
At the onset, Atty. Jeremy V. Bionat, CPUAAI President was looking forward to a greater opportunity this year – to implement programs and projects for CPU Alumni Association and the University. The 30 -minute interview with Bionat on CPU TV Channel on Wednesday, February 1, 2023 was filled with bright ideas; sharing his agenda which were discussed with the CPUAAI Board of Trustees earlier- before the show. Bionat pointed out opportunities which will focus on development and enhancement of the University. "We need to encourage support and commitment on this," he said.
Bionat opened up a four-pronged plan. First: Sustaining the 'Plant a True Narra' project. "This is supportive of the CPU conservation initiatives, campus eco-system and beautification." He noted that the Iloilo City Council is observing the 20th Anniversary of its proclamation of Central Philippine University as Eco-Tourism Zone. The bill was filed by the late CPUAAI President and former Iloilo City Councilor Atty. Joshua C. Alim.
Second: Focus on the make-over of CPU campus. "We encourage campus organizations to get involved," Bionat said. He added that, "Campus organizations such as the CPUR and Crosswords Frasority have already started the "Plant-a True Narra Project." Alumni and campus organizations are encouraged to adopt a tree. True Narra trees will be planted outside, within the perimeter of CPU; other varieties to be designated inside the campus. CPU Alumni Chapters or Associations may adopt one or more trees. However, proper coordination with the Alumni Affairs Office is required, according to Bionat. The 'Plant a True Narra' Project was proposed by Atty. Jeremy Bionat before he became President of CPUAAI.
Third: Countdown to the Grand Alumni Homecoming- Seven Years from now which is the 125 years of CPU. Prior to that is the Global Reunion in Toronto Canada in July 2025.
Fourth and foremost: Study on Scholarship programs. He said that, "There are presently a number of scholarship extensions on a selected course. We are looking forward to adding more courses, as long as there are proper coordination on deserving recipients," Bionat added.
Atty. Jeremy V. Bionat graduated his Bachelor of Arts -Major in Political Science (Batch 1977) and Bachelor of Laws (Batch1984) – both from Central Philippine University. He was a Corps Commander and a graduate of the ROTC Advance Course; Editor-in Chief of the Centralite in 1977 and 1981, and also an Editorial Board Member of the Central Echo.
He graduated With Honors from CPU High School in 1972; a Valedictorian from Estancia Central Elementary School in 1968.
Bionat was born in Estancia, Iloilo on September 12, 1955 to parents Jeremias Puerto Bionat and Amelia Besana Villaris.
He is married to fellow Centralian Sandra Mercado Castro, a graduate of Bachelor of Science in Commerce, Major in Accounting (CPU Batch '81). They have a son named Justin Francis.