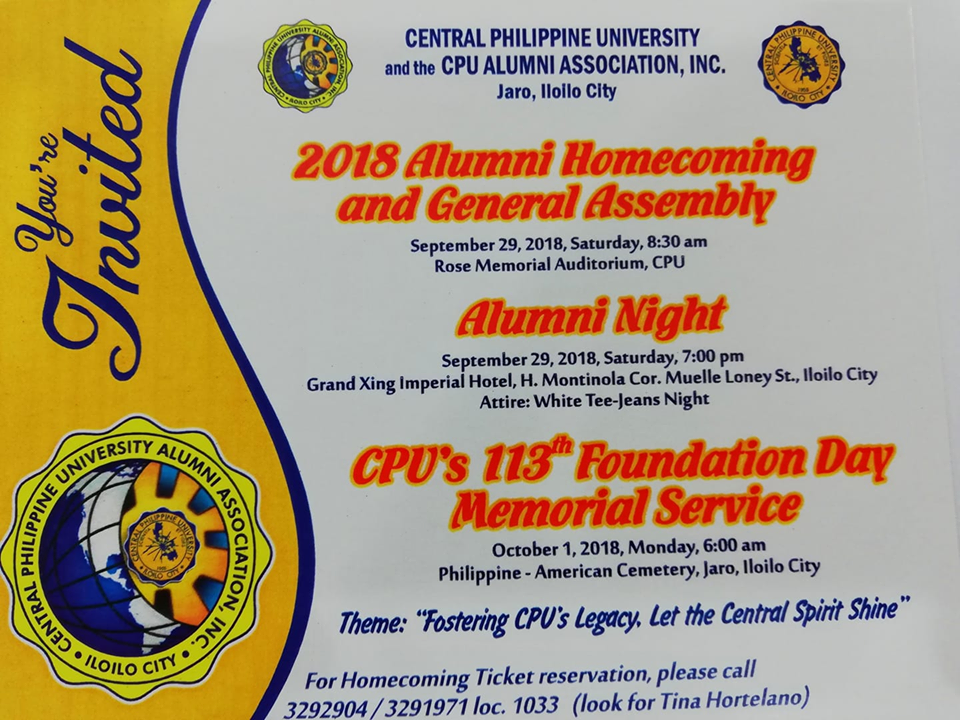 Celebrating the Central Spirit for 113 years – Central Philippine University is inviting its alumni here and abroad to attend the 2018 Alumni Homecoming and General Assembly on September 29, 2018, 8:30  at the Rose Memorial Auditorium.
Centralians are encouraged to immerse themselves once again in the tradition of camaraderie and faith as we recall our memories in dear Central and as we thank the Lord for His faithfulness in bringing the university to greater heights.
With the theme, "Fostering CPU's Legacy: Let the Central Spirit Shine" let us proclaim the goodness of the Lord in our university and His favour in our lives.
The Alumni Night will be held at the Grand Xing Imperial Hotel on September 29, 2018, 7:00 PM. On the other hand, CPU's 113th Foundation Day Memorial Service will be held at the Philippine-American Cemetery on October 1, 2018, 6:00 AM.
CPU looks forward for its campus to be once again crowded with its dear alumni and friends. This grand celebration is a testimony of CPU's commitment of placing Christ as the cornerstone of the university for 113 years and its dedication to producing exemplary Christian learners for life.