By Keziah G. Huelar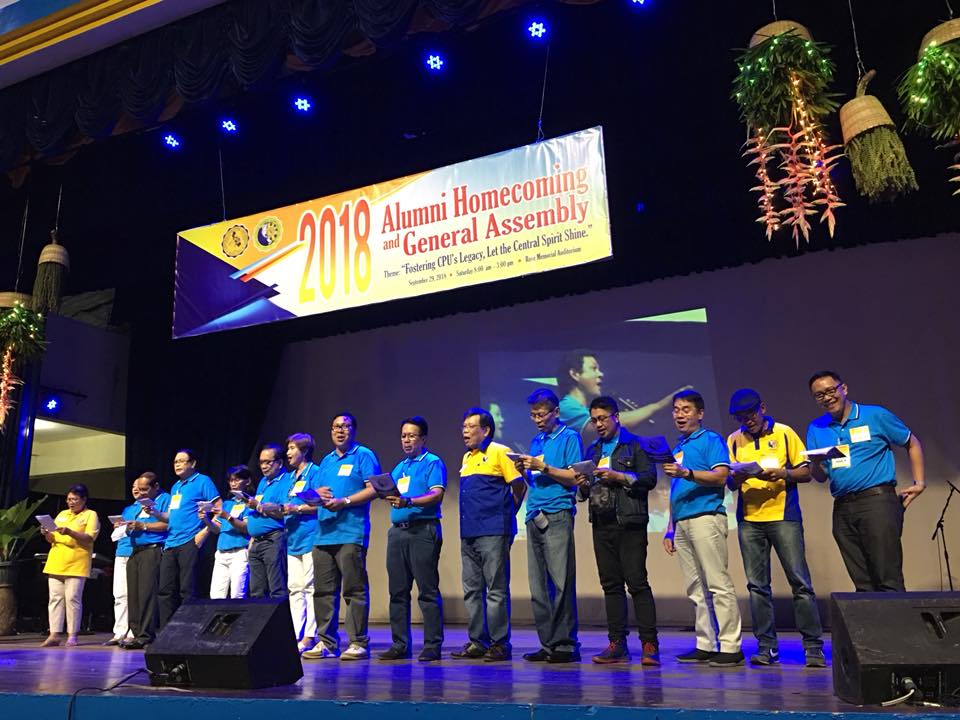 The officers of the CPU Alumni Association inc. – serving Centralians here and abroad.
Keeping the Central Spirit alive—Centralians numbering to 491 from here and abroad gathered together to celebrate Central Philippine University's 113th Founding Anniversary and to rekindle their friendships and fond memories during the 2018 CPU Alumni Homecoming and General Assembly held at Rose Memorial Auditorium on September 29, 2018.
With the theme "Fostering CPU's Legacy, Let the Central Spirit Shine," CPU alumni were welcomed by the CPU Symphonic Band at the Rose Memorial Auditorium steps. They were then treated to a day of fun, food, and friendship. It was a celebration of God's goodness to CPU and a celebration of being a Centralian.
The morning meditation was led by Rev. Dr. Bernabe C. Pagara, Dean, CPU College of Theology. For the program proper, Ms. Crsita S. Huyong, Coordinator, CPU Cultural Affairs Office, led the Philippine National Anthem and the Alma Mater Song. A special production number from the CPU Sari-Saot Dance Troupe then followed.
For the welcome remarks, Engr. Isagani J. Jalbuena, President, CPUAAI greeted and welcomed the alumni and guest.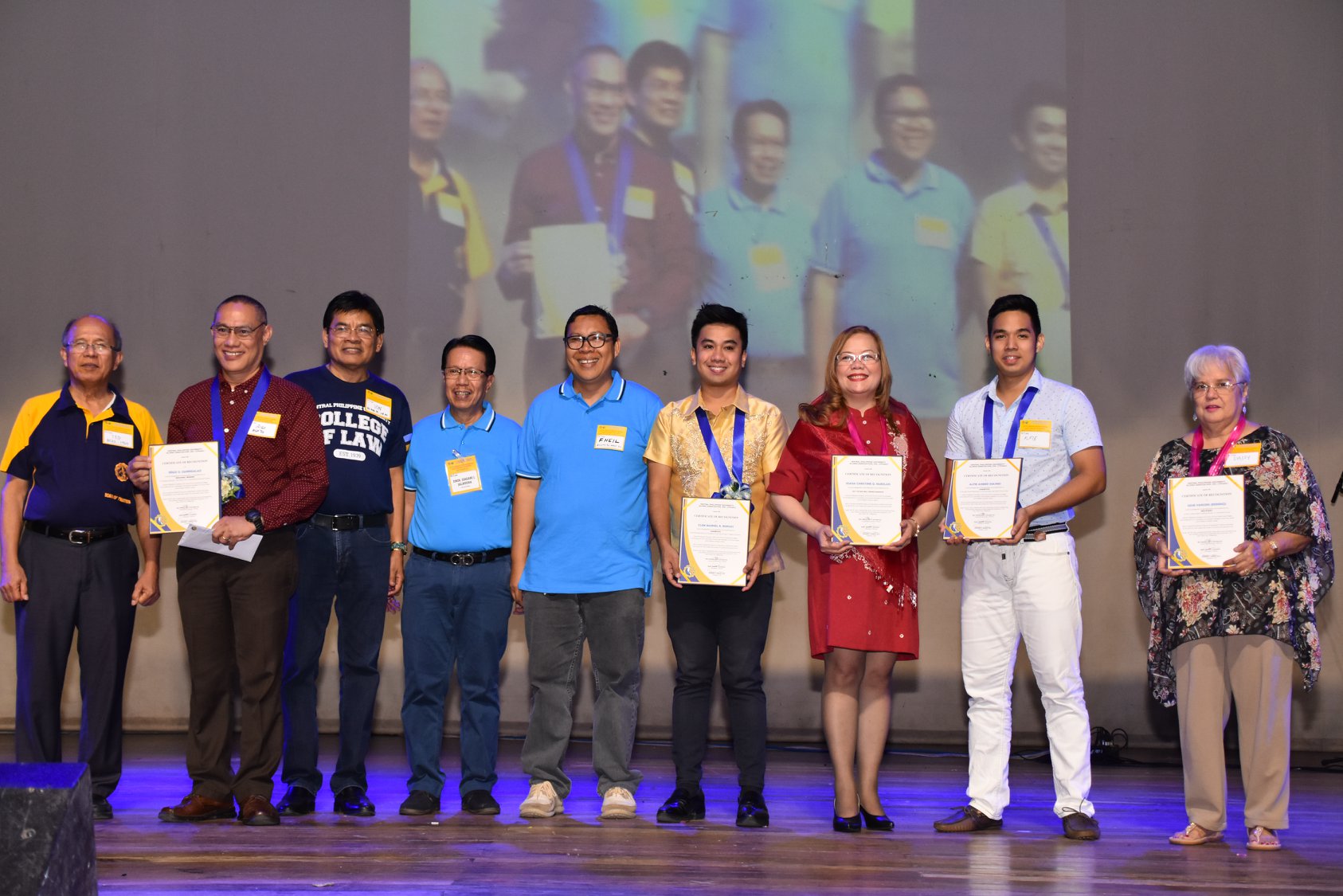 CPU President, Dr. Teodoro C. Robles, CPU BOT Chairman, Atty. Von Lovel Bedona, CPUAAI President, Engr. Isagani J. Jalbuena and CPUAAI Corporate Secretary and Director of the CPU Office of Communications together with the recognized Centralian achievers.
CPU President, Dr. Teodoro C. Robles, in his message, highlighted the importance of being together to celebrate the Central Spirit: "We thank God for bringing us together today from many different places. We are grateful that many Jubilarians are present here today. We hope that every year, we will have the presence of many different alumni chapters to make our celebration lively."
 Atty. Von Lovel D. Bedona, Chairman, CPU Board of Trustees, during his turn to give a message, encouraged the alumni to enjoy their visit to CPU and their fellowship with one another.
Rev. Francis Neil G. Jalando-on, Corporate Secretary of CPUAAI and the Director of the CPU Office of Communications, then led the roll call of alumni. Afterwhich, Centralian achievers were recognized and awarded. The recipient were Clem Marnel R. Burgos, Champion, 5th International Competition of Arts and Culture in Yerevan, Armenia; April Joyce C. Catalan, First Place, 2018 Pharmacy Licensure Examination; Alfie Ahmed Diasnes, World Champion, Jeju World Taekwando at Hanmandang, Jeju Island, South Korea; Susie Yanson-Jennings, recipient of the Audrey Kaplan Inspiring Women of Southwest Award; and Iñigo D. Garingalao, Regional Winner, "Dangal ng Bayan," 2018 Search for Outstanding Government Workers.
In his response on behalf of the alumni awardees, Mr. Garingalao highlighted the Central Spirit of excellence in the workplace: "This recognition, my friends and fellow alumni, is more than [just a] praise and [a] pat on the back. This is for us [an] affirmation that we have been true to being Centralians even as we have left the halls of Central… "
After the response, a dance intermission was given by Aleia Robbyn J. Muyco and Mr. Mico Andrei J. Hechanova, Grade 8 students and CPU Junior High School Champion, National PRISAA 2018.
Engr. Jalbuena gave a CPUAAI President's Report highlighting the projects and the plans of the CPUAAI. Next, the new officers of the various alumni chapters were inducted and recognized and charter memberships to the new alumni chapters were presented.
Dr. Robles, during the CPU President's Time, thanked the CPU alumni for their continued love for and support to CPU. He also highlighted the importance of the alumni community working together to make the bond of the Central Spirit stronger around the globe.
Meanwhile, Mrs. Flora Grace Guillergan-Cudiamat, President, CPU Federation of Overseas Alumni Association, talked about the scholarships given by the alumni community as a way of supporting young and passionate Centralians. After which, Mr. Rey L. Balago, Corporate Treasurer, CPUAAI gave the Treasurer's Report and Atty. Noel C. Siosan, Jr. presented the nominees of the Mr. and Ms. CPU 2018 Alumni King and Queen 2018.
The homecoming and general assembly also awarded and recognized the Jubilarian batches:
Batch 1958 – 60th Anniversary
Batch 1963 – 55th Anniversary
Batch 1968 – 50th Anniversary
Batch 1973 – 45th Anniversary
Batch 1978 – 40th Anniversary
Batch 1983 – 35th Anniversary
Batch 1988 – 30th Anniversary
Batch 1993 – 25th Anniversary
Batch 1998 – 20th Anniversary
The closing prayer and benediction was led by Rev. Roger T. Quimpo, Associate Pastor, University Church.