By Meriam Amy, CPUAAGTA PRO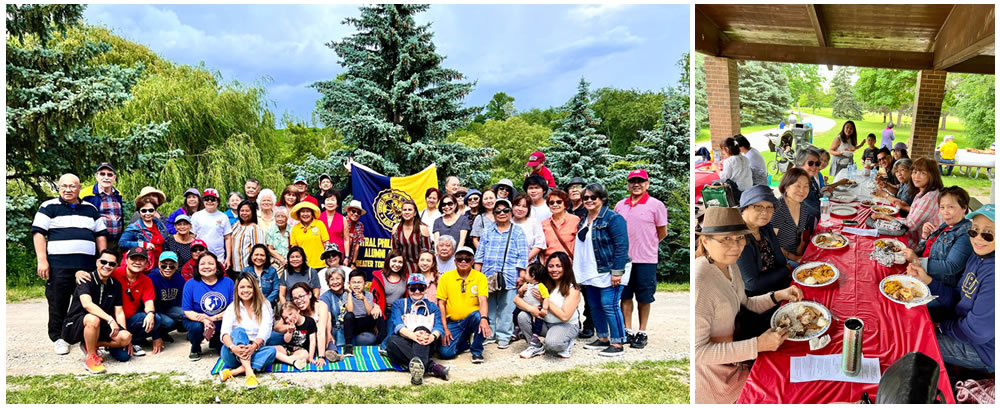 CPU Alumni Association of Greater Toronto held a picnic at the Centennial Park in Etobicoke.
June 11, 2022 was a beautiful Saturday at Centennial Park in Etobicoke. For the first time in the last two years the CPU Alumni Association of Greater Toronto gathered for the Annual Picnic.
The food filled the two 12-foot picnic tables. All kinds of variety imaginable. Main dishes that reminded all of us of being back home. The noodles, palabok and variety of vegetables cooked to perfection. The lechon – generously donated by Celiz Law. The spread of dessert, in fact my chocolate brownies and chocolate chips have no match for the suman with coconut and the sponge cake with cheese that totally melt as it touches your palate.
The fun started out with a game of letter scramble. Each team must guess the word that would match the description of the leader Faith Gicana. The one group keeps rearranging themselves instead of the letters, we heard more giggles and laughter from that group. I also brought other active games suitable for all ages. The bochi ball was a real hit. The first two teams did not move to the other games because they got really involve and spent 1 hour trying to break the tie score.
It was good to hear testimonies represented from different generations. Marianne Grecia, Carel Gicana read one of the poems "Amazing Grace" from her newly published book" Before 24". Cheche Obregon shared an animated version of happiness and contentment of being single. Sir Rod Gonzales concluded the program with a short meditation. He highlighted that we should continue to be strong, keep our faith in the midge of trials and challenges. We must also hold on to the promise of God's amazing grace.
The weather was perfect despite a forecast of 80% shower. As we were cleaning up and saying our goodbyes at 4:00 p.m., we are reminded again that God's faithfulness is very real and ever present in that gathering. There were 60 adults plus a dozen kids. We also extended a warm welcome to a new CPU alumnus, Mike and Karen Cocjin and their 2 kids, an Engineering graduate. We went home fully nourished physically, emotionally, and spiritually.
It was such a fun time. We also casted our vote for the incoming term [2023-2024] officers for FOAA and CPUAAGTA. Kudos to our President Norma VanDusen for keeping us in line and the rest of the officers.
Thank you to everyone in attendance. I hope we can continue to spread and share the Central Spirit through these events. Your support is greatly appreciated by paying the annual membership fee of $10.00 which can be conveniently directed to the treasurer via e-transfer = cpuaagtachapter@gmail.com