By Mysel E. Taladhay, BSAE 4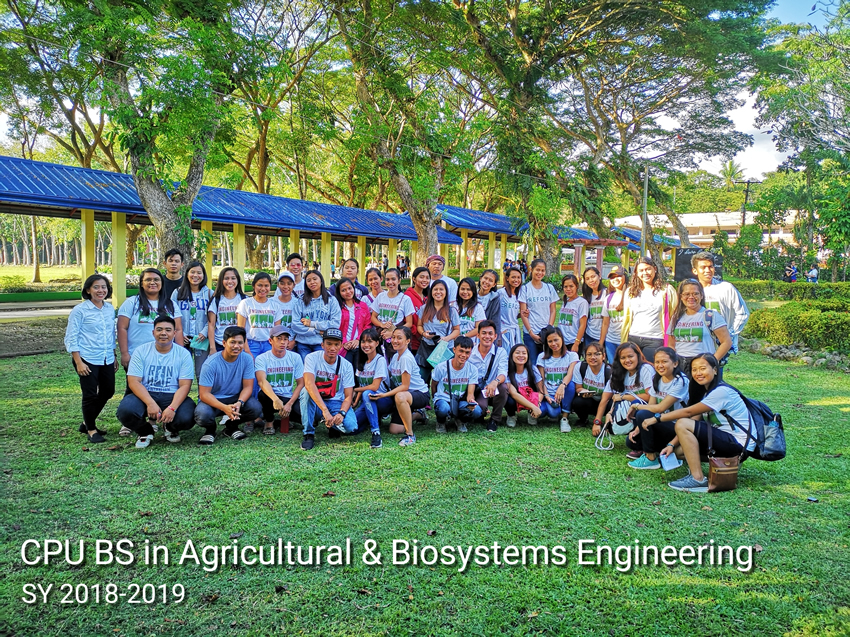 CPU delegates to the 1st PSABE-PPG Regional Convention.
Another success was brought to Central Philippine University by BS in Agricultural and Biosystems Engineering students after they were declared as overall Champion in the 1st Philippine Society of Agricultural and Biosystems Engineers (PSABE)-Pre-Professional Group (PPG) Western Visayas Regional Convention held on October 25-28, 2018 at Central Philippine State University (CPSU) in Kabankalan City, Negros Occidental.
With the theme, "PSABE-PPG: With full responsibility, comes greater PSABE-lity," the four-day event served as a venue for learning and camaraderie amongst the Agricultural and Biosystems Engineering (ABE)/Agricultural Engineering (AE) students in Western Visayas.
The said event officially opened on October 25, 2018 and was attended by four student chapters in Western Visayas coming from Central Philippine University (CPU) with 39 student delegates and 2 advisers, Central Philippines State University (CPSU) with 85 student delegates and advisers, Capiz State University (CapSU)-Pontevedra Campus with 49 student delegates and 2 advisers, and CapSU-Burias Campus with 2 student participants. The CPU team was led by its program Chairperson, Dr. Aries Roda D. Romallosa, and new faculty member, Engr. Dee B. Lucena.
The second day focused on lectures and actual learnings from the invited resource persons, namely: Engr. Imelda Fernandez, Mr. Carlo Willisfer Jontilla, and Engr. Roy Villarin who shared their expertise on topics Value Chain Analysis, Introduction to Applied Geotagging Tool Technology (AGT), and Basic Operation on Drone, respectively.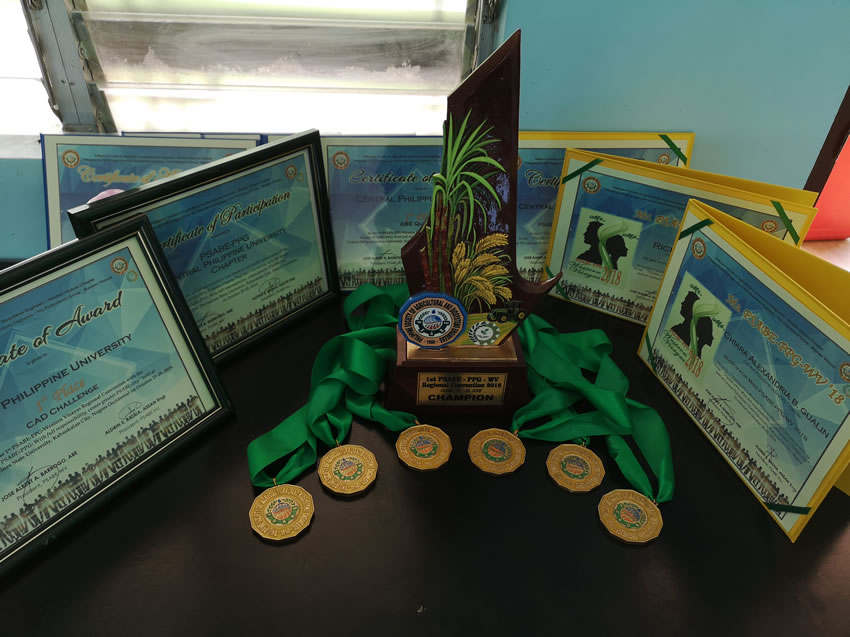 Trophy, medals and certificates received by CPU delegates.
The knowledge and skills competition of the students were conducted on the third day. Contests include Mr. and Ms. PSABE 2018, Got Talent, Poster Making, Computer-Aided-Drafting (CAD) Challenge, ABE Quiz, Surveying Challenge, and Tractor Parts Identification. Except for the first four, the contestants per team/chapter were selected randomly after registering to allow all participants to prepare well for the competition.
The winners in the different contests which made CPU the overall champion were Richard Manolo and Chiara Alexandra Gualin, who were judged as Mr. and Ms. PSABE-PPG 2018. The pair also won other awards like Best in Production Number, Best in Talent, and Best in Formal Wear. The other winners were Joesan Marie Ferasol, Chiara Alexandra Gualin, Dece Rae Arostique, Richard Manolo and Jan Michael Suropia-first place, ABE Quiz; Mark Gio Solar, Bryan Jy Laos and Sheralaine Briones-first place, CAD Challenge; ABE Team-second place, PSABE-PPG Got Talent; Arnel Decretales-second place, Tractor Parts Identification; Emheryn Grace Calitisin and Mysel Taladhay-both tied in third place, Tractor Parts Identification; and, Van Sumalde, Ara Kaye Arguelles, May Joy Sombiro, Cherryl Perra, and Nestlie Arcos-third place, Surveying Challenge.
Furthermore, Richard Manolo, Emheryn Grace Calitisin and Jirah Mae Cataluña were elected as the new PSABE-PPG Western Visayas Chapter President, Secretary, and member of the Board of Trustees, respectively.
"I have learned that even though we are small in number, we were able to compete and showed them what we got. Through unity, cooperation, and, most of all trust in God, nothing is impossible," Joesan Ferasol, a graduating BSAE student, claimed when asked what they had learned in the event and how they brought CPU to the top.
The First Place winners will represent and compete for the Western Visayas Chapter during the PSABE-PPG National Convention which will be held on the fourth week of April 2019 in Bacolod City.
The PSABE-PPG Western Visayas Regional Convention is held every two years and CPU was chosen to host it on October 2020.