By Francis Neil G. Jalando-on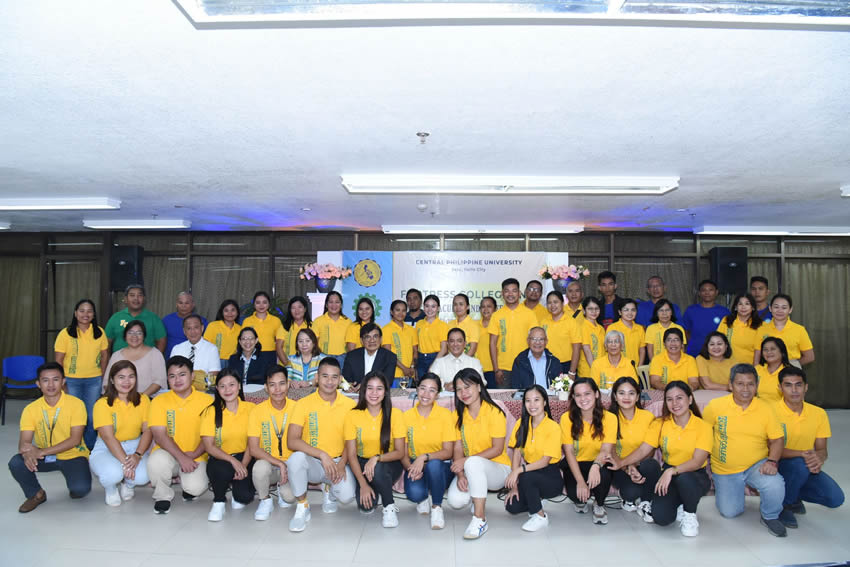 Fortress College faculty and staff posed with CPU administration officials and CPU Board of Trustees.
In a significant collaboration, Central Philippine University warmly embraced more than 40 faculty and staff members from Fortress College in Kabankalan City, Negros Occidental, as they embarked on an Educational Benchmarking and Tour program from November 8 to 10, 2023.
The program, aimed at fostering academic excellence and sharing knowledge, commenced with a opening ceremony that set the tone for an enriching experience.
On the opening day, November 8, 2023, the program started with a devotional led by Rev. Cris Amorsolo V. Sian, Senior Pastor of the University Church. After the singing the National Anthem led by Mrs. Crista S. Huyong, the participants were introduced and welcomed.
Rev. Dr. Ernest Howard B. Dagohoy, President of Central Philippine University, extended a warm welcome to the guests. Atty. Von Lovel D. Bedona, Vice Chairman of CPU Board of Trustees and Chairman of Fortress College, Inc. BOT Technical Working Committee, shared some historical background of how the donation of the Fortress College came to be. Prof. Ana Mae B. Cantel provided an orientation briefing about the Educational Benchmarking and Tour. Mrs. Grace T. Hughes, President of Fortress College, Inc., Kabankalan City, expressed gratitude and shared her response to the warm welcome. The audience was treated to an energetic performance by CPU Junior High School Hip Hop Dancers, and also the singing of Ms. Rusieljs G. Lunasco, a Juris Doctor student from CPU College of Law,
The program continued with short video presentations about CPU and its programs related to research, instruction, and outreach. An open forum followed, facilitating discussions with panelists including Dr. Dagohoy, Dr. Florence Bogacia, Dr. Irving Rio, and members of the CPU Board of Trustees – Dr. Carmen Santos and Engr. Eddie Cañuto.
The morning event concluded with a closing prayer led by Pastor Alfred C. Morales, Acting Director of Student Development and Programs.
In the afternoon, the participants were given a presentation about the CPU Kindergarten School by Prof. Praise Glory- Kindergarten School Principal; about the CPU Elementary School by Prof. Janet Jaco – Elementary School Principal; and about the CPU Junior High School by Prof. Charlett B. Dianala – Junior High School Principal.
On the second day of the activity, the participants from Fortress College were able to observe classes of the CPU Kindergarten, Elementary, and Junior High School classes. In the afternoon, they attended a Seminar-Workshop on Effective Schools given by Dr. Ananias C. Sabijon Jr., Director of the CPU Center for Teaching and Learning Excellence (CTLE). To cap their visit, they were treated to an Iloilo City Tour and a dinner sponsored by CPU Board of Trustees Corporate Treasurer Dr. Carmen P. Santos.
The Educational Benchmarking and Tour was filled with excitement and engagement, fostering a sense of unity and shared knowledge between Fortress College and Central Philippine University. The program reflected the commitment of both institutions to promote academic excellence and inspire the exchange of ideas and best practices. This collaboration marks the beginning of a promising journey towards a brighter future in the field of education.