By Joshua Z. Zonita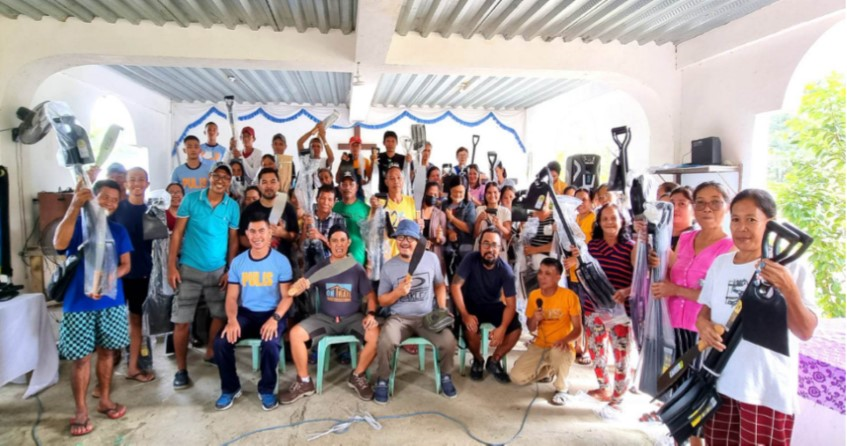 Members of the CPU volunteer group with victims of the calamity in Libacao.
The people in Panay Island, especially the marginalized sectors, are still recovering from the economic downturn caused by pandemic when the Severe Tropical Storm Paeng destroyed their farms, houses, livestock, and rice fields last October 29, 2022. Moreover, Paeng has caused grief among families who lost their loved ones in the flood.
Filipinos are not only resilient and joy-filled people even in times of crisis. Filipinos are also emphatic, helpful, sensible, cooperative, and generous kind of people on earth. Such good qualities constitute what we call a "bayanihan spirit" and "maayong buot" that allow our shared humanity to flourish and regenerate in the best of times and worst of times.
And it goes without saying a word. The bayanihan spirit transcends barriers, changes perceptions, and it mends wounded souls. It is a powerful antidote for human despair.
Last December 14-15, 2022, the common bayanihan spirit has stirred the so-called "Central Spirit"—combined efforts of the University Church, CPU Administration, CPU Elementary School and Community Engagement and Service-Learning Center, in responding to the victims of calamity. Driven by a high-octane energy of compassion and faith, a group of volunteers led by Rev. Cris Amorsolo Sian, Pastor Rd Celeste, Pastor Thor Naoquines, and John Randolf Cabansal, visited barangay Loctuga, Libacao, Aklan to minister to people and distribute farm tools, grass cutters, and seeds for a group of farmers and their families—victims of calamity. The ceremony of distribution was hosted by Loctuga Baptist Church, Loctuga, Libacao, Aklan facilitated by Pastor Julie Equipado, Jr. and Pastor Jun Jun Fermino.
The beauty of it all is not in the gesture of giving and accepting, but in the brewing of hope, dreams, and partnership in every heart who believes in the power of bayanihan in the service of the kingdom of God—justice, peace, love, and righteousness.
Soon, out of the mad, our dreams shall be green again—a new beginning and a flourishing shared humanity that will bear fruits—kaginhawaan (abundance) and kabuganaan (fullness of life).