By Cyrus A. Natividad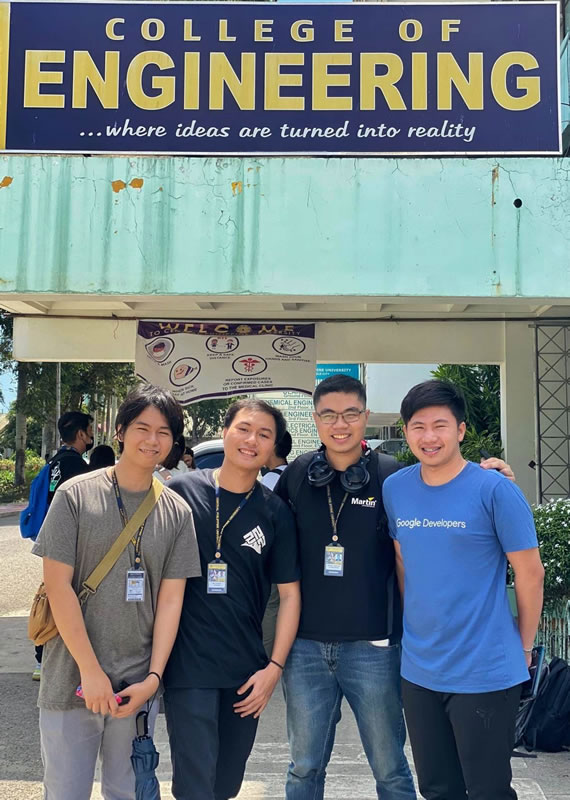 The Team SL2P at the CPU College of Engineering.
The team composed of Mykiel Deovenne E. Pagayonan (BS in Software Engineering 1), Rafael III J. Prudente (BS in Software Engineering 2), Justin R. Santos (BS in Computer Science 3)and Matthew B. Ledesma (BS in Software Engineering 1) submitted their Artificial Intelligence (AI) Proposal. The competition was held in Manila on March 3, 2023.
Their AI proposal is entitled "Illuminate: Overcoming Learning Challenges." The team explained that their proposal "Illuminate", is a learning management system designed to help elementary students mitigate the effects of their dyslexia. Illuminate provides educators with a dynamic instrument for fostering students' literacy skills and enabling them to reach higher potential. The system is designed to be user-friendly, with an intuitive interface that makes it accessible for teachers to assign and track exercises, monitor student progress, and access detailed statistics and reports.
The team was confident in their cooperative endeavor, and as Centralians who are aware of CPU's global standing in software technology. They looked forward to win the competition. The declaration of the EDSA People Power holiday adjustment, however, allowed them to stay and present their proposal online.
On the same day, the team was declared 2nd Placer, among 52 other participants from schools and universities all over the country.
Leading the team was Prudente, who believed in sharing their experiences of winning in previous international competitions and mutual clubs. In an interview for The Centralian Link at the CPU Office of Communications he said that "We are a passionate team from Central Philippine University, united and constantly seeking new opportunities to learn and grow; we are open to new ideas and challenges as we aim to utilize technology in service to the community. We are very proud of being Centralians."
The Microsoft Imagine Cup is a global competition organized by Microsoft that aims to encourage official adjustment of the students to use technology and innovation to solve real-world problems. The competition is open to students aged 16 and older, who are enrolled in high school, college, or university.
In the Philippines, the Microsoft Imagine Cup has been a popular competition among students who are interested in technology and innovation. The competition has helped many Filipino students showcase their skills and ideas in software development, game design, and other technology-related fields.