(A story of faith and determination)
By Cyrus A. Natividad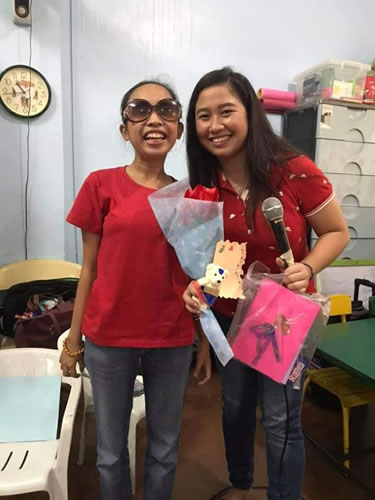 Angel (left) with her friend, Martha Villanueva, who also passed the LET.
She was 3 years old when a traumatic incident caused Angel Kayle de Sesto to be visually impaired for a lifetime. The incident happened when she accidentally hit her left eye with a sharp object which her mother who was preoccupied with work at that time didn't notice. Her right eye was admittedly impaired since birth.
With faith in her heart and determination, she lived with the guidance and attention of her mother, Mary Jinky Umahag and Lola Fe (her grandmother). Mary's husband Marluo Umahag was a stepfather of Angel. He takes care of fetching Angel after her classes. Angel was also supported by her other grandmother in the U.S., Lirio Diaz Padiernos who sent her monthly allowance when she's in college. Angel and her family are residents of Brgy. Agutayan, Santa Barbara, Iloilo.
Although she lived through her early childhood and consistently go to school throughout her elementary, high school and college, she said, "It's not a normal life- living in darkness and handicap; there were times when I almost wanted to give up." Angel had her early education through the government sponsored Special Education (SPED) Integrated School for Exceptional Children (ISEC).
There was nothing I can do without my family and my fervent prayers. These two biblical inspirations: "Walk with faith in your heart", and "Trust in the Lord with all your heart" were inculcated in my mind. "Yes, walk I did and was marvelled upon by people who thought I can't make it to school or finish my education…thanks to God for His constant love care, protection and provision; the people for their encouragements, guidance and assistance," Angel said.
She added, "My biggest gratitude to Central Philippine University for admitting me to its College of Education and finish a Bachelor in Special Education (BSPED) for the blind. I will never forget Dr. Merly Junsay for her encouragements (thank you Doc for letting me eat my lunch in your office), and Ma'am Eden Gomez who assisted me during my classes; To Sir Knuehlvirn and Alfie Jane Hautea for helping me with the tutorials. I will never forget the security guards at CPU's main gate, who await my arrival from home, everyday so that they can bring me to my classroom. I also thank my best friend, Joan Iven Abello who was also my adviser in the CPU College of Education SPED program.
She said that "God is so kind and generous that I was provided with all the technical, educational and emotional support by the following institutions and entities namely: Central Philippine University; the LET for Free Resources for the Blind, Inc. ; the International Council for Education of People with Visual Impairment (ICEVI), and the Nippon Foundation. Thank you Dr. Maredil Rafael Ambos – my Professor in Educational subjects- for his considerate, generous support. I am so thankful for this innovative 'Text-To-Speak' (TTS) communication system for the blind. After two months of review, I took the October 2022 Licensure Exam and I passed.
My passing the LET exam was the result of my faith, determination and optimism – despite my visual impairment. I have plans to pursue a higher education and help the blind and other people with visual impairment- for the glory of God."