By Cyrus A. Natividad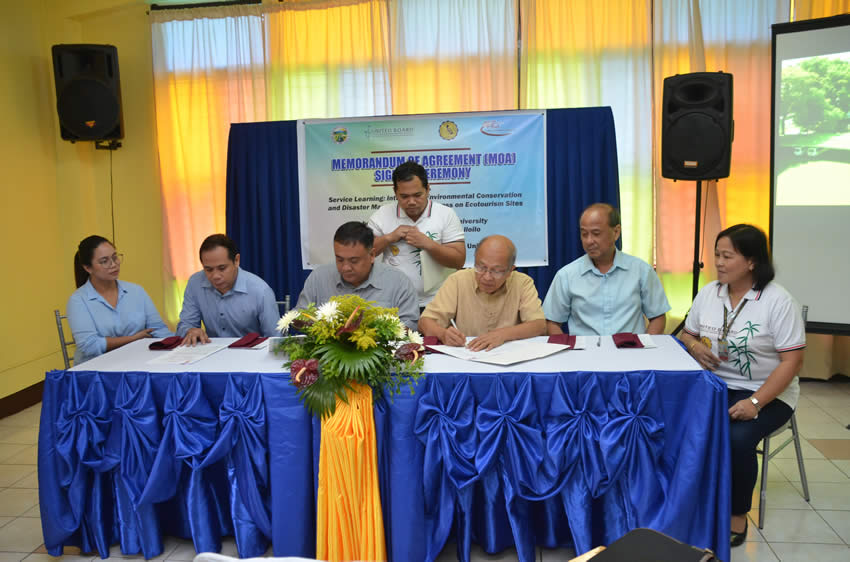 CPU President, Dr. Teodoro C. Robles and Igbaras Municipal Mayor Atty. Vicente E. Escorpion officially sign the Memorandum of Agreement.
A Memorandum of Agreement between Central Philippine University and the Municipality of Igbaras, Iloilo was signed on August 15 at the College of Hospitality Management's La Azotea Restaurant in CPU.
Igbaras Municipal Mayor, Atty. Vicente E. Escorpion, and members of the Municipal Council of Igbaras attended the MOA signing with the CPU panel led by University President, Dr. Teodoro C. Robles and Vice President for Academic Affairs, Dr. Irving Domingo L. Rio. Also present were the proponents of the project, Prof. Ismael A. Almajar Jr., and Engr. Dimpna Castigador, Director for Institutional Advancement. Rev. Francis Neil G. Jalando-on, Director, Office of Communications and Prof. Ma. Medalla P. Baliao, Dean, College of Hospitality Management were also in attendance.
Before the program started, Mayor Escorpion shared how there came to be a MOA on Disaster Management Awareness and Eco-tourism between CPU and the Municipality of Igbaras. Although classified as a third class municipality according to the Mayor, Igbaras has some potential for eco-tourism, owing to its 6,000 hectares of timberland, flowing rivers, caves and mountain ranges. There is a growing number of tourists visiting this year. However, recently, natural disasters, such as landslides, have destroyed homes and large areas of agriculture. There arose a need for environmental conservation and disaster management.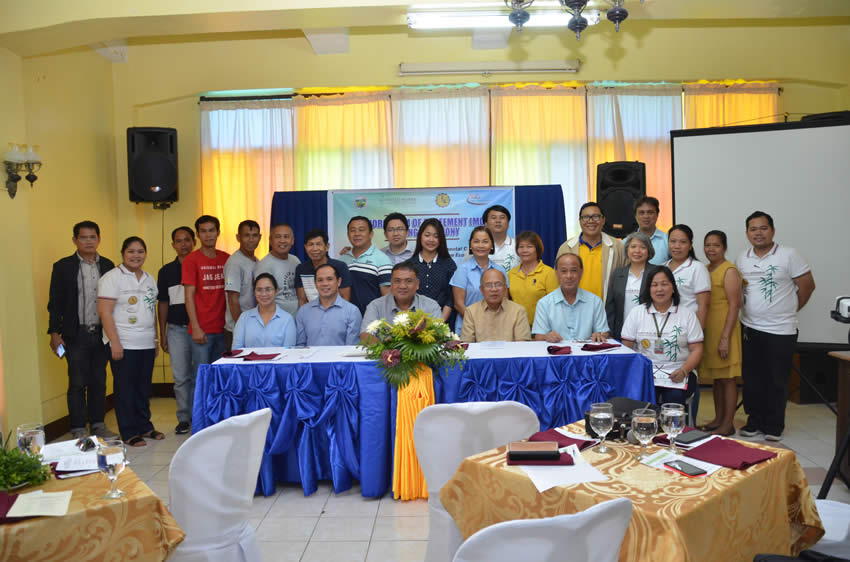 The partnership aims to promote the Eco-Tourism of Igbaras and to expose CPU Tourism students to local tourism industries.
To fulfill this need, Prof. Almajar and Engr. Castigador endeavored to help the Municipality of Igbaras through a partnership with Central Philippine University and foreign funding support from the United Board for Higher Christian Education in Asia. The program will focus on "Service Learning by way of Integrating Environmental Conservation and Disaster Management Awareness at Ecotourism Sites in Igbaras, Iloilo." This also became the theme of the three-day seminar conducted at the La Azotea after the MOA signing.
The signing program started at 10:00 AM with the opening prayer led by Rev. Jalando-on. Rea Pearl Divinagracia, BS Tourism-4, led the singing of the National Anthem. Prof. Almajar and Engr. Castigador enlightened the participants with regards to the context of the activity before the signing of the MOA.
Dr. Robles and Mayor Escorpion, with their witnesses, signed the Memorandum of Agreement before they delivered their messages. Dr. Robles emphasized the importance of disaster prevention and encouraged tree planting activities which can prevent the disasters. Mayor Escorpion expressed his gratitude for the support and the program, "I am confident and thankful for the program that CPU is extending to our municipality. I know how Central Philippine University undertakes a project and makes the accomplishment."
Brgy. Igcabugao in Igbaras will be the pilot area for the project.