By Cyrus A. Natividad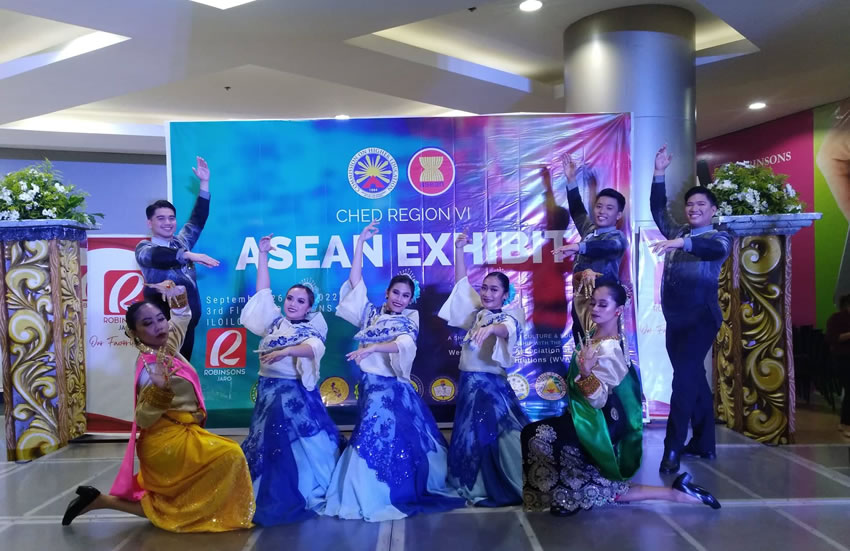 CPU Dance Company rendered a dance number at the ASEAN Exhibit program in Robinsons Mall Jaro.
CHED's Region 6 ASEAN EXHIBIT, a showcase of ASEAN Culture and Education was opened on Monday, September 26, 2022 at 2:00PM at the 3rd Floor- Robinson's Mall Jaro. The event, which is open to the public until Friday September 30, is part of the 55th ASEAN Founding Anniversary.
Central Philippine University represents the Philippines – showcasing its culture, art and education with 10 other schools, each representing one ASEAN country. Works of Art and products are displayed in one booth assigned to each participant.
Dr. Irving Domingo L. Rio, CPU VP for Academic Affairs, in behalf of University President Dr. Teodoro C. Robles, joined the Parade of Flags after the Ribbon Cutting Ceremony.
The ASEAN countries were represented by University of Antique (Brunei), Iloilo Science and Technology University (Cambodia), West Visayas State University (Indonesia), Aklan State University (Laos), Capiz State University (Malaysia), Colegio de San Jose (Myanmar), Northern Iloilo State University (Singapore), Guimaras State University (Thailand), Iloilo State College of Fisheries (Vietnam), and Central Philippine University (Philippines). The Commission on Higher Education carried the flag of ASEAN. CHED Regional Director 6 Dr. Raul C. Alvarez Declared the Opening of Exhibit.
The Cultural Presentation was participated by the Universities and Colleges. CPU Dance Company performed an intermission number which received a standing ovation; thanks to Professor Dyran Lero and Cultural affairs Office Director Crista Huyong. The CPU College of Hospitality Management and Tourism as well as the CPU Office of International Affairs were acknowledged.