By Cyrus A. Natividad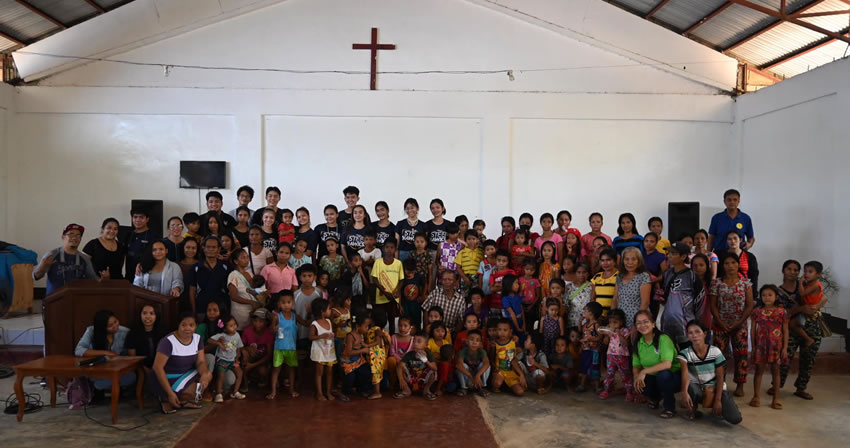 Members of CPU SHS Student Council with their advisers: Sonilo L. Crasco, Jr. and Herman V. Jornadal during the outreach activity in Dumarao, Capiz.
A food distribution with tree planting activity was conducted by the CPU Senior High School Department Student Council on June 10, 2022 in Brgy. Aglalana, Dumarao, Capiz, through an outreach program called KapitKamay. The SHS program aims to provide voluntary aid the Indigenous People (IPs) of Brgy. Aglalana. The environmental awareness includes an introduction of a sustainable program through the tree planting activity. The fruit tree seedlings were distributed to the IP's – for them to plant and take care of as their own.
The outreach activity which was in collaboration with CPU Biodiversity on Wheels (CPU-BOW) – HARIBON Foundation, and CPU Sustainable Campus Committee (SCC) also had mini-lecture, story-telling and interactive activities in relation to preservation and conservation of the environment. The KapitKamay program was made possible with the help and support of Atty. Jeremy Bionat, who provided the seedlings, among them jackfruit, guyabano, marang, avocado, and cuttings of madre de agua.
The activity was also attended by Engr. Levi O. De Los Santos Jr., Director of Community Engagement and Service-Learning Center, Dr. Stella Fernandez – SCC representative, Dr. Myrna Luceño and BSBio students – BOW-HARIBON representatives; SHS Asst. Principal – Prof. Benjie Nee Gallinero and SHS advisers -Prof. Sonilo L. Crasco and Herman V. Jornadal. The activity was spearheaded by Riki Chast G. Fernandez, SHS Minister of Outreach and the SHS Student council.