By Cyrus A. Natividad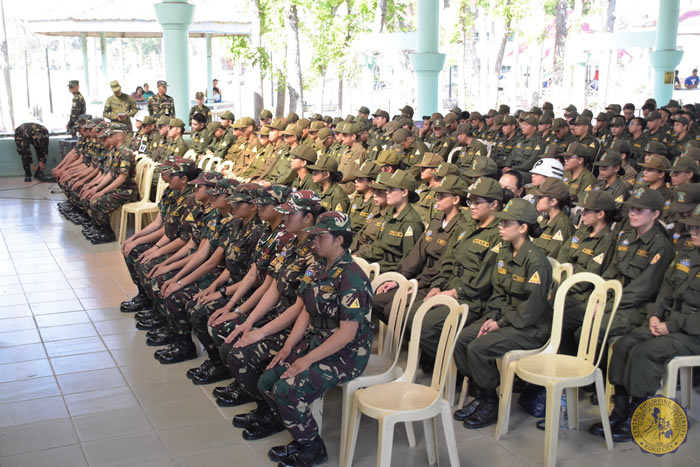 The graduates of ROTC at the CPU Alumni Promenade and Concert Park.
On Saturday 30 March 2019, the ROTC Graduation and Oath Taking of the Reservist and Downing of Ranks Ceremony were held at the CPU Alumni Promenade and Concert Park. Four hundred and eighty two (482) CPU ROTC Cadets received their certificates in military training.
The program started with a processional at 0800H (military time). Annalie D. Gilongos, NSTP Coordinator gave the Welcome Remarks. The candidates for graduation were presented. Major Jo-An D. Petinglay, (PA), CPU ROTC Commandant. MSg Florante G. Geruldo (Res) PA read the Orders and Declaration of Graduates. 1LT Argie G. De Leon (Res) PA, Assistant Commandant, Introduced the Guest Speaker Dr. Irving L. Rio, VP for Academic Affairs, Central Philippine University.
The CPU cadets were dressed in fatigue uniform with buffed metal accessories and shiny black shoes. They marched in cadence – following orders from their officers. It can only be the same discipline and unity of the CPU ROTC through the years. It continues in the tradition of excellence that gave the ROTC many awards. The consistent performance and quality of discipline among the cadets CPU ROTC unit was once again shown during this year's Tactical Inspection.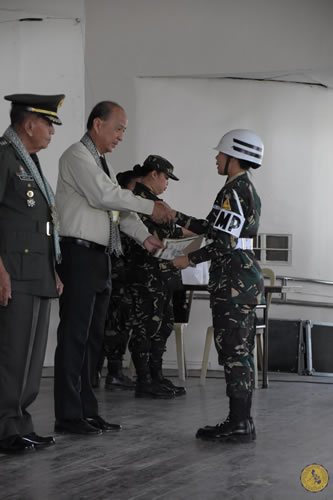 Centralian ROTC graduates dedicate themselves in the service of the community and for the glory of God.
Previous to the graduation, the Regional Annual Administrative and Tactical Inspection was held for the CPU ROTC Unit.  The Inspection Team arrived in CPU on 26 February 2019 and made a courtesy call to the University President Dr. Teodoro C. Robles at 0730H (military time). The commandant, Major Jo-Ann D. Petinglay briefed the President on the activity of Central Philippine University ROTC Unit (Headquarters of the 604th Community Defense Center, 6RCDG, ARESCOM).
At 0830H, LTC Nathaniel R. Villasor PA (RES), Chairman, RAATI Team was introduced by Major Petinglay. He was to assume the command and control of the CPU ROTC Unit immediately during the period of evaluation which ended up at 1130H.
The Evaluation included the Ceremonial Parade, Rank Inspection, Simultaneous Company Drill, Theoretical Exam and Military Stakes; Small Unit Leadership Tactics and Administrative Inspection.