By Cyrus A. Natividad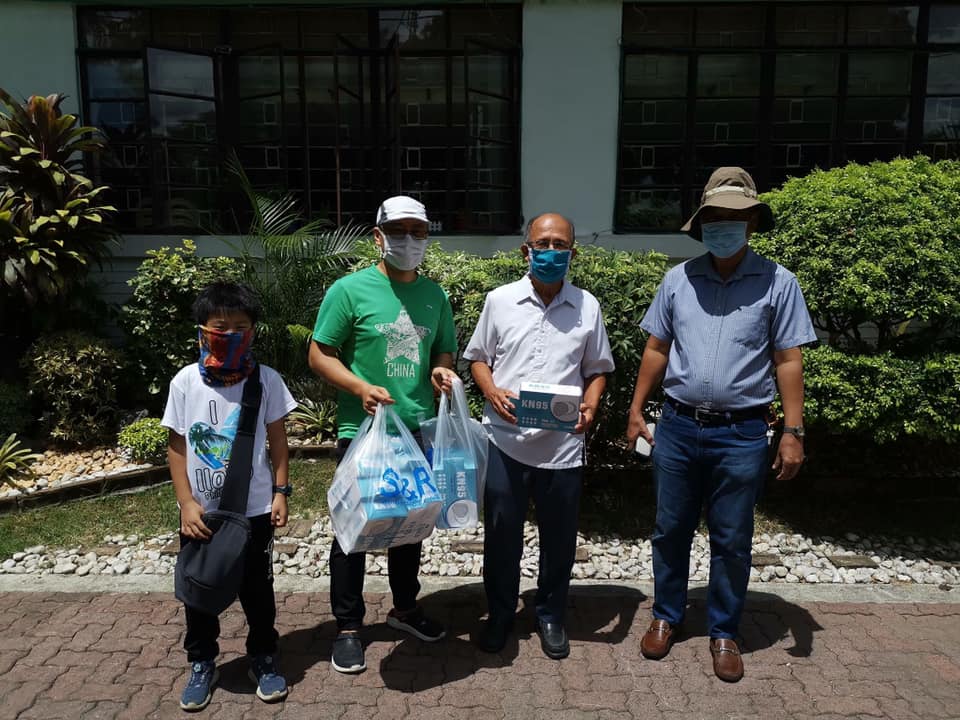 (from left) Mr. Henrich Xu and Mr. Xu Bin turned over their donations to CPU President Dr. Teodoro Robles and Vice-President for Academic Affairs Dr. Irving Domingo Rio.
Central Philippine University received donations from Centralians, friends, and groups during the Covid-19 lockdown period. It is heartwarming to note the donations were expressions of support to CPU.
On May 15, 2020, CPU security personnel at the gate received 37 food packs from Sweat Basketball headed by Golden Lions Coach Matthew Jan Montalvo. Lunch packs from Prof. Jessica Chin and family were also received by the guards on April 20.
Sacks of rice were donated for the security guards from the following: Iloilo City Mayor's Office (2 sacks), University President Dr. Teodoro C. Robles (4 sacks), Mr. Rufino 'Pinoy' Gonzalez (1 sack), and Mrs. Juliet G. Samoro (1 sack). In addition, Gensys Enterprises donated 5 sacks on April 28, 2020.
Fifteen (15) cases of soft drinks were received from the Coca-Cola Bottlers Incorporated. This was made possible through a Centralian, Ms. Marion Jacomille.
Family food packs were also received from the Federation of Filipino Chinese and additional lunch packs from an anonymous donor.  Dr. Ann Zerrudo served 1 set of lunch and snacks for the frontliners in the campus. Ten (10) kilos of assorted meat were also received from Medecillo Store.
Cash donations were received from Vice President for Students Affairs Dr. Esther Rose A. Romarate, College of Medicine Dean Dr. Henry D. Gonzales, and Mr. Prim Vergara III and company.
On June 1, 2020, CPU received a cash donation of Seventy Thousand Pesos (P70,000), and 12 boxes of KN95 face masks from the Chinese students of the university. According to Xu Bin, a doctoral student at the CPU School of Graduate Studies, "Our Chinese students from Henan received so much help from our faculty and staff and felt the warmth from our CPU family. They felt at home, most especially during the onset of the pandemic until they were able to return to China." He recalled that "Ma'am Hermely Jalando-on (Purchasing Officer of CPU) helped us find facemasks before the students left for China. For this reason, we also hope to share our love with the Centralian community and carry forward our Central spirit!" Xu Bin also said that hopefully, they can donate again.
Central Philippine University is grateful to all the donors for their admirable assistance and support during this pandemic.