By Cyrus A. Natividad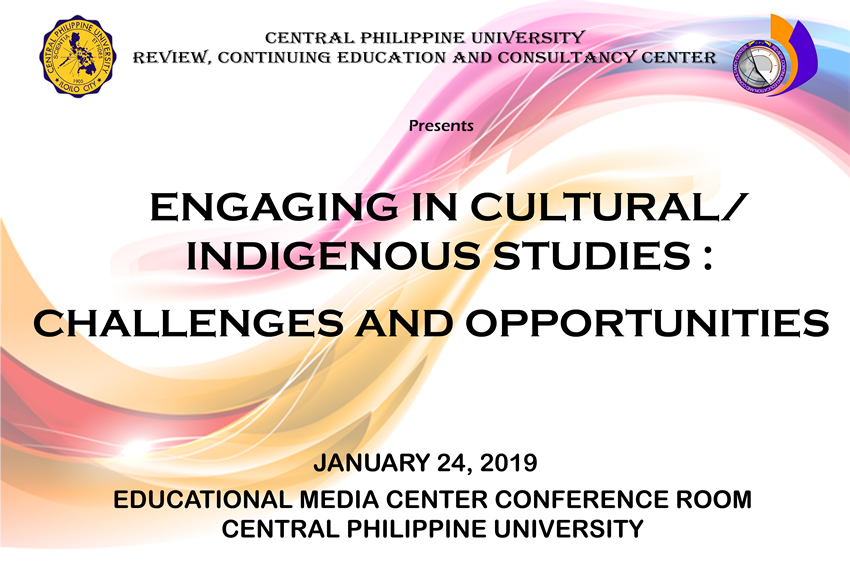 Central Philippine University Review and Continuing Education Center and Consultancy (RCECC) will conduct a public seminar entitled "Engaging in Cultural/Indigenous Studies: Challenges and Opportunities" on January 24, 2019 at the Educational Media Center, CPU.
The seminar is in line with RCECC's goal of providing its clients—schools, universities and colleges—with timely topics relevant to the needs of researchers, students and professionals. Also on January 29-31, an in-house seminar on Terrorism Awareness and Car Bomb Threat Management will be conducted by RCECC for CPU faculty and staff at the EMC.
RCECC's Director, Dr. Lenny Rose P. Mucho, explained these upcoming events during her appearance as guest in CPUTV's public affairs program Looking Forward last Wednesday, January 9.
Trainings, seminars and review classes are among the list of services the RCECC have extended to public and private institutions. RCECC started as a Review Center in 2008 under CHED Executive Order 556. It originally envisioned a globally-competitive Review and Continuing Education Center for exemplary licensure examination performance and life-long learning reflective of Christian principles.
The mission of RCECC is to provide excellent review and training programs by competent facilitators using state-of-the-art facilities for the reviewees and the community. Their goals also include providing training programs focused on governance, administration, social services, economic development, other certain skills, as well as international conferences.
RCECC is also an implementing arm for the Human Resource Development of CPU. Apart from the providing internal support to CPU departments and offices, it has also established linkages with the Department of Interior and Local Government (DILG), the Department of Science and Technology (DOST), National Commission for Culture and the Arts (NCAA), and USAID.
Dr, Mucho added that developments are being planned for RCECC. These include provision of dormitories for in-house review and other state-of-the-art facilities as well as the hiring of competent personnel, a pool of reviewers, coordinators, and facilitators for the center.