By Cyrus A. Natividad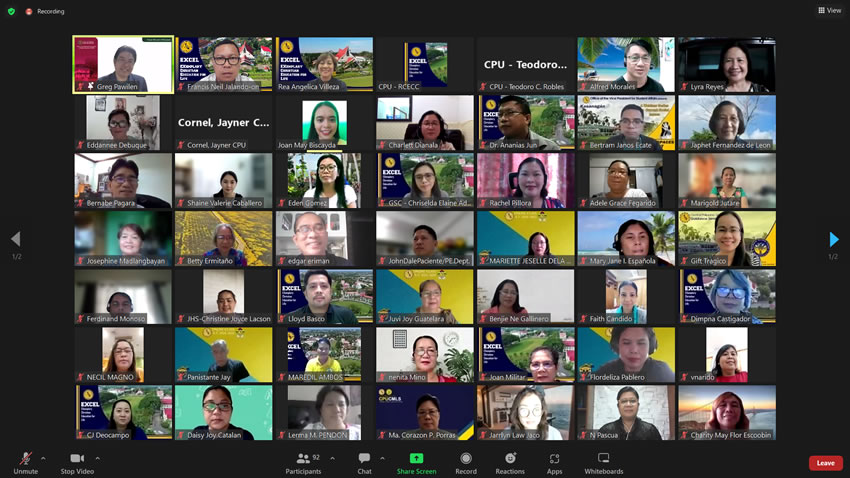 Participants in the RCECC Webinar on Preparing and Drafting the Textbook.
Central Philippine University Review, Continuing Education and Consultancy Center (RCECC) -in coordination with the Center for Teaching and Learning Excellence (CTLE), held a Webinar on Preparing and Drafting the Textbook.. The online seminar-workshop via Zoom was held on August 3, 2022, Wednesday from 10:00 AM to 12:00 NN. There were 74 registered participants from different departments and colleges.
The objective of the webinar is to equip the University Faculty and Staff with fresher and better knowledge and skill in textbook writing. Prof. Rea Angelica F. Villeza, Acting Chair, Department of Religion and Ethics and a member of the University Review of Instructional Materials committee invited Dr. Greg Tabios Pawilen who is a seasoned author and speaker on the topic, from the University of the Philippines.
The program started at 9:00 AM. Pastor Alfred C. Morales, Coordinator, CPU Student Recruitment led the Opening Prayer, which was followed by the National Anthem.
In his Opening Remarks, University President Dr. Teodoro C. Robles said, "It is high time that more of our Faculty will get involved in preparing the textbook for their respective subjects. This is a very timely event to be aware of what is involved in writing a textbook."
RCECC Director Dr. Lenny Rose P. Mucho and Professor Villeza introduced the participants and the Resource Speaker, respectively. Dr. Pawilen presented and discussed the process of preparing and drafting the textbook.
Dr. Ananias C. Sabijon, Director, Center for Teaching and Learning Excellence, was Moderator in the Question and Answer (Q&A) portion. Prof. Villeza and the RCECC Staff awarded a Certificate of Appreciation to the Resource Speaker.
The Closing Prayer was led by Rev. Francis Neil G. Jalando-on, CPU Director for Communications. Prof. Villeza was the Master of Ceremony.