By Keziah G. Huelar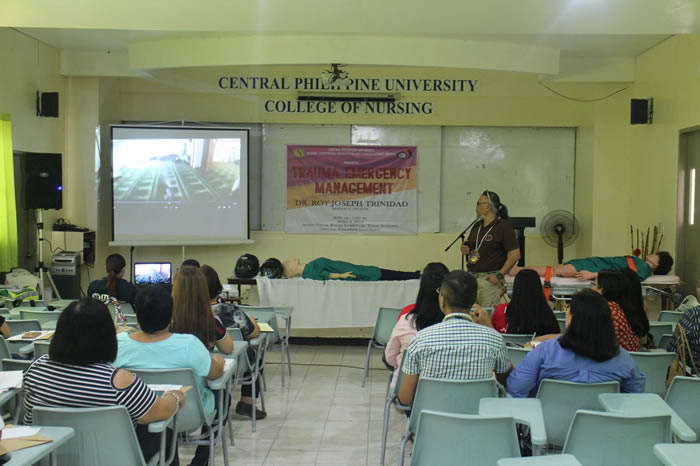 The seminar aims to equip Centralian faculty, staff and students with trauma management skills.
Advocating for efficient response during emergencies—Central Philippine University held a Trauma Emergency Management Training at the College of Nursing, Audio Visual Room, Loreto D. Tupaz Hall on April 4, 2019.
For the opening remarks, Prof. Lenny Rose P. Mucho, Director, CPU RCECC highlighted the importance of promoting the safety and security of the CPU students, faculty and staff.
The seminar featured as guest speaker, Dr. Roy Joseph Trinidad, Diplomate, Philippine Board of Surgery, Fellow Philippine College of Surgeons, Fellow Philippine Society of General Surgery, Specialized in General and Minimally Invasive Surgery, Medical Director of International Trauma Life Support (ITLS)-Philippine Chapter.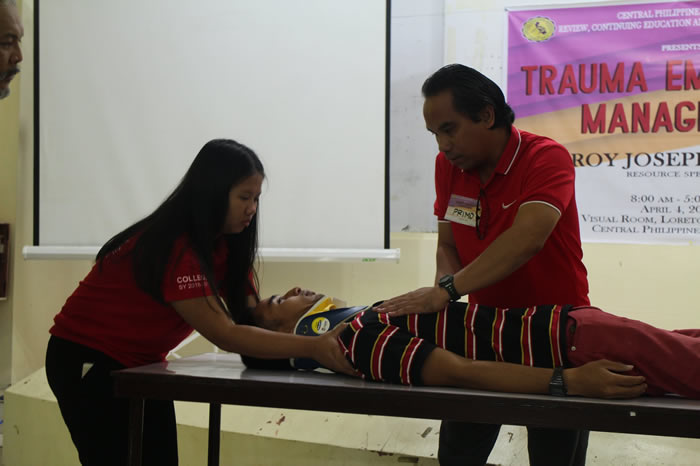 Mr. Prim C. Vergara III demonstrates how to apply first aid to a trauma victim.
Attendees included Chief for Search and Rescue Group of CPU; Mrs. Luz Evelyn Buensuceso, Consultant; university clinic physicians; nurses; clinical secretary; student assistants headed by Dr. Ma. Carmen Salcedo; the Medical Clinic Coordinator; and clinical instructors from the College of Nursing serving as first aiders in the university.
The training focused on different Mass Casualty Incident (MCI) in the Philippines, the different scenarios of "On-site Trauma Management," "Triage Management" and Table Top Exercise on Incident Command System (ICS) focusing on Bomb Blast Incident Scenario. In the afternoon, the training focused on a simulation exercise (SimEx) on Mass Casualty Incident Management.
For the closing remarks, Mr. Prim C. Vergara III, Technical Assistant to the President and Occupational Safety and Health Officer, emphasized the "dream and need" of CPU in conducting trauma and disaster management seminars for its employees. The said initiative was started by the CPU Nursing Batch 1968 through their continuing donations for Occupational Safety and Health Program of the university.