By Sharlene Gotico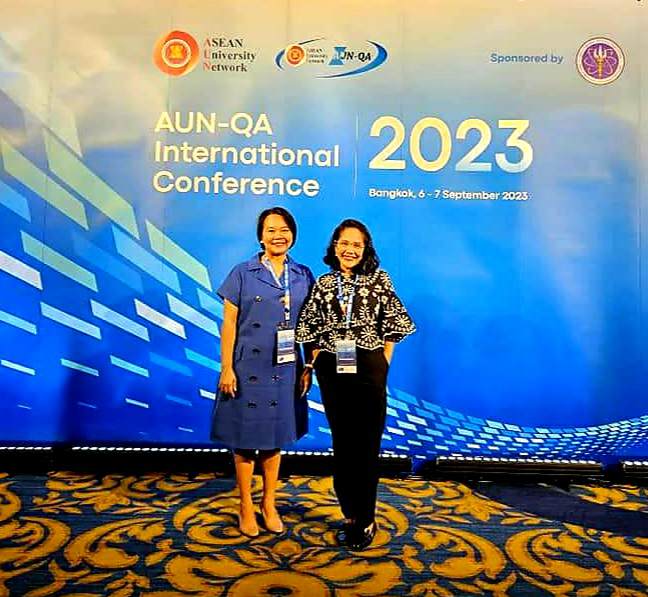 Dr. Anna May Zerrudo and Prof. Sharlene Gotico, Director and Associate Director of the CPU QAAC attended the AUN-QA International Conference in Thailand.
Dr. Anna May Zerrudo and Prof. Sharlene Gotico, Director and Associate Director of the Quality Assurance and Accreditation Center (QAAC), respectively, attended the ASEAN University Network – Quality Assurance (AUN-QA) International Conference held on September 6 to 7, 2023 in Bangkok, Thailand.
The AUN-QA International Conference is the premier conference in the field of quality assurance in higher education within the ASEAN region, and it aims to strengthen solidarity among ASEAN member nations and enhance the promotion and dissemination of new developments in quality assurance practices in higher education.
Dr. Zerrudo and Prof. Gotico's attendance to the conference is part of the process being undertaken by the University to obtain AUN-QA standards-based international certifications for some of CPU's degree programs, as included in the University's Strategic Plan for 2023-2028.
The international conference, participated by more than 400 attendees representing different higher education institutions across the ASEAN region, tackled topics on quality assurance in the globalized world of higher education; cultivating QA human resources in universities; leadership at the core of QA enhancement; and best practices in QA in higher education, among others.
This conference allowed the representatives of CPU to network with other QA practitioners and learn the steps to be taken so that CPU can become an Associate Member of AUN-QA. Several HEIs from Western Visayas were also represented in the conference.
The theme of this year's conference is "Driving University Excellence through Quality: Strategies, Systems, Structures, and QA in the Context of Post-Pandemic Regional and Global Cooperation".