By Cyrus A. Natividad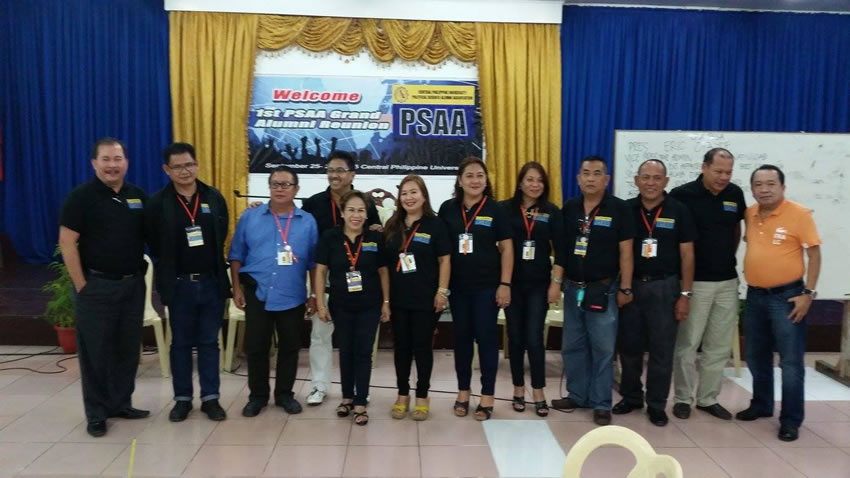 The Founding Members of CPU Political Science Alumni Association.
The CPU Political Science Alumni Association (PSAA) officers and members, with its President Eric 'Noy' Otayde, came together and recalled the memories since it held its first Grand Reunion on September 25, 2015. The special academic association was then the 152nd CPUAAI chapter worldwide. Linked up with some local government units and agencies, it conducted political awareness and election lectures in the University (thanks to its generous member, COMELEC 6 Director Dennis Ausan).
Many of the PSAA members have engaged in legal practice or professions, others in government positions; others succeeded in business and organizations.
At this time, we remember the others who have shared and gone ahead to the afterlife — Atty. Joshua C. Alim, Former Iloilo City Councilor and CPU Alumni Association President, who was responsible in drafting a City Ordinance that declared CPU as a Tourism Zone; Reynaldo Gonzales, Former ROTC Tactical Officer and later on -Business Executive; Tita Delfin, humble school teacher and a friend of all; and lastly, Jun Pasquin who has worked earnestly to build a marketing career. They are all fondly remembered by PSAA.
The demise of our member Jun Pasquin, happened without a premonition. A foreboding, if any, was that, he asked permission to go ahead, just a little time before the reunion ended. No one was able to stop him. "It must have been his time", some of the members commented after they learned that he's gone. It was said that, "Jun made sure when we started organizing PSAA, that our first grand reunion would be a success; he helped a lot in fundraising and other needs." He also promised, "I will be there to partake the reality of my dream." "That must be our success", we said to him.
In this year's Alumni Homecoming, we were inspired to pursue, not just a dream, but a reality of a larger and stronger CPU Political Science Alumni Association.