By Allana S. Delgado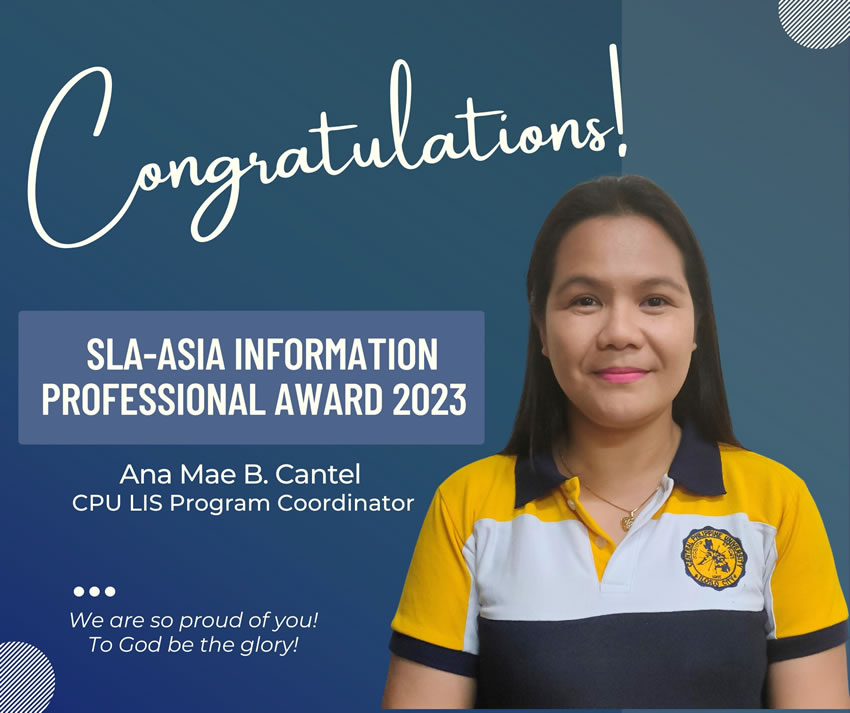 College of Computer Studies faculty Ana Mae B. Cantel was awarded the Asia Professional Librarian Award given by an international organization for librarians and libraries, the Special Libraries Association (SLA).
The Special Libraries Association is one of the largest professional non-profit associations dedicated for libraries and professionals working in special or research libraries. SLA has 4,000 members in 83 countries, with 58 chapters and 25 divisions. The Asian chapter of SLA is one of the fastest growing chapters, with members from around the world.
Prof. Cantel is currently the Coordinator and a full-time faculty member of the Master of Library and Information Science, MLIS in Theological Librarianship, and Bachelor in Library and Information Science programs of Central Philippine University. She is the incumbent Vice President for the Visayas of the Philippine Librarians Association, Inc. (PLAI) and the immediate past President of the PLAI-Western Visayas Region Librarians Council. She is the Representative to the Continuing Professional Development Committee(CPDC) for the PRC Board for Filipino Librarians by the Council of Heads and Deans of Library and Information Science (COHDLIS) 2022-2023.
Aside from her active engagement in local and international library organizations, she has also won awards for her research works and is a sought after speaker in many seminars and trainings for librarians.
The awards committee was composed of librarians and information professionals from different countries: Mr. Stephen Alayon, Chair (Philippines) and members P K Jain (India), Geeta Paliwal (India), Labibah Zain (Indonesia), and Shalani Dilinika Jayamanne Mohottige (Sri Lanka).
The virtual awarding ceremony will be held on May 18, 2023 during the SLA Conference in Detroit, Michigan.