By Cyrus A. Natividad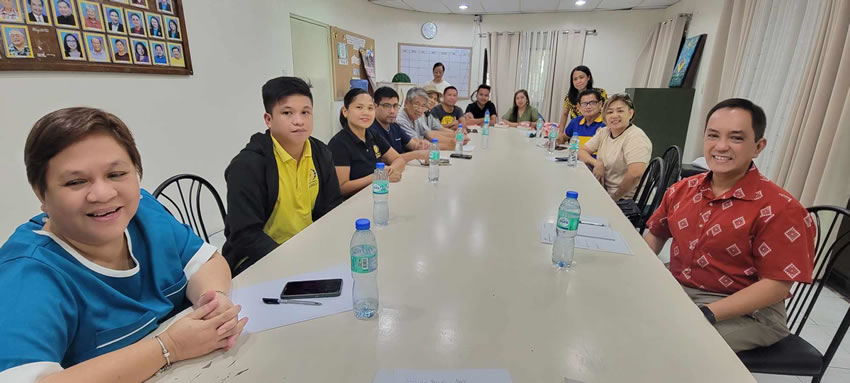 CPU President Dr. Ernest Howard Dagohoy (in Red Polo) with members of the CMM in a candid photo opt.
On November 11, 2023, at 2 PM, Rev. Dr. Ernest Howard B. Dagohoy, President of Central Philippine University (CPU), convened with members of the Centralians in Mass Media (CMM) at the CPU Alumni Association Building. The meeting, presided over by Rufino 'Pinoy' Gonzales, President of CMM, focused on addressing various concerns in anticipation of Dr. Dagohoy's upcoming Investiture on November 24.
The gathering saw the presence of distinguished representatives from notable media outlets in Iloilo City, including Bombo Radyo, RMN, Radyo ng Bayan, Manila Bulletin, and the Daily Guardian. The Weekly Centralian Link, the official publication of CPU, was also represented.
Atty. Jeremy V. Bionat, President of CPU Alumni Association, actively participated in the discussions at the meeting.
During his opening remarks, Dr. Dagohoy expressed gratitude for the enthusiasm and voluntary contributions of the Centralians in Mass Media. He emphasized his willingness to engage with the media, acknowledging their desire to support both his administration and the university. Dr. Dagohoy encouraged the sharing of ideas and concerns for the betterment of CPU.
The meeting addressed several issues related to the Investiture, including the traffic management and entrance system for guests and participants. CMM members will receive Official Press IDs and Car Passes, and thanks to the generosity of Atty. Jeremy Bionat, free uniform shirts will be distributed to CMM members.
To facilitate media coverage, a dedicated Media Tent will be set up near the Investiture platform, providing a space for President Dagohoy to conduct interviews with the press immediately following the ceremony.
Anticipating a substantial turnout, the Investiture is expected to draw attendees from CPU faculty and staff, administration officials, as well as supporters from Antique, the hometown of the CPU President, who will join the caravan to Central Philippine University.