By Rusieljs G. Lunasco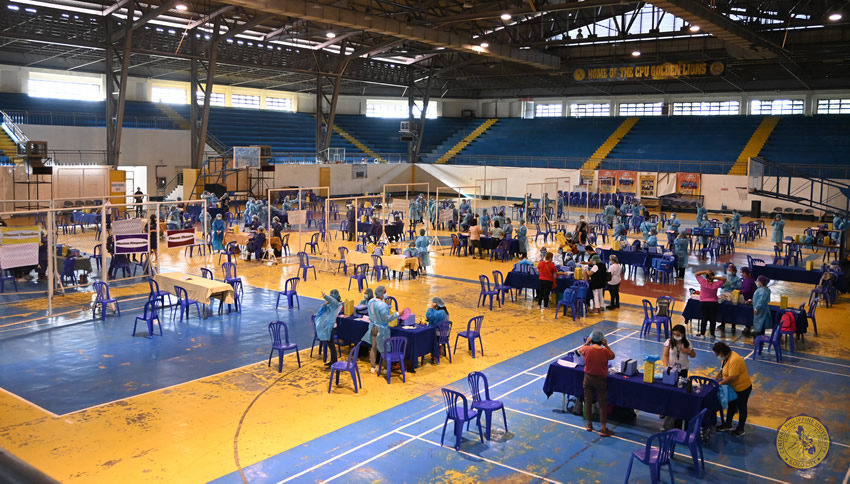 Vaccine simulation exercise of the Iloilo City Government last January 28, 2021.
Central Philippine University is preparing for the city-wide vaccination to be held sometime in May or June. The university has been chosen as one of the city's vaccination centers alongside Iloilo Science and Technology University, John B. Lacson Foundation Maritime University, and the University of San Agustin.
Aside from the citywide vaccination, the university is also preparing for the vaccination of 2,000 city frontliners.
"Preparation-wise, the city has been closely coordinating with us," said Occupational Health and Safety Officer Mr. Prim Vergara III. According to Vergara, 8,000 vaccines will arrive on March 27 and the vaccination for 2,000 city frontliners will take place on Monday, March 29 at the CPU Gym. "However, there might be changes to the schedule of the vaccination," he added.
For the vaccination of city frontliners, CPU has placed protocols for the health and safety of the faculty, staff, clients, and vaccines.
"The preparation on our end is to safeguard the main gate. We don't want the faculty, staff, clients, and those who will be getting vaccinated to have close contact. Faculty, staff, and clients will pass through the main gate. The vaccinees will have to pass through Gate 6. We have ensured that traffic information and posters will be put up at the main gate, Gate 6, Cabangbang, and Arguelles."
Gate 8 will be added as an exclusive entrance/exit point for the general public during the citywide vaccination to take place in May or June. CPU faculty and staff are also scheduled to get vaccinated at the same time as the general public.
"For the faculty and staff vaccination, the university will provide manpower for registration, assessment, and emergency response. We have tapped additional doctors, nurses, and volunteers."
There will be a daily target of 50 vaccinees from the faculty and staff: 25 in the morning and 25 in the afternoon. The university has assigned a different vaccination site for its employees.
"As part of our preparation, we are asking the city for 90 of our frontliners, security guards, doctors and nurses, vaccinators and doctors to be considered as Jaro frontliners. So on the day of vaccination, they will have extra protection, "
In preparation for the vaccination, faculty and staff will attend a webinar on the Efficacy and Safety of CoVid Vaccines on Monday, March 29, 2021.