By Cyrus A. Natividad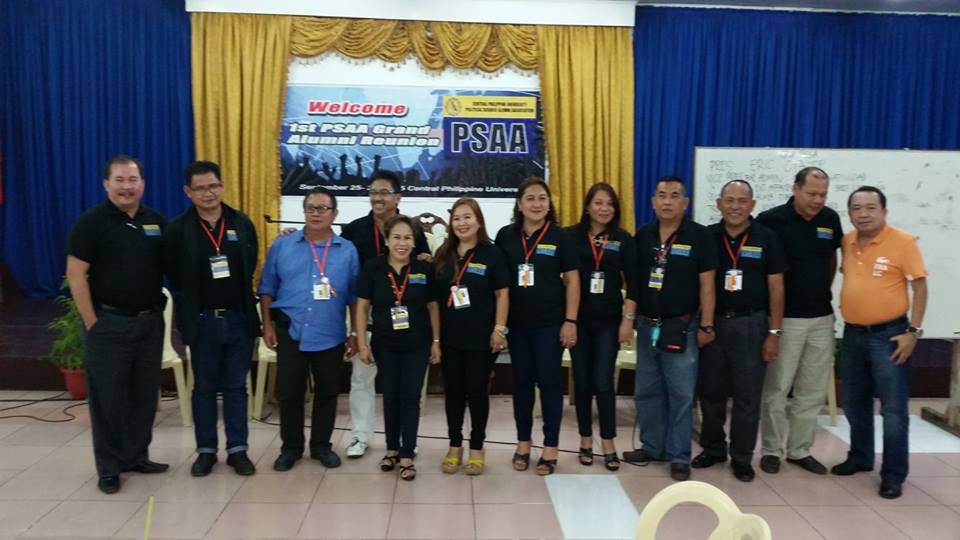 The first set of PSAA Officers during their homecoming and induction ceremony in 2015.
On September 29, 2018, the members of the CPU Political Science Alumni Association (PSAA) will gather at the CPU Grounds as the organization turns four years old.
The CPU PSAA was born on September 25, 2015 with batches 1983 and 1984 CPU AB Political Science graduates registering as the first members. The first set of officers were comprised of Mr. Eric Otayde as President; Mr. Cyrus Natividad as Vice President for Administration; Atty. Gualberto Cataluna as Vice President for External Affairs; Ms. Alma Diaresco as Secretary; Ms. Jovy Espalabra as Treasurer; Ms. Juvelyn Clementer as Assistant Treasurer; Mr. Nelson Jutare as Public Information Officer; Mr. Reynaldo Gonzales as Business Manager; and Ms. Ruby Tupaz as the PSAA Muse. Attorneys Allan S. Montano, Joshua C. Alim, and Emmanuel Sodusta served as the advisers of the organization. The officers took their oath of office with CPU President, Dr. Teodoro C. Robles, officiating.
Most of the founding members were active student leaders during their time in CPU, especially during the Martial Law years. The reunion is expected to be both meaningful and memorable. Many of the members to attend the reunion are currently holding positions in the government, as well as legal and the business and entrepreneurial sectors.
PSAA President Eric Otayde is looking forward to more members joining their ranks and to making plans that would support the University and its students.