By Cyrus A. Natividad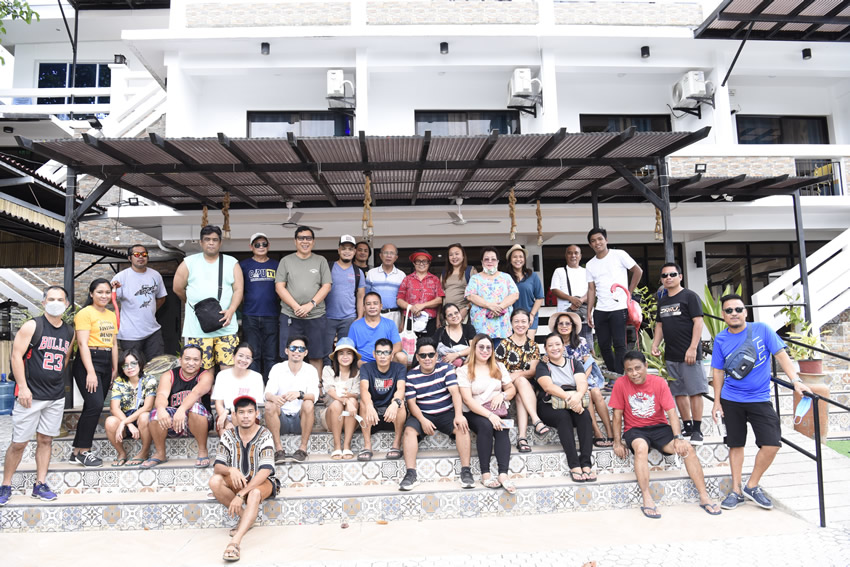 Personnel under the Office of the President took a break from work.
The different departments and offices of Central Philippine University held their summer retreats in different ways and in different venues.
The University President's Office staff and support personnel had R & R on Friday and Saturday June 3-4, 2022 to realize that long awaited Summer Retreat. The participants assembled in front of the Dr. Rex D. Drilon Building at 6 A.M on Friday. A short prayer before the trip was led by Rev. Cris Amorsolo V. Sian, Senior Pastor, University Church. The CPU service vans and the President's car then took off for Costa Madranca in San Jose, Antique. The destination was a new beach resort with a hotel that just opened six months ago.
The two and a half-hour travel to Madranca was worth the respite that nature has to give everyone; cool winds, panoramic view of the horizon, clear water and gastronomic foods served. The beachfront is nonetheless conducive to rest and recreation. During night time and early morning hours, it was good to walk or stroll on the sand. Devotionals and prayers were done by groups.
Unmindful of the hot sunny day, the staff enjoyed swimming with the surge of water from the sea. They even got the better by joining a local community event called the "Bancarera" (motorboat race with one sailor controlling the boat), some enjoyed watching from the windows of the hotel were everybody stayed.
Native cuisine and delicacies were served exclusively to the Centralian visitors for lunch. And for dinner- the best of the Antiqueño specialty- with lechon, salads and paella. Coolers and juices were unlimited. The excitement never ended. "Tonight everyone is required during dinner to wear a Hawaiian attire; garlands will be given away to match the outfit" an announcement came from one of the organizers moving around (thanks to the energetic Miss Carmelle Francis Romero, Executive Assistant to the President, who never fails to create surprises for everyone).
The highlight of the evening was a birthday bash for Ma'am Zenaida Tubianosa (CPU BSN 1969 / Batchmate of Ma'am Angel Robles). Other members of batch '69 were there. Rev. Francis Neil G. Jalando-on, Director, CPU Office of Communications led a prayer of thanksgiving for her, for Dr. Robles and for all the successes. The sumptuous dinner was held down the beach; everyone enjoyed with music, laughter, and as usual, with the videoke challenge. The celebration ended at around 10 in the evening.
Everyone woke up and tastes freshly brewed coffee. We also witnessed the Bancarera and other water competition hosted by Costa Madranca. Before going back to Iloilo, we also visited the San Jose market and bought some dried fish – baringon, danggit, pinakas, tabagak and hipon; we also made some detours for that sweet peanut cake called 'bandi' (we don't forget to bring some home).
On the other hand the Elementary and Kindergarten faculty and staff under Prof. Janet P. Jaco and Prof. Hannah C. Siosan, respectively went on a summer retreat in Boracay last June 2 to 4, 2022 – Thursday to Saturday. Boracay Island is famous for its long white sand beach, international, hub with many resort establishments, hotels and fun (water ski, surfing, boat riding).
A joint devotional was done by both the Kindergarten and Elementary faculty and staff. According to Ms. May M. Guillem (Kindergarten Secretary), "On top of an enjoyable, refreshing summer time, we were nourished spiritually with prayers and Bible study." Each group held a program separately.
The Registrar's Office under Miss Charissa June Deocampo also had their summer retreat at Solina Resort in Carles, Iloilo from May 13 to 14. They had program, games, food, and sharing in the devotional.
The Finance Department under Dr. Florence P. Bogacia made a trip for their summer retreat on May 6, at the Telles Resort in Guimaras. The group enjoyed with fun games, water adventure with jet skis, boat rides and swimming; food, fellowship and devotional.
The Office for Student Affairs (OSA) led by Dr. Esther Rose A. Romarate had their summer bonding with a feast at the Vikings 'Éat -All –You- Can' Restaurant at SM City. Some support offices under the OSA intend to still have their outing later.
The Junior High School is also scheduled to have their Summer Retreat on June 28 to 30 this month. Some departments will also soon to have their summer break.
We thank God for blessing everyone on their trips, protection and provision for each group during the retreat and fellowship. To our University President, Dr. Teodoro C. Robles, thank you very much for everything that made our activities possible.