By Keziah G. Huelar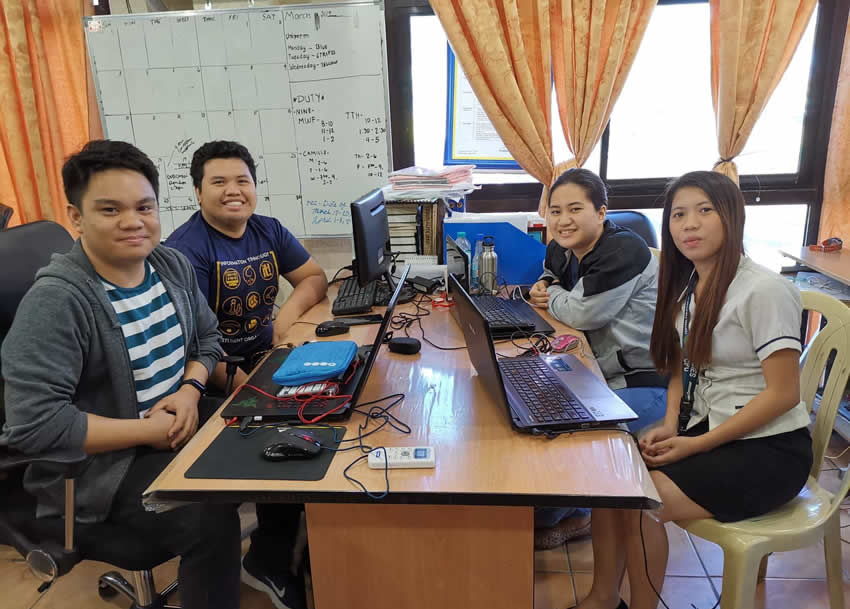 RV E. Esgrina and Ren Lurenz B. Madrilejo (both left) hopes that the CPU Mobile Info app will promote the university here and abroad.
After re-launching The Centralian Link, the official publication and media forum of Central Philippine University, the Office of Communications, headed by its Director, Rev. Francis Neil G. Jalando-on has been exploring initiatives to further improve the efficiency of delivering news and information to Centralians here and abroad.
Thus on January 14, 2019 with the guidance of University Webmaster, Mr. Mark Clemens J. Ortaliz, Office of Communications on-the-job trainees RV E. Esgrina and Ren Lurenz B. Madrilejo took on the task of developing the "CPU Mobile Info" Application – a downloadable android mobile app for the public to give them real-time information and announcements of university events, entrance examinations, etc. It is also user-friendly version of the university website.
Esgrina and Madrilejo are both senior students taking up Bachelor of Science in Information Technology at the CPU College of Computer Studies. According to Esgrina, the purpose of developing the app was not only to keep up with the technological trends but to make it easier for Centralians to navigate the CPU website through their mobile phone. "The app will give Centralians easier access to information and announcements through their mobile phones which is more convenient. It will also give other people a chance to get to know the services offered by the university in a user-friendly portal."
Madrilejo shares that the task of developing the app wasn't easy but with the guidance and support of the Office of Communications they were able to come up with an interface that responsive to the needs of the community-at-large. "At first we doubted if we can really make the app but Sir Mark encouraged us in every step of the making the app."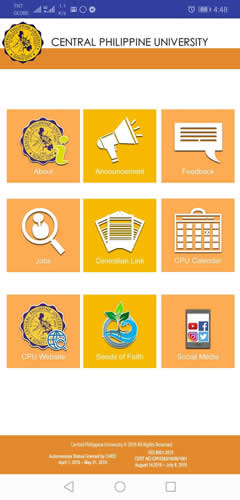 The app provides simple mobile navigation for easier access. 
As a tag-team, Esgrina was responsible for the mobile interface while Madrilejo took on the task of developing the content. Madrilejo shares that while developing he learned new things about the university such as its history and other significant events. "The app will really help you get to know CPU."
CPU Mobile Info provides a simple platform that will help users know more facts about the university, its job openings, school calendar, etc. It also provides a feedback mechanism to provide an on-line assessment of the services and programs offered by CPU.
One salient feature of the app is its easy access to Seeds of Faith, a daily devotional guide for readers. Such feature highlights CPU's commitment in sharing the Word of God not only to Centralians but to the world-at-large.
According to Rev. Jalando-on, the Office of Communications is set to launch the said app in Google Play Store on April 2019. Meanwhile, you can download the latest beta version of this Android app in https://www.dropbox.com/s/z4355mttlvqvlxb/cpu_app_m_v14.apk?dl=0