By Lindsay Marie Borres, BA ELS-4, OJT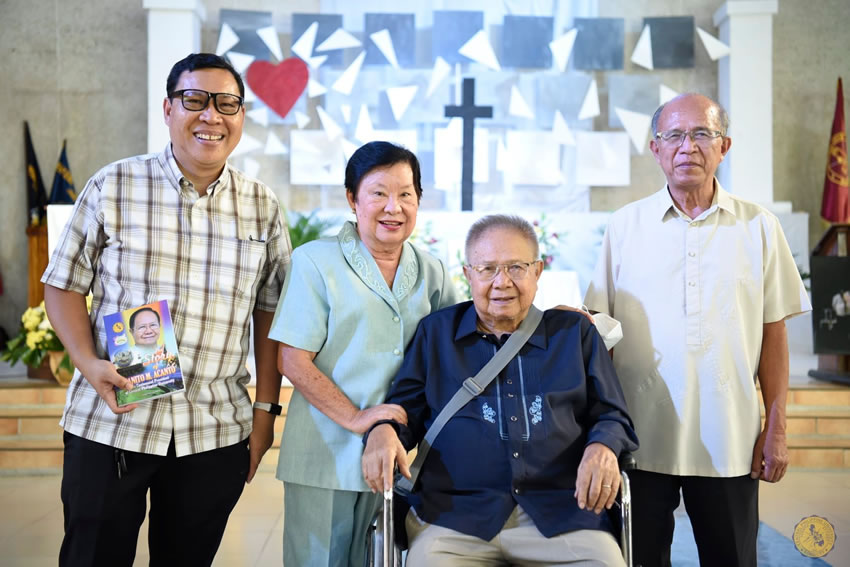 Dr. Juanito M. Acanto with wife Ruth, and CPU President Dr. Teodoro C. Robles and the editor of the book, Rev. Francis Neil G. Jalando-on.
The launching of the book entitled "The story of Juanito M. Acanto, the Centennial President of Central Philippine University" was held at the University Church on April 29, 2022. It was shown all over the world through its live coverage on Facebook by the Central Philippine University TV Channel.
The author and editor Rev. Francis Neil G. Jalando-on, Director for Communications, in his speech commended Dr. Robles for allowing him to write the story of Dr. Juanito M. Acanto and for placing the heritage of CPU in such great importance. He hopes and prays that the next president of CPU will also embody such remarkable values and respect for history.
Rev. Jalando-on also mentioned two things that stood out for him while he was writing the book. He said, "First, the Vision and Mission of CPU were written down during his time as president. We are all familiar with EXCEL which is Exemplary Christian Education for Life. It was in the early days of his presidency that the need for a vision and mission was discussed, and eventually written down. Second, the Core Values of CPU which are Faith, Character, Justice, Stewardship, and Excellence were written down when he was the president. It is now mandatory, as per the memo of Dr. Robles, that all teachers from kindergarten to graduate school should discuss the core values of CPU."
He also thanked the 14 contributors that made the book possible upon its completion. He recalled that Dr. Acanto himself asked him if he could write his story and he immediately said yes. In his message, he also mentioned that the next day would be the wedding anniversary of Dr. Acanto and his wife Ruth — a double celebration indeed for the blessed month of April.
A video about the cardinal milestones in Dr. Acanto's life was also shown. He was CPUR President (1960), a board member in the province of Iloilo from 1980 to 1997, a President of CPU alumni association Inc. (1989-1991), and one of the CPU Board of trustees (1991-1993). He is also the 3rd Filipino President of CPU (1998-2003). Some of his speeches were also shown highlighting his trademark message of making CPU "as a beauty to behold, it should be a beauty to think and feel about so that everybody who pass this way will say, "that is beauty to be remembered."
Without a doubt, the man has achieved so much in his life that he only deserves recognition as monumental and honoring as a book written about him.
Seated in his wheelchair, the quintessential man of the hour, Dr. Acanto himself was present at the book launching. He delivered a speech and highlighted the three miracles of God in his life. The first one was about his studies, Dr. Acanto jokingly mentioned that he was a "lousy" student. He admitted that he was not a model student and child because of his multiple vices way back. The miracle was how he managed to push through in the academe despite his struggles in life. He tried his best and finished associate in arts and proceeded to law school at CPU. The second miracle was when he assumed the position of the OIC President, when the president who was hired by the CPU did not sit as president. He felt that it was ordained by God that he would take that path. The third one was when he became the regular president of CPU. It was unexpected again but God through His mysterious ways made it happen. He became the Centennial President of CPU and led the institution into many successes during his term.
In the middle of his speech, coughing interrupts him but the discomfort did not stop him from resuming his message, thus only mirrors how he also continued to push through in every opportunity, every goal, and every plan that the Lord has prepared for him.
The book is 194 pages and will soon be available for sale. Everyone present at the book launching received a free book. The attendees were encouraged to donate to the fund that will benefit the work students as request by Dr. Acanto and Dr. Robles. The book launching donation drive resulted to more than P20,000 of donation.