Christ Emphasis Days Celebration
By Rhea E. Abalayan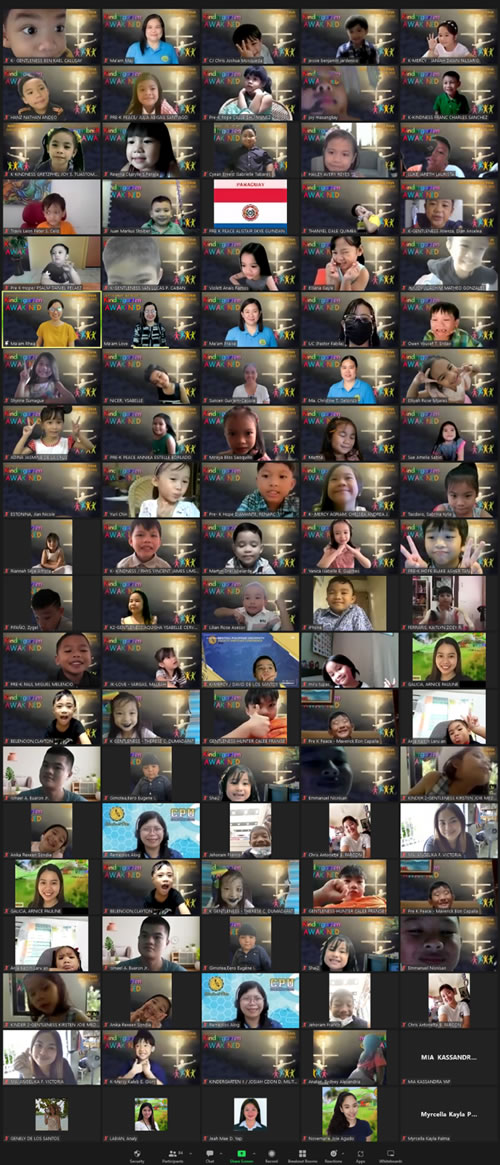 The CPU Kindergarten students attended their virtual convocations.
The CPU- Kindergarten joined the Christ Emphasis Week celebration – with the theme: "Awakened" – for two days, gathering together virtually to worship God, focusing on Ephesians 5:14-17 where God's Holy Word says "Wake up, sleeper, rise from the dead, and Christ will shine on you. Be very careful, then, how you live—not as unwise but as wise, making the most of every opportunity, because the days are evil. Therefore do not be foolish, but understand what the Lord's will is."
The CPU Kindergarten pupils, along with their parents and guardians, praised and worshipped God with songs and dancing, as Ma'am Rhea E. Abalayan lead the convocation on Oct. 27, and Ma'am Pearl Joy S. Madrid on Oct. 28.
The Scriptures were read by Thanyel Dale D. Quimba during the first day and Aquisha Ysabelle Cervantes on the second day.
Prayers to open the convocation were given by Kaleb E. Glory of Kindergarten- Mercy (October 27) and Elliana Gayle S. Rizardo of Kindergarten- Gentleness (October 28) while song and dance offerings were given by the boys and girls of Kindergarten- Mercy under Ma'am Sunsen G. Casiple and Kindergarten- Gentleness under Ma'am Christine Getonzo.
Rev. Ruth Lunasco introduced our speaker, Prof. Remedios E. Alog to bring God's message to children and their parents and guardian through bible stories, emphasizing how we can be wise.
Prof. Alog told the story about Solomon, that the way to become wise is to pray:
P – Pray;
R – Read your bible;
A – Ask for forgiveness;
Y- Yielding to God.
On the second day of the convocation, she encouraged the children to "wake up, and shine!" by (1) guarding one's heart, and (2) accepting Jesus into one's heart.
Her message was even apt for the parents and guardians who attended the online worship, reminding them that when difficult moments come, they must PRAY, trust in the Lord and go good; that the way to be wise on how you live is to have Jesus in your heart and shine!
To God be the glory!