By Keziah G. Huelar

The annual Honors and Awards Program is a recognition of outstanding Centralians and of God's faithfulness to the university.
An ode to our hardworking awardees and thanksgiving to the Lord for a fruitful 2018-2019 school year – the Central Philippine University Senior High School held its Honors and Awards at the Rose Memorial Auditorium on March 28, 2019.
The event started with a musical meditation.
It was then followed by the invocation and singing of the Philippine National Anthem led by Asst. Prof. Lloyd U. Basco, faculty, CPU Junior High School.
In behalf of CPU President, Dr. Teodoro C. Robles, Dr. Irving Domingo L. Rio  gave the words of welcome. In his  message, Dr. Rio recognized the awardees for their hard work and perseverance.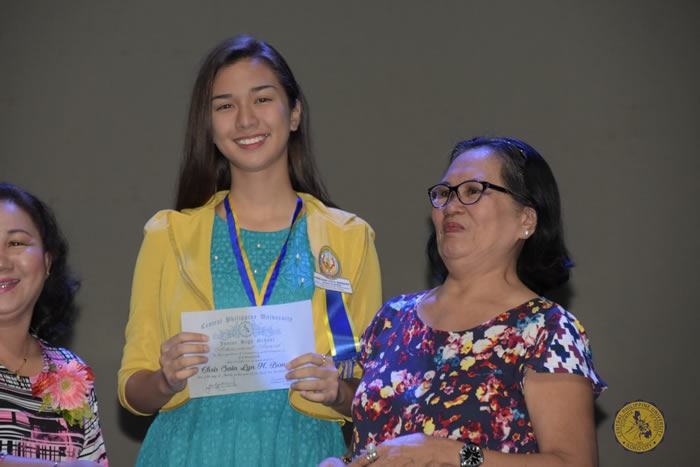 Ms. CPU 2018 Chris Sain Lyn N. Bongars is one of the awardees.
 After which a song number was rendered by Fervince T. Benoman, member, CPU Symphonic Band.
In behalf of the mothers, Mrs. FelisaS. Gatilogo, in her message, thanked the university for the guidance and encouragement they poured out to their children. For the message for the fathers, Prof. Ernesto S. Saquibal highlighted the importance of gratefulness and hard work in reaching one's dreams.
The presentation of honors and distribution of awards was led by Dr. Rio, Prof. Janet S. Jalbuena, Junior High School Principal, Mr. Michael S. Maravilla and Dr. Carmen P. Santos, Basic Education consultant.
The awards given were: the academic awards, the scholarship awards, the cash awards and the special awards. After which, Miss Joy Lyn F. Visto, faculty, CPU Junior High School led the closing prayer. It was then followed by the singing of the Alma Matter Song and the recessional.