By Cyrus A. Natividad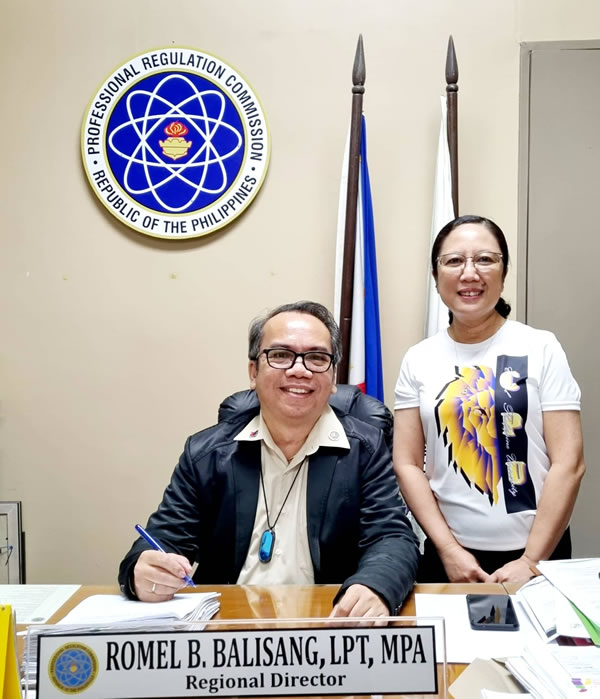 CPU VPSA Dr. Esther Rose A. Romarate with fellow Centralian, PRC Regional Director Romel B. Balisang.
Central Philippine University was represented at PRC's 49th Anniversary and Professional Regulatory Commission Week, held from June 16 to 22, 2022. This year's theme is "PRC @49: Forging ahead towards PROFESSIONALISM, RESILIENCY, AND COMPETITIVENESS."
In an invitation sent to CPU President Dr. Teodoro C. Robles, PRC Regional Director Rommel P. Balisang, who is a Centralian, expressed "great pleasure for CPU to be represented in the event." He said, "True to this year's theme, forging ahead with partners and stakeholders will surely bring us greater heights in public service." Balisang is a BSED major in mathematics graduate of CPU batch 1993.
Dr. Esther Rose A. Romarate, CPU Vice President for Student Affairs, made the representation with her secretary Ma. Jean Palomata. They joined the parade in a CPU van with PRC Anniversary streamer attached to it. She said that "CPU participation can strengthen the partnership we share with them as well as express our support and appreciation for their service to our graduates.
Dr. Romarate was the Overall Coordinator of the CPU Bar Exam Venue Team.