By Chinkie Gotico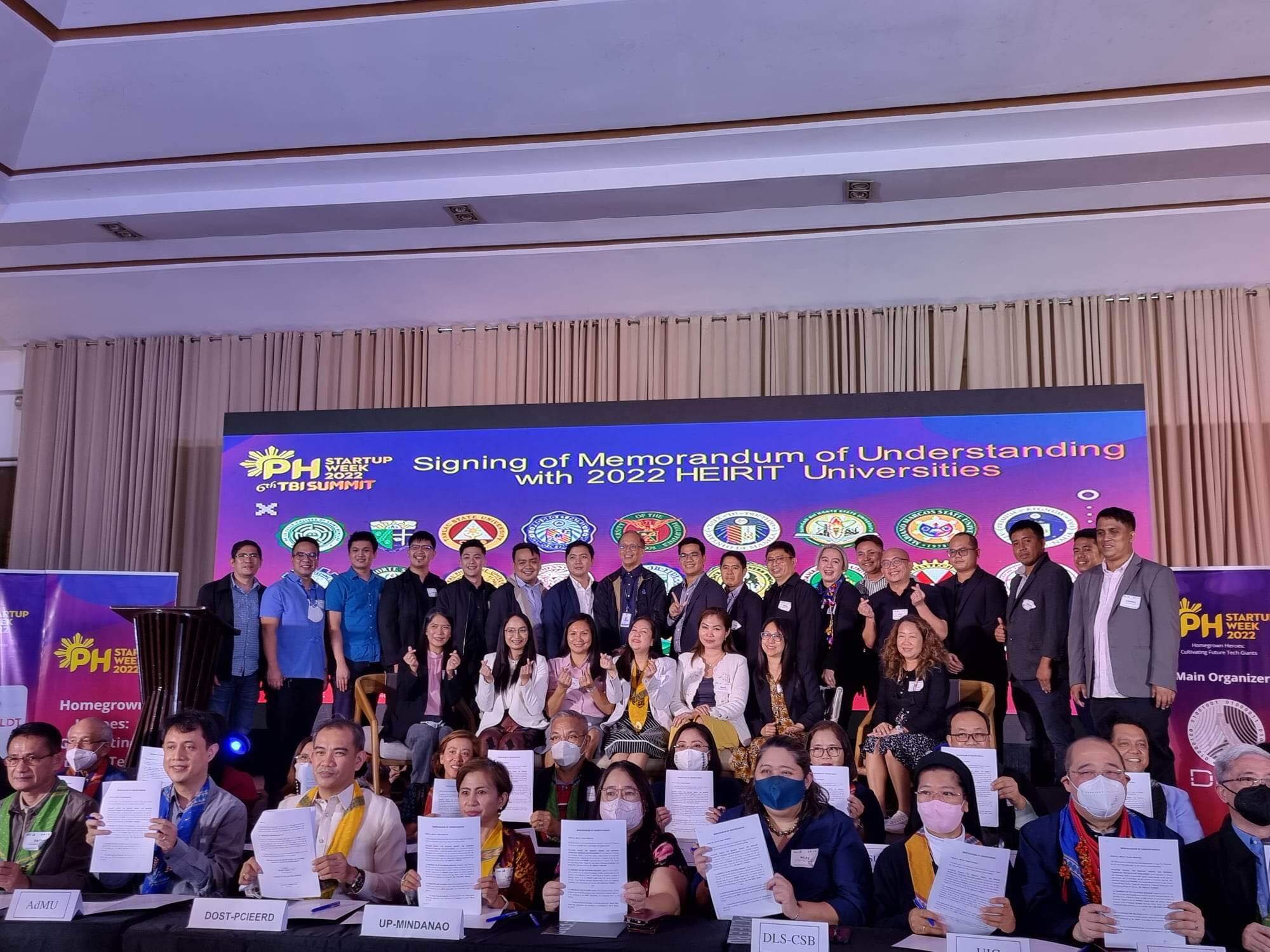 Signing of MOU with 2022 HEIRIT Universities at Blue Leaf Events Pavilion, Taguig City — Dr. Romallosa represented Dr. Robles during the MOU Signing with PCIEERD.
On November 16, 2022, Central Philippine University (CPU), along with 26 other higher education institutions (HEIs) in the country, signed a Memorandum of Understanding (MOU) with the Department of Science and Technology Philippine Council for Industry, Energy, and Emerging Technology Research and Development (DOST-PCIEERD) for the two-year program on Handholding Starting Incubators from HEIs for Readiness towards Innovation and Technopreneurship Preparatory and Skills Acceleration for TBI Managers Optimizing Regional Startup Ecosystem (HIHEIRIT PA MORE!).
Members of C-PUGAD, the newly-created Technology Business Incubator (TBI) of CPU, have been undergoing intensive training under the HIHEIRIT PA MORE program since June of this year in preparation for the establishment of a TBI in the university. The capability-building activities will continue for C-PUGAD TBI until the evaluation in February 2023, and with favorable results and funding from PCIEERD, CPU will be able to launch its own TBI so that it can begin handholding startups and spin-offs, most of which will come from business and innovation ideas of faculty, staff, alumni, and students.
The MOU signing, held at the Blue Leaf Events Pavilion, Taguig City, was the highlight of the 6th TBI Summit and the celebration of the Philippine Startup Week 2022. Three C-PUGAD TBI members attended the Summit and MOU Signing – Engr. Gelvie Lagos (TBI Manager), Dr. Aries Roda Romallosa and Prof. Rae Marie Leong-on (TBI Members). Dr. Romallosa represented CPU President Dr. Teodoro Robles in the MOU Signing. Other members of the C-PUGAD TBI are Prof. Sharlene Gotico, Engr. Yeseil Sacramento, and Prof. Renjo Debil (Resident Entrepreneur).
This PCIEERD-funded project is in response to the country's goal of strengthening the startup ecosystem in the regions.