By Cyrus A. Natividad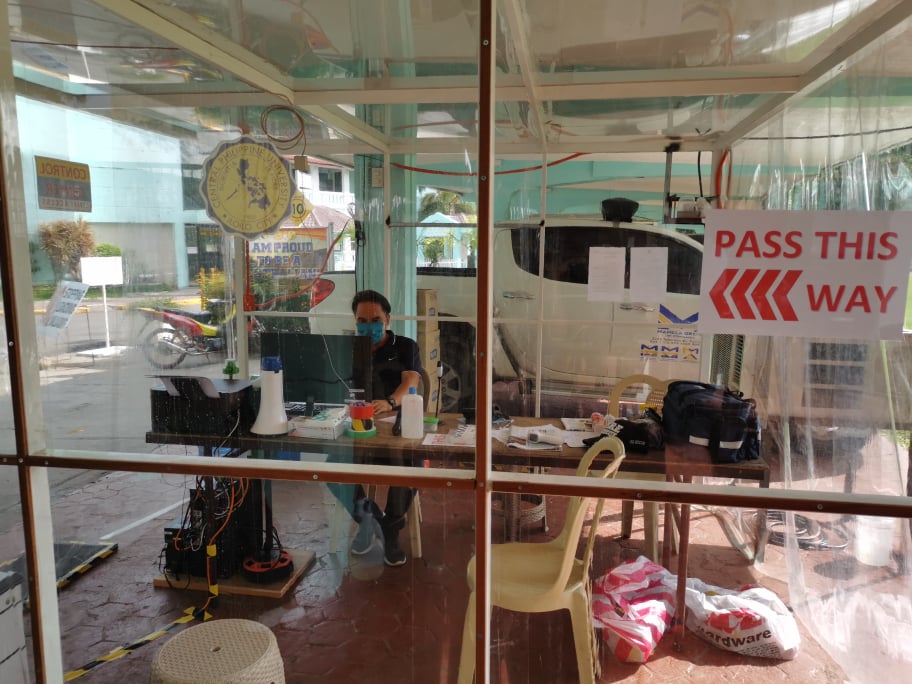 The command center at the main gate.
As Central Philippine University prepares for the summer classes and the start of the new school year, we will look back at the timeline of the "lockdown" period and the current preparations of the university as the Enhanced Community Quarantine status was turned into General Community Quarantine. We will see how safety and security are observed inside the campus, particularly, the protocols that were put in place by the CPU Incident Management Team (IMT).
On March 14, 2020, NSTP classes were suspended as the university lockdown was ordered by CPU President Dr. Teodoro C. Robles. Later on, in compliance with Executive Order No. 053, series of 2020 issued by Hon Mayor Jerry P. Treñas on March 17, 2020, CPU cancelled classes in all levels and work at CPU until April 14, 2020. Final Examinations for programs under the jurisdiction of the Commission on Higher Education (CHED) were also cancelled (per CHED advisory No. 3 dated March 11, 2020).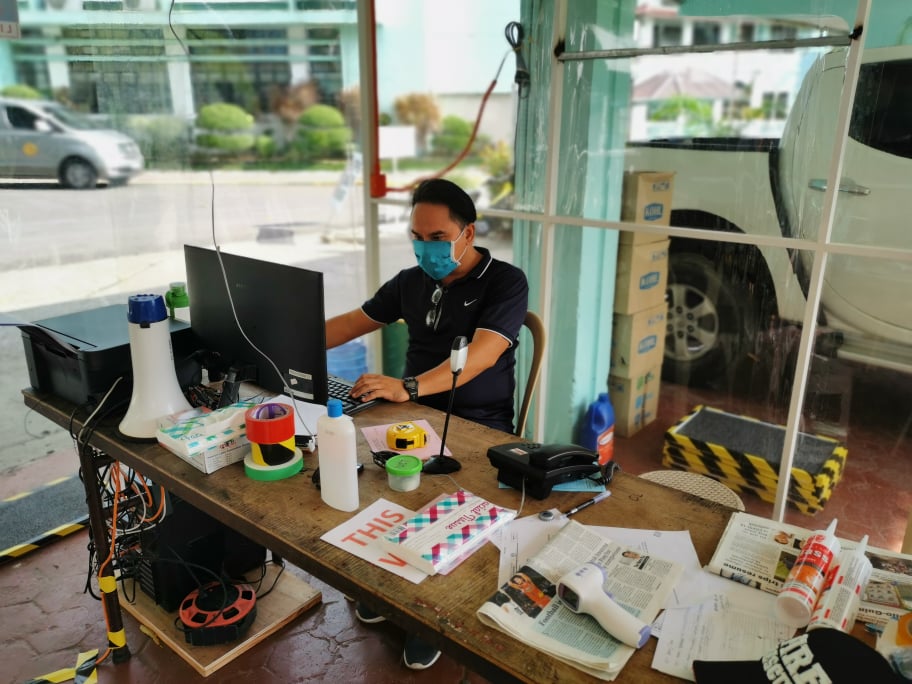 CPU Occupational Safety and Health Officer Mr. Prim Vergara III manning the command center.
Guidelines and safety protocols were issued for health and security. A campus-wide sanitation was undertaken for 3 days, from March 17 to 19. Social distancing of not less than 1 meter was required, and gathering of more than 4 people were not allowed. Only the Main Gate (Gate 2) was used for entry and exit. Only one entry and exit point were used in buildings with multiple entrances and exits. Adequate security personnel were assigned to attend to visitors and vehicles at the gate. No persons other than those connected or have prior scheduled appointments with the university were allowed to enter the campus. Visitors are entertained at the gate.
Before April 14, Iloilo City Mayor issued an Executive Order that the Enhanced Community Quarantine in Iloilo City has been extended until April 30, 2020. Consequently, the start of classes for Summer 2020 was postponed until further notice. Office work at CPU during the extension period has also been cancelled.
On April 30, 2020, the Inter-Agency Task Force for the Management of Emerging Infectious Disease (IATF) declared the extension of Iloilo City under Enhanced Community Quarantine status for the period May 1-15, 2020. This was followed by an Executive Order No. 068 Series of 2020 by the Office of Iloilo City Mayor in consonance with the IATF declaration. As a result, the cancellation of Office Work at CPU was also extended until May 15, 2020.
Starting May 16, 2020, Iloilo City was put by the National Government in a General Community Quarantine. Hence, essential personnel were able to come back starting on May 20, 2020.
In a memorandum dated May 16, 2020 from the Office of the President, the General Policies and Procedures for the New Normal were laid down. Healthy measures such as washing of hands with soap or with alcohol, stepping on foot bath and temperature check by the guards are strictly implemented at the Main Gate. Dr. Robles also emphasized the wearing of face mask as part of the University Dress Code (No Face Mask, No Entry). Face to face interactions must be avoided as much as possible. There are also demarcation lines during the biometric logging in to comply with social distancing. Going out of the University during lunch break is discouraged unless it is an emergency. Food and personal package deliveries are to be dropped off only at the gate. Meetings are also done through video conferencing. Medical emergencies shall be catered to by the University First Aid Responders through contact numbers 330-7296 or 330 7297; non-First Aid cases shall be directed to the nearest hospital and medical consultation with the University Physician on duty will be done online. All university personnel are also required to fill out the Daily Health Monitoring (DHM) form as mandated by the Department of Labor and Employment. This is now the "new normal" at the CPU campus.
The committee is headed by CPU Vice President for Administration and Finance, Dr. Florence P. Bogacia. Here are the members with their corresponding roles: Mr. Prim Vergara (Safety, Search and Rescue Officer), Jojee Roy Juarez (Red Cross – Medical Service), Engr. Rhett Baldonado (Fire Brigade), Dr. Ma. Carmen Salcedo (TRIAGE) Jonathan C. Tumalay (Security), Rev. Francis Neil G. Jalando-on (Communications), Carmelle Frances Romero (Media Relations), Donald Lebrilla (Documentation), James Peter T. Trasporto (Evacuation Management), Hermely A. Jalando-on (Supplies & Logistics) and Engr. Howard De Leon (Electrical System).