By Francis Neil G. Jalando-on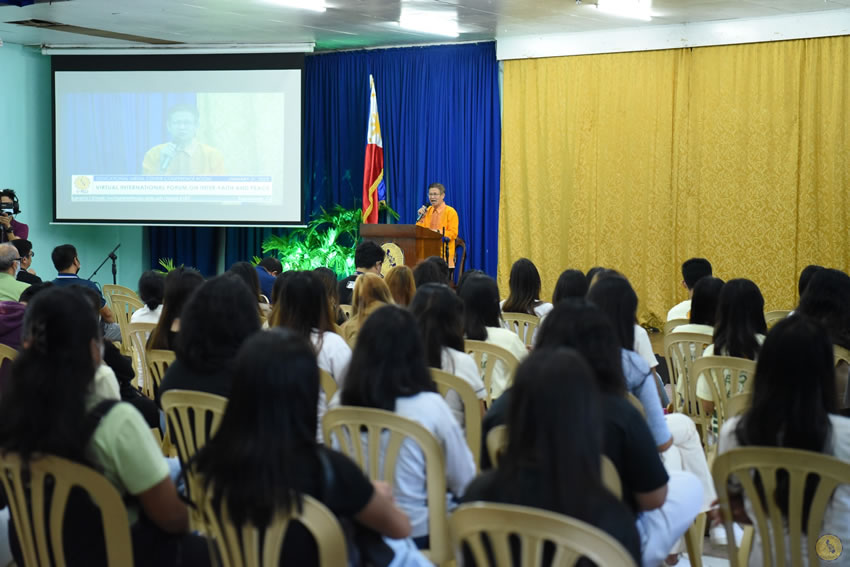 Rev. Dr. Jerson B. Narciso gave the rationale for the international forum.
On January 31, 2023, the first-ever Virtual International Forum on Inter-faith and Peace was hosted by the College of Theology, Central Philippine University. The whole day forum started at 8:30am and ended at 5:30pm at the Educational Media Center Conference Room. Three main topics were presented by the lecturers: "Reframing a Culture of Peace Towards Nation-building," "Reframing Religious Diversity Towards Solidarity and Unity," and "Role of Religion in a Polarized World and in the post-pandemic." It was attended by various seminaries all over the Philippines and also students and pastors from the CPU campus. There were 188 attendees both in-person and via Zoom.
The program started with the acknowledgment of participants by Rev. Dr. Bernabe C. Pagara, Dean of the CPU College of Theology. He pointed out the virtual attendees and the those who were present at the venue.
CPU President, Dr. Teodoro C. Robles, gave his opening remarks and welcome greetings. He reiterated that CPU has a diverse population with different religions and denominations. He emphasized that there is a need to have a continuous dialogue with people from various religions and find the common ground.
Rev. Dr. Jerson B. Narciso, the main organizer of the event, gave the rationale and purpose of the activity after a brief liturgical meditation led by Prof. Milanie C. Arandela. Dr. Narciso shared that this event is one of the build-up activities that will culminate in an actual inter-faith dialogue summer exposure program in Mindanao which the College of Theology has been doing in the last 8 years. He said, "the main purpose for this international inter-faith forum is to explore how religion could become a positive force for peace and social justice."
In the morning session, two Filipino lecturers made a presentation. Rev. Dr. Nestor D. Bunda, a historian, ecumenist, and Clinical Pastoral Education Supervisor at Central Philippine University put forward a theological framework based on the creation story of the Filipinos called Malakas and Maganda or Power and Beauty. Afterwards, Prof. Joshua Zonita, an author of many books and professor at the College of Theology, discussed about ways on how to reframe our perspective that we work towards peace and nation building.
In the afternoon session, two lecturers presented via Zoom. Rev. Dr. Graham Joseph Hill was live from Australia. He is a State Leader of Baptist Mission in Australia, a professor of Christian Missions, a founding Director of the Global Church Project and author of the book, Healing Our Broken Humanity. The next lecturer was live from Indonesia. Dr. Leonard Chrysostomos Epafras is a Faculty and Researcher at Universitas Kristen Duta Wacana Indonesian Consortium for Religious Studies.
There were participants all over the Philippines like the 9 participants from Southern Christian College, Midsayap, Cotabato; 6 people from Northern Christian College, Laoag City; 8 attendees from Beulah Land Christian College, Novaliches, Quezon City, 16 seminary students and faculty members from the Aglipayan Central Theological Seminary, Urdaneta City, Pangasinan; 17 people from Saint Andrew's Theological Seminary in Quezon City; and the Social Work Students of the CPU College of Arts and Sciences, and of course the faculty and students of the CPU College of Theology.
Prof. Rea Faulan-Villeza and Pastor Rodmar Lilla were the hosts of the event.