By Cyrus A. Natividad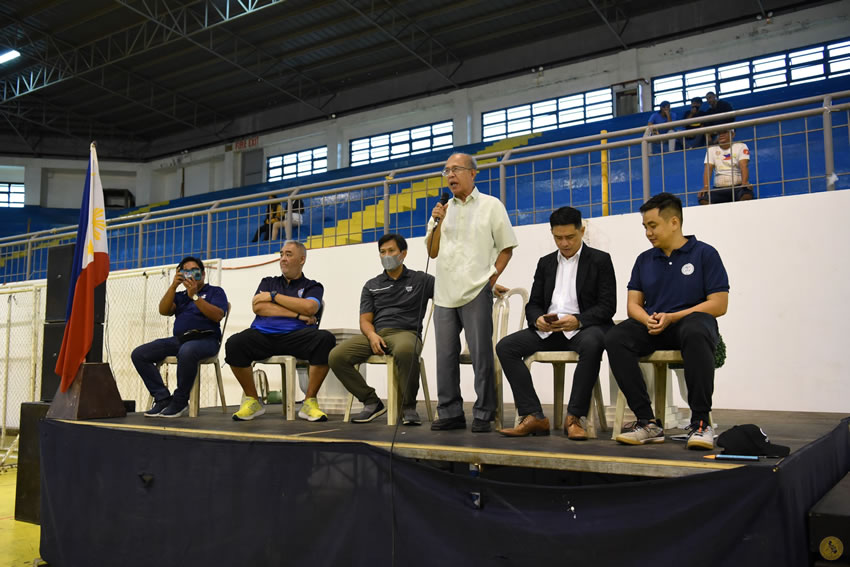 Dr. Robles delivers his opening remarks at the University Gym during the opening of the JPT Football and FUTSAL Championship.
The 2nd Jerry P. Treñas (JPT) Dinagyang Men's Football and Women's Futsal Championship are held at Central Philippine University from January 11 to 14, 2023. The Men's Football Championship started off on Monday, January 9, 1PM at the Big Field. On Wednesday, January 11 at 8AM, the opening ceremony for the Women's Futsal Championship was held at the CPU Gym, with Futsal delegations from different Schools and Universities in Iloilo with a guest team from the University of Makati, Metro Manila.
A short program was held before the games. Pastor Jec Dan Borlado led the opening prayer. The singing of the National Anthem followed. CPU President Dr. Teodoro C. Robles welcomed the teams from different schools and Universities. He acknowledged the presence of City Officials led by City Councillor Rudolph Ganzon (in behalf of the City Mayor). Also present at the opening of the event was CPU Sports Director Engr. Marc Hermel A. Agriam.
Councilor Ganzon thanked Dr. Robles and CPU for the support and accommodation of the event. He said, "This is just a start and it's a good step in promoting Sports Tourism in Iloilo." It was learned that one of the aims of promoting the event is to develop and improve women athletes from Iloilo -for the future FIFA Women's World Cup.
CPU Golden Lion's Natasha Gene F. Cabantug led the athletes in the Oath of Sportsmanship. The tournaments started with the symbolic kick off by sports officials and guests inside the gym. The games started between CPU Golden Lions and the Ilonggo United Teams.